Lenzelle Smith Jr. called Wednesday night's performance "embarrassing," but their recent struggles haven't stopped Ohio State's momentum on the recruiting trail.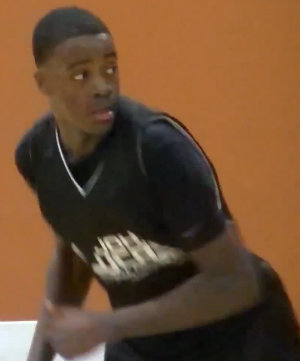 Thad Matta and his staff are now dipping a little deeper into the pool of in-state 2016 recruits by offering Derek Funderburk Jr. Before him, the only other Ohio sophomore to receive an offer was Akron St. Vincent-St.Mary's V.J. King. OSU offered him before his first high school game.  
Fans hoping for an offensive boost will certainly get it from Ohio State's 2014 class. The future crop of Buckeyes includes a McDonald's All American, while women's head coach Kevin McGuff will welcome in a McDonald's All American of his own.
The incoming men's class could add another All American. One future Buckeye is doing his best to woo that All American.
Meanwhile, a highly sought after 2015 recruit suffers an unlucky break, one that might keep him out until March. 
osu offers Funderburk
The Buckeyes had been rather quiet on the 2016 recruiting front, with their last offer going out to Jayson Tatum in July. This week, however, OSU's first offer since the summer went out to Funderburk Jr. 
The St. Edward (Lakewood) sophomore visited campus in October for the Penn State football game and, also, spent time in Columbus at "Coach Vic's Open Gym," taking part in pre-season scrimmages against some of the top players from Ohio. 
Buckeyes assistant coach Greg Paulus recently scouted the Cleveland-are and watched Funderburk Jr., and St. Edward take on rival St. Ignatius, Jan. 18. The OSU offer came shortly thereafter, as first reported by Tim Rogers of the Plain Dealer and confirmed to Eleven Warriors through Funderburk's father. 
"[We're] very excited," Funderburk Sr. told Eleven Warriors. "He's motivated to work even harder."
They are not related to former Ohio State and NBA player Lawrence Funderbruke (note the spelling difference), although Funderburk Jr. is blessed with similar height. The 2016 recruit stands at 6-feet, 9-inches tall and weighs around 210 pounds. He has two years to add some muscle to his frame, but his athletic ability and touch around the rim are already apparent. 
Here are some Funderburk Jr., highlights from the Nike All-Ohio City Series in October (via Iowa Elites):
Two future buckeyes named mcdonald's all americans
Both the men's and women's baketball teams at Ohio State sit in the lower-half of the Big Ten standings. That's not ideal, but strong reinforcements are expected to arrive next fall.
A pair of those OSU signees were named to the McDonald's All American Game, Wednesday. Montverde (Fla.) guard D'Angelo Russell is on the boys' East squad, while Princeton (Cincinnati) point guard Kelsey Mitchell was selected to the girls' East team. Both games will take place April 2, at the United Center in Chicago. The girls' game will be at 7 p.m. EDT on ESPNU, while the boys' game will start at approximately 9:30 p.m. EDT on ESPN. 
Russell is the first Ohio State recruit to be named a McDonald's All American since Shannon Scott and Amir Williams appeared in the 2011 game. An Ohio native has not taken part in the boys game since 2010, when Jared Sullinger was named co-MVP (with Harrison Barnes) in the game at The Schottenstein Center. 
The Buckeye State is well represented on the girls side, however. Including Mitchell, Notre Dame signee Kathryn Westbeld (Kettering) and Kentucky signee Alyssa Rice (Reynoldsburg) were the Ohio natives selected.
russell continues attempt to woo turner
Matta is certainly hoping he can add another All-American by the time next season rolls around. At this point, the only option – a realistic one at that – is five-star recruit Myles Turner.
The 6-foot-10-inch center told the Fort Worth Star Telegram he plans to announce his commitment in April, around the time of the McDonald's game. Turner will be on the same team as Russell, but the Ohio State signee is not waiting until spring to convince Turner to join him in Columbus.
In Turner's USA Today blog, the Texas big man said a few recruits are attempting to sway his decision. 
"A lot of the players that are already committed to the schools that are recruiting me have been reaching out to me lately," Turner wrote. "I've talked to Jahlil Okafor and Justise Winslow about coming to Duke, Stanley Johnson texted my dad, D'Angelo Russell has been hitting me up and Phil Forte's dad has been talking to my parents here lately, too."
Russell and Turner also appeared on the same all-star team over the summer, at the Elite 24 in Brooklyn.
Bragg suffers foot injury
While it likely won't affect his recruitment, Carlton Bragg's broken toe might disrupt Villa Angela-St. Joseph's chances at repeating their Division IV state title run. 
Bragg suffered the injury to the big toe in his right foot during Monday's practice, according to multiple Northeast Ohio media reports. They also report Bragg will miss 4-6 weeks, which will possibly force him to miss the end of the regular season and a significant portion of the state playoffs. 
As a sophomore, Bragg helped lead VASJ to the state championship game against Leipsic, where they defeated the Putnam County school, 87-63. Bragg recently received an offer from Kentucky and also holds offers from other traditional powerhouse programs, in addition to Ohio State.