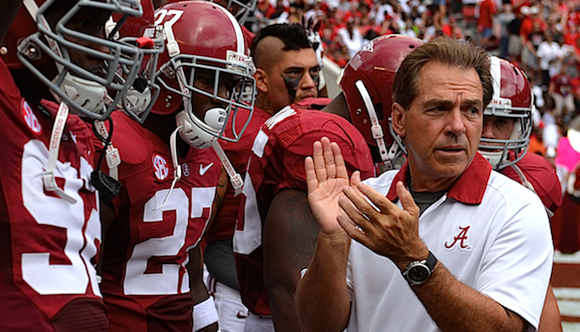 It's no secret to anyone who pays attention that Alabama's talent advantage is buttressed by its annual purge of underperforming players. Well, except to ESPN talking heads who instead gush over "5-stars backing up 5-stars"  (NOTE: Oversigning has been deemed a non-story by College Gameday's lead anchor). #agencyproblem
There isn't a whole lot of debate, unless you have difficult subtracting whole numbers from other whole numbers. Alabama is a fine school, so there should be no trouble figuring this out no matter where your rooting interest lies.
Take it away, Roll Bama Roll:
So with 85 as our baseline, here are the numbers of players we lost since the season ended:

- 7 fifth year seniors

- 5 fourth year seniors

- 5 guys that declared early for the draft

- 2 scholarship transfers (LaMichael Fanning and Alvin Kamara) (Luke Del Rio doesn't count in this discussion, as he was a walk on)

That totals up to a total loss of 19 guys. We already have 24 commitments, and for the sake of this analysis, we'll assume that Bama will end up signing the "full" class of 27 possible. That means if we signed all 27 today, the roster would be eight guys too big. Factor in (Florida State transfer Jacob) Coker coming in in the fall, and that number jumps to nine too big.

So where will those open slots come from?
Candidate places for freeing up space: Early graduation, voluntary transfers, involuntary other transfers, career-ending injuries, dismissal from the team for violating something ambiguous.
However, Alabama isn't just oversigned this year; it's really, really oversigned. There's a lot that has to happen.
Bama has two guys on roster that are not starters but have degrees in hand - Anthony Orr and Wilson Love. Given they have their degrees, I would expect their careers may be over. That leaves seven more slots, and this is where things get tough. 

So here's the final tally - if we sign 27 (and they all qualify academically), Bama will basically have to cut seven guys that don't have their degrees yet. I want to emphasize that there really isn't any wiggle room here. No amount of backcounting/sleight of hand helps with these final numbers.

Unless some of the 16 unenrolled current commits are going to take a greyshirt (and not sign on national signing day), those slots will have to come from the current roster.
Nick Saban is the highest-paid coach in college football. He can figure it out. He always does.
---
UPDATE: It turns out integer math is harder than we thought: 
Slight update due to accidental double counting. Signing 27 would mean 11 spots would be needed. http://t.co/72vFDNb6tu via @rollbamaroll

— Josh Howard (@SliceRBR) January 27, 2014
So "dismissed for an undisclosed violation of team rules" should challenge "career-ending medical redshirt" and "decided to continue his football and academic career at Northern Alabama" in the Crimson Tide's march to 85 scholarship players.
Down from 96. Which is basically trimming half a recruiting class worth of busts in three months.