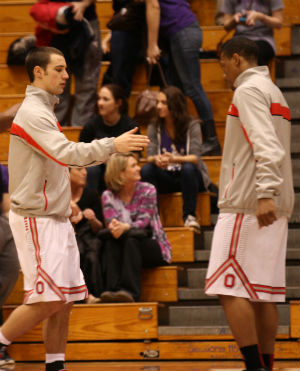 Ohio State and Illinois played one of the ugliest first halves of basketball in the recorded history of the game Thursday night. The second half was a bit better, but the game won't be used as a snapshot of hoops beauty.
But that's okay.
Ohio State is a team well suited for ugly basketball games. Thad Matta's team is built around the core concept of an impenetrable defensive shell, creating offense off of it, and building the opponent's frustration level to the point that they develop a proclivity for making mistakes. 
So ugly basketball is fine, and it was always going to require an unsightly game like we got on Thursday night at Value City Arena for the Buckeyes to halt the tailspin and get back into the win column.
Lack of beauty aside, a win was also going to require someone to step up and lead Ohio State out of its funk. Two players did that against the Fighting Illini — senior guards Lenzelle Smith Jr. and Aaron Craft.
Smith broke out of his personal offensive Hell and scored 16 points on 5/11 shooting (4/8 from deep), with five rebounds, three steals, an assist, no turnovers and only one foul. Craft added 11 points, including a perfect 4/4 from the stripe, with six rebounds, five assists, and two steals, against two turnovers and two fouls.
The backcourt tandem provided excellent support for LaQuinton Ross's team-high 18 points.
It's easy to forget that all but the most elite scorers in college basketball tend to be streaky shooters. Smith is no different in this than David Lighty or William Buford, and he isn't as prolific as either former Buckeye. But there is only one way out of the tunnel of bad shooting, and that's to shoot the basketball without fear until you come out the other side.
Smith had been avoiding open shots early in games and forcing up bad ones when Ohio State fell behind, adding to the team's woes. On Thursday, he shot without fear. He attempted four triples in each half, and made half his attempts. His 16 points nearly doubled his 8.75 average during the four-game slide.
Zelle shattered the 4/17 (23.5%) stretch from beyond the arc he suffered through the losing streak. Confidence is the key for any shooter and Smith played with plenty of it on Thursday.
Importantly, he also turned up his defensive intensity. His three thefts were a season high. The senior provided exactly what the Buckeyes need from him on both ends of the floor. When Smith plays that way, Ohio State is difficult to overcome.
And, of course, he wasn't alone in showing the way.
Craft had been averaging almost five turnovers per game during Ohio State's slide. But he stopped trying to do too much, playing within himself and limiting his miscues. The senior has admitted to feeling pressure to lead the Buckeyes this year. Thursday night, he relaxed and played his game, and it worked to perfection.
Beyond just taking care of the basketball and scoring in double figures, Craft used the force of his will to lead his team out of its slide. He performed on both ends of the floor and showed his teammates the way. In doing so, he may have discovered that leadership comes from carrying his team — not the pressure of being counted on.
The sequence that best illustrates Craft's leadership began with the Buckeyes trailing 34-31 with 14:55 remaining in the second half. The rosy-cheeked assassin found LaQuinton Ross for an easy layup to cut the lead to one. On the next Illinois possession, Craft got a hand on a Jaylon Tate pass attempt and took it the length of the floor for a layup. He tried to duplicate the feat on the ensuing Illini possession, but his layup attempt was blocked. Still, the effort he showed fired up both the crowd and his teammates.
The senior wasn't done. Craft found Smith for an easy basket and Thompson for a triple on Ohio State's next two baskets. Moments later, he drilled a three of his own.
In six and a half minutes, Craft scored five points with two steals and three dimes. Sure, Illinois ended up tying the game later in the half, but his relentless effort rubbed off on the younger players, enabling the Buckeyes to avoid the late collapses that plagued them against Iowa and Minnesota.
For all the stick he gets about his offensive game, Craft has scored 23 points in the last two games and is averaging 9.3 points on the season — just 0.7 fewer points per game than last year. While that doesn't show any development in his offensive production, at least it's not much of a drop. His three-point percentage (30%) is identical to 2012-13 and his total field goal percentage is up from last year (41.7% to 45.7%).
Craft and Smith found their form on Thursday night. It's true that it was barely enough to overcome a middling Illinois team. And only time will tell if it was temporary, or if Ohio State is truly clearing the cobwebs out in snapping its worst skid in or not.
If the backcourt seniors keep leading like they did on Thursday, the Buckeyes will be back on course.