Over the past weekend, the nation's best basketball came out of Ohio, but it certainly wasn't from the state's flagship university.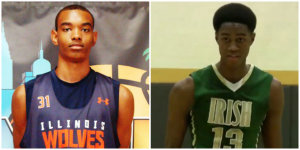 Instead, some of the top high school teams traveled to Kettering and participated in the "Flyin To The Hoop" invitational. Over the course of four days, a pair of Ohio State signees, a pledge and several OSU targets took part in the tournament. 
One matchup featured future Buckeye Keita Bates-Diop and Ohio's top rated 2016 recruit, V.J. King. Signee Dave Bell's Garfield Heights squad played nationally ranked Prime Prep Academy, while 2015 commit A.J. Harris and target Luke Kennard took part in the weekend's action, as well. 
Naturally, Thad Matta's staff took an interest in what was going on in Southwest Ohio, but one assistant made his way to the Cleveland-area. 
Plus, Eleven Warriors also has an update on Myles Turner's recruitment. 
K.B.D. vs V.J.
For Buckeye fans in attendance, the most intriguing matchup during the "Flyin' To The Hoop" took place Sunday. 
The object of the invitational is to bring in some of the top out of state schools to play Ohio's best, and with University High School (Normal, Ill.) taking on St. Vincent-St. Mary (Akron), the tournament organizers accomplished that task. SVSM came into the game ranked No. 7 in the Ohio AP poll, while MaxPreps has University at No. 18 in the loaded Illinois rankings.
Of course, what piqued the interest of OSU fans was the matchup between signee Bates-Diop and 2016 target King. Their stats nearly mirrored each other, with Bates-Diop scoring 31 and King pouring in 30.
The difference was how they arrived at those totals. The senior Bates-Diop is more consistent from beyond the arc, something which the current Ohio State roster could use. Scarberry Media's Jason Morrow was in Kettering and thinks Bates-Diop was one of the best shooters at the invitational. 
"He hit his first four threes in the opening quarter versus SVSM, and I'm pretty sure they did not even hit the rim," Morrow said. "Although Bates-Diop can stroke from outside, he is going to need to add more weight to his long frame to compete at the college game. His inside game will need a little bit of work, honestly, but if he does add the muscle, he will be a major offensive threat along side D'Angelo Russell."
Buckeyes assistant coach Jeff Boals was also in attendance, and tweeted about a game plan for his future wing. Bates-Diop, appreciative of the support from OSU fans, ended up hitting six of his 10 three-point attempts.
King, whose Irish squad 89-78, found most of his points at the line, although he is capable of knocking down long-range jump shots.
"His offensive game is definitely polished, and with a high ball screen, look out. He can beat you either way you go off the screen, and with his long arms he will knock down shots over top of defenders that are his height," Morrow said. "Defensively, he is solid, but being matched up against a great shooter like [Bates-Diop], anyone is going to have trouble." 
King's father told Cleveland.com his son has no visits scheduled and will focus on his recruitment over the summer. 
Here are some highlights of the Bates-Diop and King matchup, courtesy of Scarberry Media: 
another osu signee in kettering
Garfield Heights also made the three-hour trip to James S. Trent Arena, for a Sunday game against the Deion Sanders-founded Prime Prep Academy (Dallas). 
That meant Ohio State signee Dave Bell attempting to keep one of the nation's best point guards, SMU signee Emmanuel Mudiay, out of the lane. While Mudiay did end up with 20 points, that's not necessarily a reflection on Bell's defense. With his length, Bell has the tools to be a successful shot-blocker.
"He is solid defensively, and that's not the part of his game I worry about. I think it will be the offensive end he will need help with," Morrow said. "There are still parts of his game being "raw," and I do think he will take a year or two to truly develop into a dominant big man."
Keep in mind, Bell really just started playing competitive basketball at the high school level. As far as Sunday's game went, he finished with 11 points and nine rebounds. Here are highlights of Bell's performance, in a 72-53 loss, but he looks much more confident in the low-post than he did over the summer: 
two, in-state 2015 recruits shine 
One of the top, uncommitted players in Ohio's 2015 class also took part in the weekend's festivities. After all, he didn't have to travel too far.
Franklin's Luke Kennard and his high school squad matched up against what was, probably, their toughest opponent yet – Homeschool Christian Youth Association. The Houston-area school features North Carolina signee Justin Jackson, who – along with Kennard – put on a show in Saturday's primetime matchup.
Kennard and Jackson combined for 73 points, which was aided by a total of 26 free throw attempts between the two. Surprisingly, none of Kennard's 38 points came from long-range, as he missed all five of his three-point attempts. HCYA snuck out with a 3-point victory.
"He's, point-blank, a scoring machine that can do it all from anywhere on the floor," Morrow said. "A lot of people are skeptical of his high per-game average because of the competition, but he can score on pretty much anyone."
Boals was there to watch Kennard, but so were several other college coaches. That included Kentucky assistant Orlando Antigua and head coach John Calipari, who also saw Kennard play Friday night. 
Kennard is planning on making a college decision in the spring, after he takes his five official visits. According to his father, Mark, who spoke to SNY.tv, his son will choose between Duke, Florida, Kentucky, Louisville, Michigan, North Carolina and Ohio State for those visits.  
His AAU teammate, Buckeye commit A.J. Harris, also played in the "Flyin' To The Hoop," as his Dayton Dunbar squad took on Marian Catholic (Chicago Heights, Ill.). Harris was part of an elite point guard battle, as he dueled Kentucky signee Tyler Ullis.
The offensive fireworks went off early and often, as Harris dropped 25 and Ullis scored 30. Only three other players scored in double figures, as both players got to the hoop at will. Here are the highlights from a 67-60 Marian Catholic win: 
SPELLMAN, 
FUNDERBURK
 ON OHIO STATE'S RADAR
While Boals spent the weekend in the Dayton-area, assistant Greg Paulus traveled to Northeast Ohio and checked in on a pair of 2016 recruits.
He spent part of Friday night in Parma, watching one of the state's blossoming sophomores. North Royalton's Omari Spellman is averaging over 24 points, 9 rebounds and 3 blocks per game. Spellman, who recently transferred from New York, has offers from UNLV and Cincinnati, among others. For those unfamiliar with the 6-foot-8-inch Spellman, you can check out a mixtape from over the summer.
Paulus' Saturday night included a visit to St. Edward high school for a clash against rival St. Ignatius, according to Cleveland.com. St. Ed's features 6-foot-9-inch Derek Funderburk Jr., who visited Columbus for the Penn State football game in October. Like Spellman, he does not have an offer from OSU, but Funderburk Jr. does list Iowa and Xavier. Here is a set of highlights of the athletic big man from this past summer's John Lucas Camp. 
turner visiting osu – the one in oklahoma
We now circle back to the prized, yet uncommitted Myles Turner, who is still considering the Buckeyes. 
For now, the 2014 big man is turning his attention to Oklahoma State and plans to take an official visit to the school. His father told SNY.tv that Turner will watch the Cowboys and Baylor Bears in Stillwater, Feb. 1. His first visit to the campus was canceled due to a winter storm.
Turner's only other visits have been to Texas and Ohio State, as he was in attendance for the Iowa game in October. He plans to sign with a school when the spring period begins, April 16.