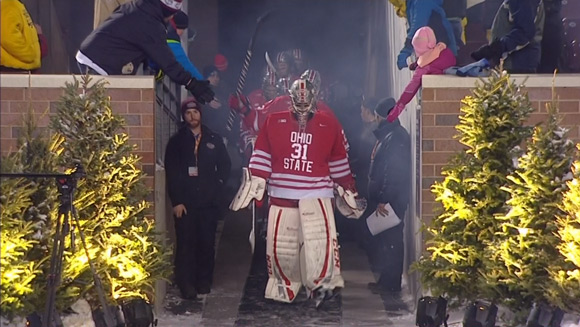 Ohio State was swept by No. 1 Minnesota last week, first outdoors in the Hockey City Classic and then indoors on the big ice of Mariucci Arena. We recap that series and a split for the OSU women at Minnesota-Duluth in addition to taking a look at the stories around the Buckeye hockey world. 
Buckeye Men
What Happened
The Buckeyes took on No. 1 Minnesota outdoors in the Hockey City Classic on Friday. The ice wasn't great and scoring chances were hard to come by for both teams. Ryan Dzingel had the best look of the night on a shorthanded breakaway but wasn't able to get a good handle on the shot. The lone goal of the game came when Matt Tomkins, attempting to retrieve the puck, accidentally pushed it across the goal line.
Christian Frey started in net for the Buckeyes on Saturday. Minnesota pressed Ohio State hard in the first period but, despite having the Gophers having an edge in quality shots, the Buckeyes took a 2-1 lead into the first intermission. Nick Oddo rearranged a shot from Justin DaSilva enough to fool Adam Wilcox. Then a Drew Brevig power play bomb put OSU up by two.
The Buckeyes gave one back when an ugly defensive breakdown led to the first of Sam Warning's three goals. Warning's subsequent goals looked very similar, as he was untouched and looking at an open net each time. Seth Ambroz added an insurance goal for Minnesota and they went on to defeat Ohio State 4-2.
"I thought we settled in and played a pretty good hockey game. You just can't give Minnesota some gifts like we did there a little bit. It was a good hockey game both ways and again we just came up a little short." Steve Rohlik following Saturday's 4-2 loss
My Two Cents
As an event the Hockey City Classic was pretty cool, though the hockey wasn't very entertaining. I don't think either side had more than two or three decent chances. Ohio State's defense did a very good job containing Minnesota's speedy forwards. The Gophers did a good job of containing all the OSU lines not named Alex Lippincott-Matt Johnson-Chad Niddery. That line, and Niddery in particular, were the only Buckeyes to get near Wilcox on a semi-regular basis.
Speaking of lines, Rohlik broke up the ATM line for Friday's game, swapping Max McCormick out for Anthony Greco. The changes continued on Saturday when Dzingel moved to the wing with Tanner Fritz and Alex Szczechura, breaking up the recently successful trio of Dzingel, Oddo, and Nick Schilkey.
I didn't see that any of these changes made a positive impact on the Buckeyes' game. I'm hopeful that everything goes back to normal this week. Those top two lines have been performing well. I'm not in a hurry to screw with either of them.
Other than the opening of Saturday's game, Ohio State didn't look terribly overmatched by Minnesota, at least not as badly as they were "supposed to be" given the teams' position in the polls. To play the No. 1 team in the country relatively closely is a nice moral victory for the Buckeyes. I would think this series has to give the team and the fans some increased confidence for the remainder of the Big Ten season.
On the other hand, though, it also felt like Ohio State really missed an opportunity to steal some points, especially on Friday. The Buckeyes' own defensive and goaltending miscues were really more responsible for the sweep than any skill of Minnesota's. It's fine to feel good about last weekend, but with only 20 conference games in the Big Ten season, time for moral victories is growing short.
As originally suggested by Brandon Gee via Twitter, all Ohio State-Minnesota hockey games will now be played for the Condiment Cup. The Buckeyes will have their next shot at it when they host the Gophers in their final home series of the season in March.
When they announced the formation of the Big Ten hockey conference, BTN's expanded hockey coverage was supposed to be one of the big benefits for fans. In many aspects it has been just that. The implementation of Frozen Friday doubleheaders, complete with pre- and post-game studio shows, has been awesome. The accompanying coverage (game day Q&As, photo galleries, video clips, etc.) on BTN.com has been well done. Of course the broadcasts look amazing.
In all of these aspects, BTN is on par with or better than other channels that broadcast college hockey games. However, the one place they fall short, in my opinion, is with their in-game personnel. The broadcast team's research for the Hockey City Classic seemed to have consisted of learning that Ryan Dzingel is good at hockey. They were so focused on him that they mistook Niddery for Dzingel more than once, even though they're very different in size and playing style. This isn't about disagreeing with the opinions of broadcasters who thought Minnesota dominated Ohio State in the Hockey City Classic. (Although, seriously?)
This is about broadcasters continuing to mispronounce Szczechura's name, even though there's a pronunciation guide right there on the line chart, and a sideline reporter asking less than insightful questions like "So, that hit. What was that about?" Simply put, the in-game personnel are not living up to the high standards set in other aspects of BTN's coverage and they're dragging an otherwise top-notch broadcast down.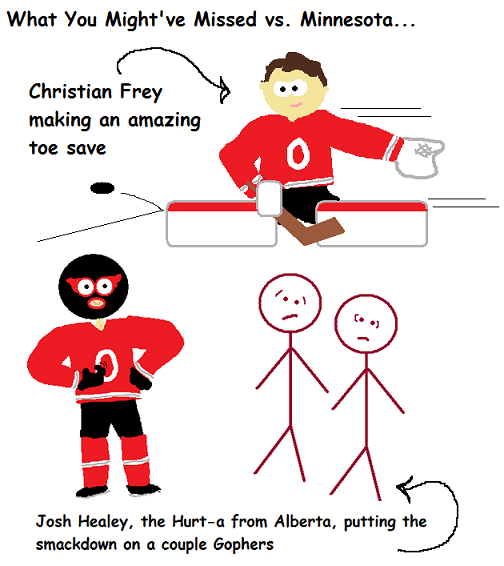 Further reading...
You can own one of OSU's throwback game worn jerseys from the Hockey City Classic if you act fast. As of 2pm there were only six left.

Read more recaps from Ohio State (

Friday

 and

Saturday

), Nathan Wells for

SBN

College Hockey (

Friday

and 

Saturday

, plus some quotes from Steve

Rohlik

about potentially hosting an outdoor game

at the Shoe

), Drew

Claussen

(

Friday

) and Betsy

Helfand

(

Saturday

) for

USCHO

, Grant Miller for The Lantern (

series

), and

Dark516Knight

for The Daily Gopher (

series

).

Check out photos from the Hockey City Classic via

BTN

, Matt Christians for

SBN College Hockey

, Jim

Rosvold

for

USCHO

, and Jess Myers for the

Associated Press

.

This wasn't technically from the HCC, but it's still pretty neat. One of the referees in the Minnesota-Minnesota State women's game, played immediately prior to OSU-MIN,

wore a helmet-cam

so fans could get an up close and personal look at the outdoor rink. 

In case you missed it, here's Sean

Merriman's

Frozen Friday Q&A

with Tanner Fritz

for

BTN

.

You can vote for Ryan

Dzingel

in the

Hobey

Baker Fan Vote

here

(though it doesn't really have any effect on who actually wins the award).

In local hockey news: Check out

these photos

of the OSU men's club hockey team's game vs. Kentucky as well as Ken Gordon's story for the Dispatch about the

rise of sled hockey

in Columbus.
What's Next
The Buckeyes face another big sheet of ice when they travel to No. 9 Wisconsin, though it looks like they won't have to deal with Nic Kerdiles. Games are set for Friday at 9pm (the second half of BTN's Frozen Friday double header) and Saturday at 8pm.
Buckeye Women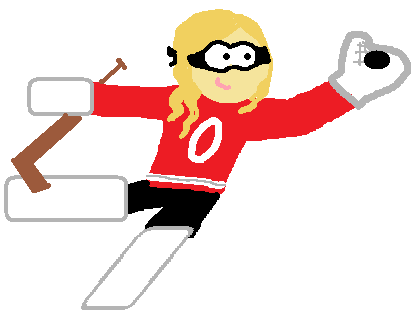 It was a closely contested series for the OSU ladies in Duluth. After 65 scoreless minutes, Saturday's game went to a shootout where UMD prevailed. Lisa Steffes stopped 34 shots and two of the Bulldogs' three shootout attempts. She was well supported by her teammates. The Buckeyes blocked 21 shots in the game.
Sunday's tilt saw Duluth draw first blood early in the second period but Claudia Kepler answered for Ohio State less than a minute later. UMD retook the lead and held it until Ally Tarr, scoring her second clutch, late game-tying goal in as many series, knotted the score with some four minutes remaining on the clock. This time Steffes shut down every Bulldog shootout attempt.  Kepler and Annie Svedin both beat Duluth goalie Kayla Black, winning the shootout and earning the Buckeyes an extra point in the game.
The three-point series put Ohio State into a three-way tie for sixth in the WCHA with Minnesota State and St. Cloud State. Next up on the ladies' schedule is a home series against MSU and a big opportunity to move up in the standings. Games are scheduled for Friday at 7pm and Saturday at 1pm at the OSU Ice Rink.

Short Shifts
Around the Big Ten
The only other conference action this week was Penn State paying a visit to Michigan State. The Spartans swept the Nittany Lions by scores of 3-0 and 3-2. I caught most of the series, enough to see that PSU is a scrappy, irritating team. They aren't going to finish the season oh-for-the Big Ten. I just hope Ohio State isn't the team they knock off.
Future Nuts
The massive decommitment of Ohio State recruits in the wake of Mark Osiecki's firing was Over the Boards' No. 2 recruiting story of the year. Fortunately for Buckeye fans, Steve Rohlik and company have been hard at work restocking the talent pool. They scored a big win with the recent commitment of Edina forward/defenseman Tyler Nanne. Read Joe Cox's report of the news here. Ohio State has also picked up commitments from Dakota Joshua (Sioux Falls, USHL) and Gord Myer (Cleveland Barons, MWEHL).
Central Scouting's midterm rankings are out. Buckeye commits on the list include Tyler Nanne (No. 168), Tyler Busch (No. 171), Nick Jones (No. 181), and Dakota Joshua (No. 203).
Chris Dilks' shared his midterm rankings at SBN College Hockey which are based on the players he's personally seen play in the last year. Nanne comes in at No. 38 on his list and Janik Moeser is a few spots down at No. 47.
According to the Green Bay Press-Gazette, Sam McCormick recorded a hat trick in Notre Dame Prep's victory over Green Bay United.
Road to Sochi
The Olympics begin in 17 days so Chris Peters counts down the 17 most memorable goals in USA Hockey history at United States of Hockey. See where Ryan Kesler lands in the list.
Kesler recently punched future teammate Dustin Brown, but that doesn't concern USA coach Dan Bylsma.
Brett Amadon wrote about former Buckeye hockey ladies Minttu Tuominen, Emma (Laaksonen) Terho, and Natalie Spooner lacing up their skates for Teams Finland and Canada.
Nuts Abroad