We asked Thad Matta if he knew why his two, veteran point guards have combined for 26 turnovers in the last three games. That GIF is his response. 
Ohio State has a chance to climb up from the seventh spot with a win tonight against Nebraska. If that doesn't happen, Bo Ryan and Tom Crean Schadenfreude can still make us moderately happy. 
Meanwhile, the two schools up north are the only two undefeated schools in conference play. Michigan State escaped Saturday without getting upset, while Michigan provided us with the biggest upset of that day. The state's monopoly on Big Ten wins will certainly end this Saturday, though, as the Wolverines head to East Lansing. 
On to the standings.  
1. Michigan state (17-1, 6-0)
Last week: 54-40 win at Northwestern, 78-62 win at Illinois
This week: vs Indiana, vs Michigan  
The Spartans continue to bludgeon the rest of the conference and do so without their top big man.
Adreian Payne has missed three consecutive games with a foot sprain and hasn't played – conveniently – since their OT victory over Ohio State. MSU's defense hasn't suffered in his absence, holding Northwestern under 30-percent shooting and limiting the Illini to a 37-percent performance. 
If Payne misses their next game, Michigan State have a much stiffer test in the middle. They take on Noah Vonleh and the Hoosiers, Tuesday. The Spartans are just starting a tough stretch of games in which they'll play IU, Michigan, at Iowa and, for some reason, in New York against Georgetown.  
2. michigan (13-4, 5-0) 
Last week: 80-67 win vs Penn State, 77-70 win at Wisconsin  
This week: vs Iowa, at Michigan State
Hey, remember how the Wolverines were supposed to roll over and die after Mitch McGary's back injury. Well, they're undefeated since he exited the lineup. 
So far, the most impressive win without McGary has been, clearly, Saturday's victory over Wisconsin. The dirty, step-back trey from Nik Stauskas stifled a Badgers comeback and gave Michigan their first win in Madison since 1999.
It's less than a month in, but Stauskas is putting together one of the more impressive individual seasons for any Big Ten player. He's averaging 18 points per game, so don't be surprised if he's in the running for B1G POY.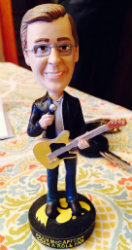 3. iowa (15-3, 4-1)
Last week: 94-73 win vs Minnesota
This week: at Michigan, at Northwestern
The Hawkeyes toyed with the Gophers for about a half of basketball before the Big Ten's top offensive team completely took over.
Minnesota took a modest, two-point lead into halftime in Iowa City after Iowa's Josh Oglesby single-handedly brought them back into the game with two three-pointers to end the first twenty minutes of play. That was just the spark the Hawkeyes needed, as they put up 53 points in the second half. Aaron White battled early foul trouble and Devyn Marble struggled, but this Iowa team is deep enough to make up for the absence of their two leading scorers. 
They'll look to knock off Michigan on the road, Wednesday, in what should be one of the best early-season Big Ten matchups, so far. 
4. Wisconsin (16-2, 3-2) 
Last week: 75-72 loss at Indiana, 70-70 loss vs Michigan
This week: at Minnesota, at Purdue 
The Big Ten swallowed up Wisconsin, last week, just as the Badgers were celebrating their school record start to the year.  
First, Yogi Ferrell's 25 points willed the Hoosiers to a win, Tuesday, and the Wolverines followed that up with a scoring barrage from Stauskas, Caris LeVert and Glenn Robinson III in their road victory, Saturday..
Wisconsin's defense has been exposed, lately, as the stats show they're giving up 30.9 points per game in the paint – that's the highest average of any Big Ten team. Indiana skewed those numbers after dropping 52 points in the lane, but it shows the Badgers aren't as invincible as they seemed a week ago. 
4. purdue (13-5, 3-2)
Last week: 66-58 win at Illinois, 65-54 win vs Penn State
This week: at Northwestern, vs Wisconsin 
After dropping their first two league games, the Boilermakers are back on track and have won three straight against Big Ten foes.
It's no coincidence A.J. Hammons has scored in double figures in those wins, averaging 15 points and 6 rebounds in each game. His final bucket against the Nittany Lions proved to be the game winner, as the make from the charity stripe clinched a victory, in what turned out to be a free-throw contest at the end.
Purdue also needed a late, three-point bucket from Terone Johnson and a final-second steal to even get a chance to set up Hammons for a lob play, which led to the game winning free-throw attempt. With the way their season started, the Boilermakers are in no position to complain about how they win ball games.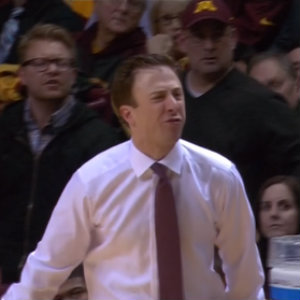 6. minnesota (14-5, 3-3)
Last week: 63-53 win vs Ohio State, 94-73 loss at Iowa
This week: vs Wisconsin, at Nebraska
Their overtime loss at Michigan State might've been a moral victory, but Minnesota needed an actual win to prove they are NCAA Tournament worthy
Thanks to scuffling Ohio State, the Gophers picked one up, at "The Barn," Thursday. Possessing the good looks and charm of Mad Men's Pete Campbell, (h/t 11W's Johnny Ginter) head coach Richard Pitino has Minnesota heading in the right direction. 
With the defensive system he learned from his father and – by association – Billy Donovan, Pitino adopted it as head coach at FIU and, now, with the Gophers. His team is creating havoc in Big Ten backcourts by leading the league with 8.1 steals per game. Minnesota harassed Aaron Craft and Shannon Scott by extending a 2-3 zone past halfcourt, proving they can shake even the most experienced of teams. 
7. ohio state (15-3, 2-3)
Last week: 63-53 loss at Minnesota
This week: at Nebraska, vs Illinois
If they don't stop the losing skid this week, the Buckeyes would actually end up on the bubble. 
While a three-game streak isn't fully inducing panic, it is what Craft calls "uncharted territory" for the Buckeyes. At no level – AAU, high school, college – have these Ohio State players been through a stretch quite as rough as this one. 
"For some reason, we're not playing with very much confidence," Craft said, in a press conference before the Nebraska game. "That shows when we get into games, we miss a shot or two and you don't want to shoot the next one, or you look at one guy and say 'all right, he's going to shoot the next three times down the floor.'" 
He focused heavily on team's mental approach heading into this week, which features games against the 8-8 Huskers and a scuffling Illini squad. On a positive note, Matta still likes what the Buckeyes are doing on the defensive end, despite what the final scores may indicate.
"We're giving [opponents'] scoring off of errant passes," Matta said. "If you look at teams running their half court offense against us ... from that standpoint, I've been pleased."
7. indiana (12-6, 2-3)
Last week: 75-72 win vs Wisconsin, 54-47 loss vs Northwestern
This week: vs Wisconsin, vs Northwestern 
Storm the courts! Indiana basketball is back! The Hoosiers are ready to take over the Big Ten, once again, after their victory over Wisconsin then lost to Northwestern. 
This year's Hoosiers are incredibly young and talented, yet still directionless. Yogi Ferrell absolutely took over against the Badgers, finishing with 25 points. Yet, it took 24 shots for him to get to that point. Whether he's taking it upon himself or he's been asked to carry the load, it's not enough for IU. 
Against Northwestern, Noah Vonleh got more than 10 shot attempts for the first time since November. Yet, he only went 5 of 15 from the floor. At this point, it doesn't seem like Crean has much confidence in anyone but Ferrell. 
9. illinois (13-6, 2-4)
Last week: 66-58 loss vs Purdue, 78-62 loss vs Michigan State
This week: at Ohio State, at Indiana
The Illini are in complete free-fall, having dropped their last four games. 
Illinois has been outscored by an average of over 13 points per game during their losing streak, and it doesn't get any easier from here. Their next two games are on the road – in Columbus and Bloomington – and then the Illini return home to play Iowa and Wisconsin. 
Rayvonte Rice entered Big Ten play as the conference's leading scorer, but his play has tailed off, along with the rest of the Illinois offense. He's also playing with an adductor strain, which is common among people who have watched the Illini play, lately. 
9. NORTHWESTERN (9-10, 2-4)
Last week: 54-40 loss vs Michigan State, 54-47 win at Indiana
This week: vs Purdue, vs Iowa
It's hard to say a program is trending upwards when it sits under .500 and consistently scores in the low 50s or upper 40s. 
Yet, Chris Collins' team has managed to squeak out a couple wins this month. One of those came against the Hoosiers, in Assembly Hall. The Wildcats defense completely shut down Indiana, forcing them to miss 45 of their 60 shot attempts. 
Senior Drew Crawford was one of the few players capable of scoring in that game, dropping 17 and also grabbing 12 rebounds. His leadership is valuable on a relatively inexperienced Northwestern squad. 
11. nebraska (8-8, 0-4)
Last week: Off
This week: vs Ohio State, at Penn State, vs Minnesota  
A full week off is almost unheard of at this point in the season, but the Big Ten schedule makers made up for it by giving Nebraska three games, this week. 
As far as the Ohio State game goes, the Huskers had more time to practice their 2-3 defensive zone principles. The bye week also gave Tim Miles the opportunity to make a strange video, in which he wished the university's chancellor a "happy birthday." Why? "YOLO," according to Miles.
12. penn state (9-10, 0-6)
Last week: 80-67 loss at Michigan, 65-64 loss at Purdue
This week: vs Nebraska  
One week after calling his team "whiny," Pat Chambers' faith in his players paid-off with complete collapse against Purdue. 
They've lost a number of close games this year, but this one was easily the most heartbreaking for them. It was an ugly game, but PSU held on to a three-point lead for most of the final two minutes of the game. That lead was erased after a Terone Johnson three, while the chance at overtime disappeared when the Nittany Lions threw away the ensuing inbounds pass and fouled Hammons during the next Boilermakers possession. 
Meanwhile, members of the media are venting about the team at strange hours of the day: 
I'm sorry,I like Pat Chambers & those are good kids. I wish them well. But 0-6 is 0-6. Enough w/the excuses.I've been hearing them since Oct

— Chris Adamski (@C_AdamskiTrib) January 19, 2014
[GIF via Terez Owens, photo via @LukeMeredithAP]