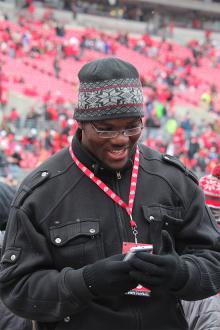 Welcome to your weekend recruiting update boys and girls. It's another day of close to subzero temperatures in Ohio but that's not stopped Buckeye recruiting from heating up as we approach my favorite holiday, signing day!
With two-and-a-half weeks to go before the ink dries, we've seen an influx of new names pop up on the Buckeye big board. Today we'll examine more closely a few of those names as well as a couple of key moving parts in the 2015 class.
THE OFFICIALS

We'll start this update with a few words on the official visits that are taking place this weekend because I know that's the "important" stuff and what most of you are looking for updates on. Unfortunately, as the players are still on campus the updates are going to be a bit sparse. We really don't want to to get in the habit of reaching out to kids while they're on campus with the coaching staff and their hosts.
What I know is that Pat Elflein has been the host for Brady Taylor who has not decided on his future yet. The Buckeyes are obviously hoping for a pledge from the Columbus native this weekend and would like to prevent him from taking another trip to Virginia Tech. Taylor told me prior to his arrival on Friday afternoon that he still planned on taking the visit to Blacksburg but that he'd "see what happens." I'd not be surprised at all if he makes a choice soon to grab his spot in Columbus and forgo that next visit, maybe by Monday.
Perhaps expediting the decision for Taylor was the surprising word that Hazelwood Central (Florissant, MO) offensive tackle Roderick Johnson was making his official visit to Ohio State. It was surprising in the way that I had spoken to Johnson just days before and he seemed to be very uncertain as to whether or not he'd check out the Buckeyes or if he really wanted to, despite Ohio State being in pretty regular contact with him. Johnson spent a lot of his time with Ezekiel Elliott and despite most people believing he's "all Florida State," the visit to Columbus at least signifies his interest in the Buckeyes is real.
The big questions — as yet unanswered — remains: Would Ohio State take both offensive lineman if they could?
I think the answer is yes, if Taylor and Johnson both want in, the Buckeyes would happily accept both commitments knowing they could take the two offensive lineman and a defensive lineman and call it a day. Yes, that means they'd end up outside looking in on Mike Gesicki, but that's likely anyway. 
As far as the defensive line, one of the three remaining primary targets, Derrick Nnadi, made his official visit to Ohio State this weekend as well and from all reports things have gone well. I hope to have to more on his visit after he returns to Virginia. Sorry. #SadFace
2015 FOCUS

Even though we've got a few weeks left in 2014, the majority of the focus during the week has turned beginning the pursuit of 2015 prospects. This weekend Ohio State offered Tarvarus McFadden, a potential five-star defensive back prospect from Fort Lauderdale's American Heritage high school. While McFadden's interest in the Buckeyes is just getting piqued, the offer and interest is of note. The name of the high school should be familiar to recruitniks because it's the home of quarterback Torrance Gibson, one of the nation's premiere athletes and a player who is very interested in Ohio State.

Gibson's a major fan of Ohio State and the Buckeyes are a major fan of Gibson (Tom Herman visited the 6-foot-4 athlete this past Friday afternoon.) Gibson understands how he, as a quarterback, could really mold his future recruiting class with an early pledge but insists a decision isn't coming anytime soon.
"I'm just gonna take my time," Gibson told 11W. "I know (committing early) could help a lot, because I think if I commited to a big time school people will follow because they'd know we are going to build a great dynasty." 
Will that be at Ohio State? I'm getting close to thinking that's a yes. 
---
What about the other outstanding quarterback/defensive back duo with Buckeyes offer in 2015, Brandon Wimbush and Minkah Fitzpatrick? Fitzpatrick stirred Twitter on Saturday afternoon with a tweet suggesting his recruitment will be over sooner rather than later. Does that mean Fitzpatrick has a good idea of where he wants to go already? Not quite, but he's growing weary of the process already and that bodes well for a few of the programs that have established a relationship with him early in his recruitment.
"I am not going to drag it all out," Fitzpatrick said Saturday when asked if he was close to making a choice. "When I know what school I want to go to I'll announce."
Wimbush still plans to announce his college choice towards the end of February. It's not yet known how Penn State's hiring of James Franklin will impact Wimbush, but it's likely to play a part in things before all is said and done.
---
A newer name on the horizon for 2015 is Avon, Connecticut tight end Chris Clark, a strapping 6-foot-6, 245 pounder who has become one of the hotter commodities at the position for 2015 in recent weeks. Offered by the Buckeyes on December 20th, Clark also has offers from Georgia, Arizona State, Boston College, NC State, Indiana and a number of others. This weekend he's made it clear that he's got a favorite early in the process.
"Ohio State is my favorite right now," Clark told Eleven Warriors. "Coach Hinton stopped by to see me on Thursday and it went really well. He told me that I was bigger than he expected me to be and that he'd like to have me in the 2014 class if he could. He wants me to come down for a practice this spring, so I'll visit there March 21st."
SUDDENLY SULLEN SOLLY

It's no secret that coaching changes are part of the business that is college football, but you'd be hard-pressed to find one recruit who's had his recruitment more impacted by coaching changes that Buckeye target Solomon Thomas. As you may or may not know, Thomas has a final five schools that include Ohio State, Texas, Arkansas, UCLA and Stanford, with most people believing that he's leaning toward the Cardinal of Stanford. In the last month Thomas has seen key coaches from four of his five favorites depart, understandably impacting his recruitment.
At Ohio State, the departure of Mike Vrabel was a major loss, forcing the Buckeyes to try and play catch up with new defensive line coach Larry Johnson, Sr. Johnson visited Coppell on Friday afternoon and Thomas and his parents and coaches were impressed by his candor and pedigree, but whether it will it be enough to help the Buckeyes get back in the driver seat is hard to say. 
At Arkansas, defensive coordinator Chris Ash departed for Ohio State. While Ash was not the coach responsible for recruiting Thomas directly, his leaving leaves an air of uncertainty about what the defensive gameplan in Fayetteville will be next year. 
At Texas, Mack Brown was let go and Charlie Strong has brought a whole new staff to the Longhorns. 
This week, Stanford's Derek Mason, the successful defensive coordinator for the Cardinal, took the head coaching job at Vanderbilt. Again, Mason was not the primary recruiter for Thomas, but there's at least a chance that he could ask Randy Hart, the defensive line coach at Stanford to accompany him to Nashville, which could lead to another round of upheaval in Thomas' recruitment. According to people close to Thomas the most important factor from a football standpoint is the relationship the defensive lineman has with his position coach, so anything is possible at this point.