The exposure Ohio State receive is almost unparalleled in the world of college athletics, but some get a small taste of what it will be like before they even step on campus.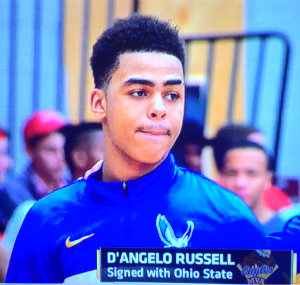 For example, D'Angelo Russell and his Montverde Academy squad appeared on ESPN, Saturday. While the majority of sports fans were, presumably, tuned into the Saints-Seahawks NFL playoff game, it was still a solid introduction to Russell for the Ohio State fans that were watching. If you missed it, Eleven Warriors has the recap. 
In-state, one of the Buckeyes' top 2015 targets visited Columbus for an uninspired OSU performance. This weekend, he'll be participating in a national showcase close to his Southwest Ohio hometown. 
Thad Matta and his staff still have work to do on their 2016 class, and they'll get a visit from one of the top guards graduating in that year.
RUSSELL LEADS NO. 1, UNDEFEATED SQUAD
Ohio State's highest ranked recruit is also the lead guard for the top-ranked high school basketball team in the country, according to USA Today. The No. 1 Montverde Academy (Fla.) Eagles sit at 15-0 after dismantling Oak Ridge (Fla.) on national TV.
First off, the game was televised on ESPN – the "mother ship," the main channel – but the best Montverde could do for announcers Mike Couzens and Paul Biancardi was the front row of the bleachers? As far as on-court action goes, I took a few notes on Russell's play:
Russell started things early by jumping all over a telegraphed pass, taking it end to end with fluidity and finishing with a solid left-hand jam.
Montverde loves to get out in transition. There's no more perfect example of that than when – off a made bucket – Russell launched an alley-oop pass from beyond the timeline and over the entire Oak Ridge team to LSU commit Ben Simmons. Ridiculous athleticism on Montverde and a perfect set-up from the Buckeye signee. 
As a result of their fast-break style, Russell didn't create as much offense in the half-court as he did in AAU ball. However, that didn't mean he wasn't active in the half court. On one possession, he dove towards the basket while a teammate had the ball in the post and got in great position on the offensive glass. Ultimately, Russell kept the play alive by tipping a rebound to a teammate.
He did initiate the offense almost every time down. On a few possessions, he was able to create for others, including a hesitation dribble off a pick-and-roll which opened up a three on the wing. He kicked it out to the "hot hand" at the time, Xavier signee Makinde London, who drilled the shot.
On other occasions, Russell resorted to a quick, pull-up jumper when he saw some separation. The touch on his jump shots is outstanding.
I wasn't able to see enough of his on-ball defense as I would've liked. On one possession, he chased the opposing Oak Ridge player out to the timeline and immediately found himself out of position. 
There are a few things I want to see before I deem him ready to step in and play immediately at point guard. Based on his game, he will soak up everything Thad Matta will teach him next fall, and I expect him to play in some capacity. He has a high basketball-IQ and, as far as I counted, only took two bad shots all game. 
Meanwhile, Ohio State target and 2015 four-star recruit Noah Dickerson will transfer from North Atlanta High School to Montverde. Talent just keeps flowing in to the Central Florida school.
Kennard visits
Buckeye fans might not want to revisit what went down, Sunday, against Iowa. Understandable, but for the purposes of basketball recruiting, it wasn't all bad. 
Franklin (Ohio) guard and five-star, 2015 recruit Luke Kennard sat behind the Ohio State bench and was summarily treated to a slew of turnovers. At least it wasn't his first impression of the university – he visited multiple times in the fall, which included an unofficial visit for the Wisconsin football game. 
According to Scout.com, Kennard would like to make a decision in March or April. If you haven't seen him play, here's Kennard dropping 46 points on Oakwood (video courtesy of Scarberry Media): 
National showcase in Kettering
Another chance for fans to see Kennard will be Saturday at 6:45 p.m. His Franklin squad will be one of 37 schools competing in the "Good Samaratin Flyin' To The Hoop" invitational in Kettering, Ohio.
It's not all about one player, as Trent Arena will host an array of talented squads. Local recruits include 2015 Ohio State commit A.J. Harris, whose Dayton-Dunbar squad will take on Marian Catholic (Ill.) and Kentucky signee Tyler Ullis at 8:30 p.m., Saturday. 
Two future Buckeyes will also take part in the invitational. Dave Bell and Garfield Heights (Ohio) will match up against Prime Prep (Texas), Sunday at 6:45 p.m. Prime Prep features stud point guard and SMU signee Emmanuel Mudiay, among others.
Keita Bates-Diop and University (Ill.) play twice – the second of which is Monday at 6:30 p.m. against Beavercreek (Ohio). OSU target and 2016 five-star recruit V.J. King will travel with his St. Vincent-St.Mary (Akron) to take on Bates-Diop and University, Sunday at 5 p.m. 
For a full list of games, the schedule is listed here. Those in Southwest Ohio and the surrounding area might want to check out tickets, which can be found on the Flying To The Hoop web site.
future visit from 2016 guard
Matta and the Buckeye basketball staff will soon receive a visit from a top-tier 2016 guard, according to SNY.tv
New Jersey native and five-star guard Tyus Battle is scheduled to attend the Michigan State game, March 9, in Columbus. Battle's father, Gary, confirmed the future visit and spoke of his son's desire to see a game at The Schott.
"Ohio State's really working hard," Gary Battle told SNY.tv. "We're definitely going to get out to Ohio State, this year, because we haven't been there."
Indiana, Syracuse, UConn and Villanova, among others, also have offers out to Tyus Battle. For those unfamiliar with Battle, check out these highlights, via Iowa Elites.