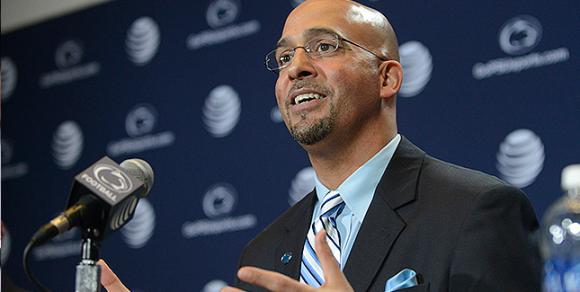 Life couldn't get much better for Ohio State in early December. The Buckeyes were winners of 24 consecutive games, proud owners of two straight victories over Michigan and on the brink of playing for the national championship.
The gap between Ohio State and the rest of the Big Ten was as cavernous as the Grand Canyon. Urban Meyer rode into the conference, took on all-comers and walked away unscathed. It reached a point where Meyer called on the league's other coaches – the Little 11 – to recruit better.
"It's not only important, it's essential," Meyer said. "It has to happen."
It did, and the Buckeyes' fortunes changed swiftly and dramatically in Indianapolis on Dec. 7.
Michigan State put the clamps on their two-year reign, and what's followed the past 39 days has steadily narrowed the advantage Ohio State held over its conference foes.
The Spartans won the Rose Bowl; the Buckeyes lost the Orange Bowl; Michigan hired former Alabama offensive coordinator Doug Nussmeier; two assistants, including avid recruiter Mike Vrabel, left Ohio State; and James Franklin was introduced as Penn State's head coach.
Got all that? OK.
Meyer countered all the negative headlines with the impending announcement of Chris Ash (co-defensive coordinator/secondary) and Larry Johnson Sr. (defensive line) as assistant coaches. But it's becoming increasingly obvious that the clear path the Buckeyes once had in the Big Ten is evaporating – or becoming bogged down with traffic in both directions.
The Big Ten East begins play in the fall, and it's already apparent that it'll be much more competitive than the West. Ohio State, Michigan, Michigan State and Penn State will claw for a championship each fall. Not many would have expected the East to be this loaded, but Michigan State's rise and Penn State's ability to stay relevant during unprecedented sanctions shifted the balance of power.
Championship or not, the Big Ten hierarchy still takes shape in Columbus. Urban Meyer is still Urban Meyer, which means his team and coaching staff is more than likely better than the opponent. The Buckeyes' current recruiting class is ranked second in the nation by Rivals, well above its nearest conference foe, Penn State, at 16th.
The date circled and bolded on the calendar for 2014 is Nov. 8. That's when Ohio State travels to East Lansing in what will be billed as the Big Ten's top game of the season – yes, even bigger than Ohio State-Michigan. The Buckeyes and Spartans will share the national spotlight all week and could even get a rare night game in November.
Michigan State loses several key pieces from its 13-1 Rose Bowl championship team, but returning are head coach Mark Dantonio, defensive wizard Pat Narduzzi and quarterback/Buckeye slayer Connor Cook. At a celebration inside the Breslin Center last week, Dantonio told the crowd, simply, "We will be back."
The Spartans, victors in 42 games the past four seasons, are in a precarious situation, though. It's welcome – success always is – but Michigan State is a program that hasn't dealt with having a target on its back in a generation. Now, the color green is on the radar of every school in the Big Ten, most especially Michigan and Ohio State.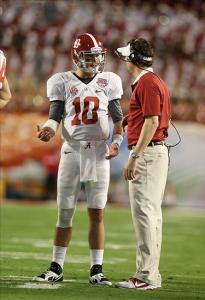 "Success, once you've tasted it a little bit, you want to keep it," said Dantonio, who reportedly signed a new contract that pays him $4 million annually. "That's what I got out of the Ohio State process. Once you've tasted that type of success and you understand what it took to get you there, you have a better chance of getting there again."
In 1970, Woody Hayes famously had a rug with the score of the 1969 Michigan game sewn into it and displayed prominently in the locker room. Might the digits 34-24 appear in the football facility that bears Hayes' name?
The Wolverines could take the same approach after a heartbreaking loss to the Buckeyes last season. Already this offseason, Brady Hoke got rid of offensive coordinator Al Borges following a severe lack of production in 2012 and pried Nussmeier away from Nick Saban and Alabama. He made $680,000 in Tuscaloosa and is purported to be in the $850,000 range at Michigan, which would make Nussmeier one of the top five highest-paid assistants in college football.
"This is a special place. A special, special place," he said at his introductory press conference. "When you say the word 'Michigan,' everybody knows about Michigan football."
For more than a decade, Nussmeier's made his name on coaching quarterbacks and devising efficient offensive game plans. A.J. McCarron, Jake Locker, Jeff Smoker and Tom Brandstater have all enjoyed robust numbers under the guidance of Nussmeier. Marc Bulger was a Pro-Bowl quarterback during Nussmeier's stint with the St. Louis Rams.
However, his two years as Alabama's offensive coordinator are what he's most known for. The Crimson Tide enjoyed unprecedented success under Nussmeier after an entire existence of vanilla offenses. They flung open the doors to the passing game and averaged more than 38 points, winning a national championship and turning McCarron into a bona fide Heisman Trophy contender.
"He is a bright coach who works hard and brings a lot of energy and enthusiasm to work each and every day," Saban said. "Our production and balance the last two years has been very good, and he also brought a lot to the table in terms of coaching the quarterbacks."
In 2014, Nussmeier will be tasked with bringing out the best in Devin Gardner and an offense that ranked 86th in the nation last season.
"We want to be able to run the football, and we want to be able to put points on the board, and we want to force the defense to defend all different elements of the game," Nussmeier said. "This is a good football team with good young talent. We just have to develop it."
The same can be said for Penn State. The Nittany Lions are perhaps the biggest threat to Ohio State's goal of supremacy. They've lost nine games the past two seasons – six conference games – but the hiring of Franklin has once again reinvigorated Happy Valley.
Bill O'Brien kept Penn State afloat and even thrived at times during near Death Penalty sanctions. Now Franklin is poised to take the program back to where it stood in 60s, 70s, 80s and 90s under Paterno. Restrictions will linger two more years, but Christian Hackenberg and a bevy of talent should make life hard on its fellow East members.
The salary scale has risen considerably since 2010, when Paterno made a cool million dollars. O'Brien went from a $950,000 base salary in 2012 to $1.9 million last season. Franklin's wages are substantially higher – $4.5 million. All of a sudden, the slow and plodding Big Ten is home to five of the nation's 11 highest-paid coaches.
Once the NCAA's black curtain is lifted from atop Mount Nittany, look out. Franklin is coming off back-to-back nine-win seasons at perennial SEC doormat Vanderbilt. And he was a recruiting machine at the Nashville school, where academics are king.
Franklin won better than 60 percent of his games at Vanderbilt when only one coach in the past half century had a winning record. He signed top 25 recruiting classes and beat the likes of Florida, Auburn, Georgia, Tennessee and Missouri.
A Pennsylvania native, Franklin proclaimed, "I think I'm the right guy to come back and unite this state and bring this program back to what I think it can be."
On recruiting: "We are going to dominate the state. We are going to dominate the region."
Hear that, Urban? The train chugging along with ease suddenly has some squeaky parts.