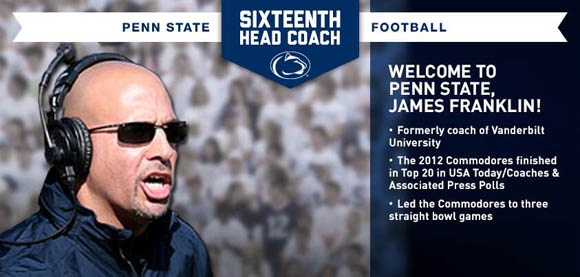 It's official. James Franklin has left Vanderbilt to become the 16th head coach in Penn State football history.
Franklin, who nearly doubled the number of bowl games in Vanderbilt history in just three years, will be introduced to the Penn State campus at 4:15 p.m. today. The event will be carried live on BTN2GO.
"I can't tell you how excited I am to come home," Franklin stated. "I grew up watching Penn State football and now to be at the helm of such a storied program is a tremendous honor. It's important to me to be a part of a University that strives for excellence in everything they do. When football student-athletes come to Penn State, they have a unique opportunity to receive a premium education while playing at the highest level of competition.
"I'm incredibly excited to get to know the students, alumni, and fans who have demonstrated such loyalty to the University as a whole and to the football program in particular," Franklin added. "I've worked my way through every division of football and no other school boasts a fan base like we do. We Are...Penn State!!"
This is good for Penn State and good for the Big Ten.