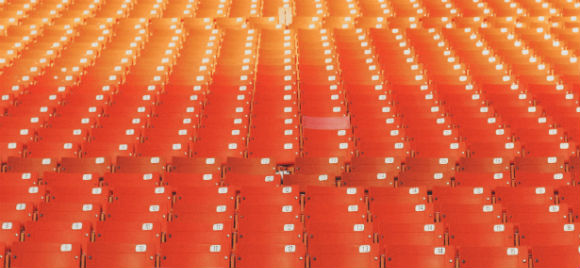 For many of us, college football is our drug of choice, and its addiction is ferocious and unforgiving.
It starts innocently enough. You watch your local or favorite team if you find yourself home on a Saturday afternoon. You enjoy it. It feels good. Even when your team loses, there's that feeling that draws you back, like a gambler's high — you simply must regain that emotional jolt again that electrified you after the first win you witnessed.
Pretty soon you're rearranging your schedule to make sure you're in front of a television at game time every week. ("Honey, let's do the shopping later, or maybe on Sunday!")
Then it escalates even further. You find yourself checking out College GameDay before the the noon-kickoff games to get all the latest news and see who the pundits think will win. One day, you discover you're  flipping channels during commercials to catch snippets of other games. You start watching the weeknight games.
At this point, you're routinely in front of a television the majority of your Saturday. You move from College GameDay to the early games, then the afternoon games, followed by the prime time and West Coast broadcasts — and, if you're lucky, a late night contest from Hawaii.
Your favorite pizza place is easily accessed by phone or web, and your go-to order is in their system. There's football on, dammit, you don't have time to cook or run off to the dining room for some lavish meal.
You're oblivous to this, but your beloved family members, who still live with you by the way, often walk into the living room, look at you, shake their heads sadly, and quietly depart. Your significant other may ask you something once in awhile, but then they go away when you don't answer. Once in awhile they might ask, "this game is still on?" and you sheepishly reply that it's a different game — all the while feeling guilty.
The next step is watching with your laptop close at hand, so you can simultaneously indulge in your addiction while chatting on Twitter or in open game threads. You start following recruiting. You're streaming high school announcements live over the internet and MY GOD MAN, WHAT IS WRONG WITH YOU?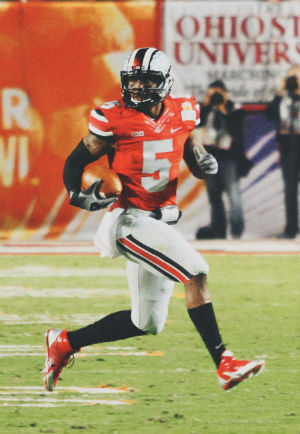 You greedily gobble up off-season news. Coaching changes. Players getting into trouble. Transfers. You're on top of all of it, because it's your only connection to the game. It's your lifeline; your methadone. It's not exactly college football, but it's college football-adjacent. Websites, like this one, help you through the dark times until your precious returns each fall.
Then the cycle starts again. "I'll only watch the Buckeyes," you tell your spouse. "I'll make more time for you and the kids." And then two weeks later it's "well, this is a really big game, I have to make an exception. These are two top 10 teams!"
Another Saturday or two and you're in front of a television or streaming device from 11 a.m. to 1 a.m., until the last day of the regular season. Then you eagerly consume as many bowl games as you can.
The season ends with another national championship game and all you're left with are the all-star exhibitions for graduating players — the Senior Bowl, the East-West Shrine Game, and so on. These are interesting but ultimately unsatisfying as college football games.
And now, once again, a college football off-season is upon us, because life is a wheel.
So…what do we do now?
As Buckeye fans, it helps that we have a perennially successful basketball squad. Watching Aaron Craft and company is fun, and it typically takes up two hours of our time twice per week, and provides a nice bridge from the end of bowl season into spring practices and the Spring Game.
After March Madness and the Spring Game, you'll probably remember those people who live with you. They're pretty great, actually. Spend some time with them. Find out what grade your kids are in and how they're doing in school. Take your wife out like you used to and re-learn all those things you once knew about her. She'll appreciate it and you'll probably find it agreeable as well.
The NBA and NHL playoffs will have to assuage your Buckeye withdrawal for a little while, and baseball returns, if you're into that — although I personally watch intensely only for about the first two weeks of the season and then kind of forget about it until after the All-Star break.
The toughest part of the off-season is the long, dark stretch between the end of the Stanley Cup/NBA finals and the beginning of fall practice. If you're lucky, there's precious little news about your team during that time, because when something happens during that period, it's usually not good.
You'll devour all the season preview stuff here and elsewhere, because oh that's right, you completely forgot about that redshirt freshman you were so excited about a year ago but who didn't see the field.
Don't spend too much time on this.
This is the time to lean on your family — heavily. Do everything with them. Go on vacations, have cookouts or go camping. Take them to the zoo or a park or a ball game. Go for walks. You and your spouse should be social and do things with other couples.
Teach your kids to ride a bike or something. Read to your kids. If they're young enough, offer to bathe them, so your wife can relax and read a book or watch some of those Nashville episodes that are clogging up the DVR.
In short, make them grow sick of you by the time college football starts up again. If you do this right, they'll breathe a sigh of relief when that first football of the fall leaves the kicking tee.
And then you'll be back in that warm embrace of college football.
The off-season is here. Good luck to you all.