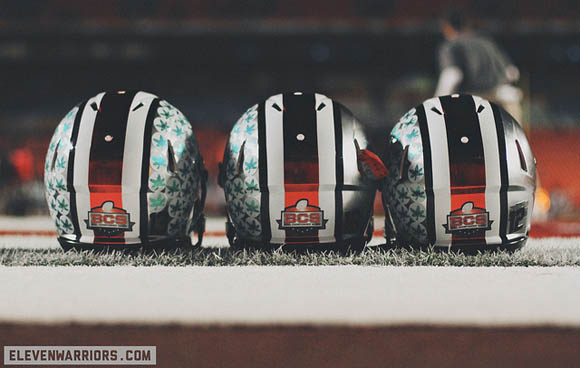 It was a tough loss and it still stings, but there are GIFs to enjoy, so let's get to them.
Ohio State's first big play of the game came on a fake punt. Jeff Heuerman takes the snap and converts to keep a touchdown drive alive.
Here's Braxton Miller going 33 yards to cap the drive.
One more look. DAT STUTTER STEP.
"Guys. Guys. Let's triple-cover the receiver." "Sammy Watkins?" "No, the other guy."
Great punt by Cameron Johnston. An even better play to down the ball at the one by Armani Reeves.
Reeves' heady play led to a safety when Clemson quarterback Tajh Boyd was called for intentional grounding in the end zone.
Clemson dominated large stretches of the first half and had all of the momentum in the world before freshman Vonn Bell, making his first start, pressed the hero button.
Ohio State would capitalize again on this 57-yard touchdown strike to Heuerman.
Urban Meyer reacts to a penalty on Bell for a late hit.
This Braxton Miller run gave Ohio State an improbable 22-20 lead with just 12 seconds remaining in the first half.
Ohio State's secondary was abused by Sammy Watkins, Martavius Bryant and other Clemson receivers, but here's Tyvis Powell making a play.
Presenting the world's worst case of fake umbrage.
Hyde picks up a huge fourth down, nearly punching it in.
He finished the drive one play later.
Credit where credit is due. This Bryant catch was ridiculous.
Miller finds Hyde for a 14-yard touchdown looper to put Ohio State back on top after Clemson had scored two quick touchdowns.
Trailing late in the game, safety C.J. Barnett gave Ohio State a glimmer of hope with his interception with 1:27 remaining.
Alas, Ohio State would give the ball back just two plays later.