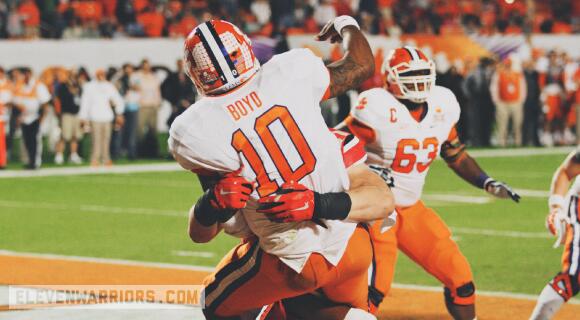 The Buckeyes had a rough week of pre-Orange Bowl practice in South Florida this week. Suspensions, injuries, flu bugs and wipeouts on skim boards have provided a wealth of distractions in the run-up to the big game against a good Clemson squad.
With both teams known primarily for their offenses, this game was billed as an offensive shootout in the making, especially with the news that Bradley Roby and Noah Spence were out (and eventually Curtis Grant, as of game time).
Tajh Boyd and Sammy Watkins had to be licking their chops when looking at a secondary that featured Armani Reeves and Doran Grant at corner, freshman Vonn Bell at star and Tyvis Powell joining senior C.J. Barnett at safety. Meanwhile, Clemson's defense was known for making tackles for loss, but also giving opponents lots of explosive plays.
Could Ohio State's young defense play like a group of seasoned veterans? Would Luke Fickell and Everett Withers design a scheme to shut down the Boyd/Watkins tandem confuse Clemson's star quarterback? Would Braxton Miller return to the passing efficiency he enjoyed early in the season? Would Carlos Hyde rumble again?
Not even close, not at all, mostly yes, and kind of — but again Tom Herman forgot about him after Ohio State took the lead.
This one hurts, but probably not as much as the loss to Sparty in the grand scheme of things. Here are your talking points:
Water Cooler prep (Everything you need to know…in one paragraph)
Ohio State overcame a slow start to take a 29-20 lead late in the third. The Buckeye defense then got a big stop, but Philly Brown's unfortunate muffed punt gave Clemson new life. They made the most of it, with a quick touchdown and another off a Braxton Miller interception to regain the lead. The Buckeyes scored again but the defense couldn't hold the lead. C.J. Barnett's late interception gave Ohio State a shot, but Miller returned the favor with the fourth Buckeye turnover. Clemson pretty much Sammy Watkins'd Ohio State to death. The future NFL star caught 16 passes for 227 yards in Clemson's 40-35 win.
Talk before the game 
"No Bradley Roby. No Noah Spence. Hold me, I'm scared."
"These two offenses might score 70 against the opposing defenses."
Best matchups in Orange Bowl: Sammy Watkins vs. air, Carlos Hyde, the human bulldozer vs. it doesn't matter.

— Adam Kramer (@KegsnEggs) January 4, 2014
Would say it looks like no Curtis Grant tonight. Camren Williams slid in as 3rd LB with Ryan Shazier and Josh Perry in warmups.

— Doug Lesmerises (@DougLesmerises) January 4, 2014
Talk in the aftermath
"This is the worst Ohio State defense I've ever seen. Someone's got to go."
"What a terrible way for Philly Brown to go out."
"Braxton's going pro after that beating. He won't be back."
Give that man a buckeye leaf (Player of the game)
Braxton Miller took an absolute beating — including a helmet to the chest that wasn't called on a third-quarter interception, and being driven into the ground (which was called) on his TD pass to Carlos Hyde. He was so banged up that his final interception (Maybe? Definitely worth a second look by replay.) may have been largely influenced by the state of his body. But Miller showed extreme toughness in playing through pain and completed 16/24 for 234 yards and two touchdowns. He also ran for 79 yards after you take out sack yardage lost and touchdowns of 33 and three yards.
It might have been Miller's last game as a Buckeye, but if it was, he certainly gave us everything he had. Unfortunately, the last interception with the game on the line will probably stick in many people's heads longer than his overall performance.
Snot Knocker of the Game
After the muffed punt, Clemson took over with a first down at the OSU 33-yard line. Tajh Boyd faked a handoff and kept the ball, running over the left side. He was met in the hole by freshman safety Tyvis Powell. Powell's hit on Boyd echoed around Sun Life Stadium as the Clemson quarterback was dropped hard after a three-yard gain.
Did you see that?! (Play of the game)
Miller's first touchdown run was a thing of beauty. Keeping over the left side, Miller found the sideline, with a bunch of green in front of him, but Clemson defenders closing from the middle of the field. Miller gave the mother of all stutter steps, freezing the defender and allowing him to get to the end zone.
When you sank into your chair (The moment Buckeye football disgraced your family)
There is no choice here but the play that changed the game. Ohio State had a two-score lead and was getting the ball back in decent field position. Bradley Pinion punted the ball high into the South Florida sky. Brown, usually a fairly conservative return man, opted not to call for a fair catch. As the ball came down and Clemson Tigers converged on him, Brown tried to field the punt while turning away from pursuit. He dropped it, and the Tigers quickly found themselves back in the game. You can, and probably should, put the blame on the defense, but Philly threw Clemson a lifeline at a time when another Buckeye score may have put the game away. It was an unfortunate mistake on the part of a guy who made a name for himself returning punts, as I mentioned back in October.
Jim Tressel's Least Favorite Moment of the game
Clemson grabbed a 40-35 lead after Doran Grant batted away a two-point try in the fourth quarter. Plenty of time remained. There was 6:16 remaining in the game and a long, sustained touchdown drive would have put Ohio State in a pretty sweet position. Jim Tressel was watching while reviewing the Cleveland Browns' roster for…oh, no special reason. The Buckeyes took over at their 25 after a touchback.
"Dave," said Tressel, but Miller tap-passed to Dontre Wilson for a loss of five. "Dave," said Tressel, but Miller threw 21 yards to Brown for a first down. "Well, that's ok, but Dave," he said. Miller instead kept for 16 yards. "That's fine, but DAVE." [Miller ran for a loss of one.]
"DAVE, for Pete's sake!" [Miller's pass to Devin Smith lost two yards.]
"DAVE DAVE DAVE DAVE!" [Miller was sacked and lost the ball for a turnover.]
Tressel threw his paperwork at the television. Gaping at her husband, Ellen quickly got up to clean up the unseemly mess.
What you texted your friend at the end of each quarter
First: This defense is killing me. That stutter step by Brax, tho.
Second: Outstanding recovery and we get the ball first after halftime.
Third: Poor Philly Brown.
Fourth: Welp. No review on that last pick but we simply blew this game, even though they tried to give it to us.
It was over when
This game looked over a few times. When Clemson took over on the Miller fumble, things looked bleak. But Boyd threw an interception to Barnett to set Ohio State up with a first down and 1:27 to play. But it was over for real two plays later, when Miller badly underthrew an open Brown and it was intercepted by Stephone Anthony. Then it was well and truly over.
---
And that's it for your 2013 Ohio State football season. It's a lousy way to head into the off-season, but we hope these debriefings have made you the talk of the office. With any luck, the knowledge you dropped on your co-workers made them totally forget what you did at the office Christmas party.