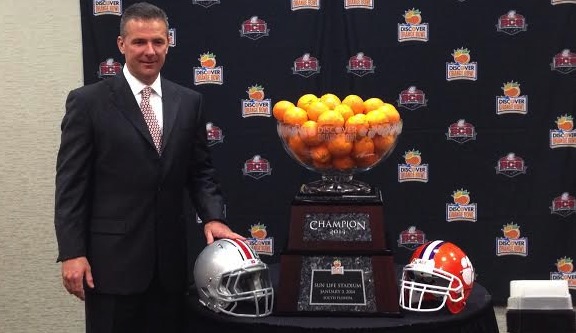 FORT LAUDERDALE, Fla. – Four weeks later, the game is here – almost.
Head coaches Urban Meyer and Dabo Swinney spent the month of December trying to find a crack in the opponent. Considering Ohio State and Clemson are coming off losses, it shouldn't be hard to do. But these teams have only lost a combined five games the past two years.
On Friday night, the Buckeyes and Tigers will try and build their status, which could be a benefit in 2014, the first year of the four-team playoff. 
"To get [win] No. 25 would obviously be amazing," Ohio State senior left tackle Jack Mewhort said. "I don't know the historical significance, but as a Buckeye football team, we'd be really excited about it."
Christian Bryant's medical redshirt appeal was denied, Meyer said. He doesn't know if another appeal is possible. "Appeals haven't been very kind to Ohio State lately," added Meyer.
Meyer said he doesn't care if the game is checkers or Ping-Pong, he wants to go and try to win. Not playing in the national championship game doesn't change the approach to the Orange Bowl.
The focus is on OSU and Clemson, Meyer said. But he doesn't deny a win is big for national perception and the Big Ten. "Guys are working extremely hard on closing the gap [with the SEC]."
"I caught the end of the Rose Bowl. I found myself pulling for the team in green real hard." –Meyer
On personnel issues, Meyer said Vonn Bell and Tyvis Powell will start at positions they've never played, but he said defensive goals remain the same.
"12-2 is a lot different than 13-1. Winning a BCS bowl game is extremely important." –Meyer
Leadership was very poor after last season, Meyer said. But he said he's impressed with how guys have responded – Mewhort, Jordan Hall, etc.
There's been no determination on permanent captains, according to Meyer.
Meyer said Bryant's leadership evolved into a team spokesman-type role at the Penn State game in 2012. He said his loss is huge.
Meyer on the NFL being a distraction during bowl weeks: "Has it ever happened? Hundreds of times." He said it's even disrupted practice.
Ohio State's trip to South Florida isn't just about winning a BCS game. Recruiting is another component. Recruits have been present at all of the Buckeyes' practices and Meyer referred to South Florida as a "primary" recruiting area for Ohio State. 
"Jamal Marcus is going to be a disruptive guy. He's one of our more talented guys on defense." –Meyer
In 2009, Fla. lost to 'Bama in SEC title game, missing out on the BCS championship. Meyer said he referenced those practice notes this week.
Players Meyer's been impressed with during bowl practice: Bell, Powell, Billy Price, Corey Smith, Jalin Marshall and Michael Thomas.
On Tim Tebow, Meyer says, "I hope his playing days aren't over." Meyer said he's never had serious discussions about Tebow joining him at Ohio State. He said he doesn't want to disrupt Tebow's dream of playing in the NFL.
Swinney said it's been a long prep time for the Orange Bowl. He said the staff has tried making the week in Miami as normal as any other game week.  Swinney said he will tell his team to enjoy the opportunity and moment they have Friday night.
Clemson tight end Stanton Seckinger missed practice with a sprained ankle on Wednesday. This morning, Swinney said the Tigers' health is good and that Seckinger should play.
"The mistake you can make for a bowl is overpreparing for an opponent. It becomes boring, it becomes stale." –Swinney
Asked about the OSU secondary, Swinney praised the unit and said he's seen improvement throughout the season.
"They have some big old hogs up front that allow them to run the football." –Swinney on OSU offensive line.
Growing and maturation has been a key characteristic in describing Clemson the past two seasons, Swinney said. Since it lost to West Virginia, he said there's been a total 180 inside the program. The Tigers are 21-4 since that game.
"Ohio State is more than one or two players. That's why they've gone 24-1. That's almost unheard of in modern football." –Swinney
"I remember every loss, EVERY loss. None of them are pretty. There's no ugly win and no pretty loss in my book." –Swinney
A major issue in Clemson's two losses this season, to Florida State and South Carolina, was turnovers. The Tigers turned it over a combined 12 times in those two games. Said Swinney: "That ball is 12 ounces of gold, man. When you put it on the ground, it affects everything."
Asked about the Woody Hayes punch, Swinney said it's an unfortunate part of the history for both teams' programs. In his eyes it doesn't diminish Hayes' legacy. "There's been a few times I'd have liked to punch a couple guys, too," Swinney said, laughing and joking.