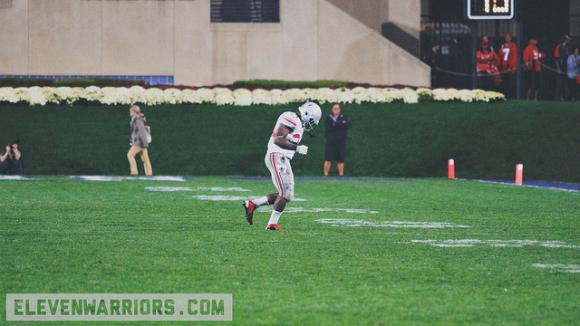 FORT LAUDERDALE, Fla. – Carlos Hyde spent mid-December in Columbus and will take in New Year's in Miami. Those aren't awful destinations, even if the weather is cold in Ohio. But they weren't the locations Hyde set out for on a 13-game journey.
It was supposed to go from Columbus all the way to Berkeley, Calif., and back to the Midwest, east to New York and then back west to Pasadena. A derailing occurred before the engine even started, however. Off-field issues led to a three-game suspension, which ended Hyde's trip to the Bay Area and Midtown Manhattan for the Heisman Ceremony.
Instead of sorrow, Hyde channeled his energy into constant improvement. He worked on the scout team, was a constant presence in the weight room and took a leadership role in the locker room. When he returned to the field, teammates responded.
"I think the challenges he faced and the way he overcame them speaks a lot to who he is. He didn't sulk and any time he was around us, he was positive," senior left tackle Jack Mewhort said. "When he came back, he ran with a lot of passion, ran hard and made [the offensive line] look good. We're proud of him for the way he responded, and he's had a tremendous year."
Many thought Hyde's absence was overblown after Jordan Hall performed so well in his place during the first three games. But it quickly became apparent how valuable Hyde was after he lifted Ohio State to victory at Northwestern. It would be the first of eight consecutive 100-yard outputs, two of which resulted in 225-plus yards. Hyde scored 16 touchdowns.
He was an All-Big Ten honoree and an argument can be made that he, not Braxton Miller, is the offense's MVP. In Friday night's renewal of the Orange Bowl, Hyde could be the Buckeyes' ticket to success. Their high-scoring offense is about legs, not arms.
"It's going to be a challenge. But for me, it all starts in the trenches and just winning the line of scrimmage," Clemson defensive tackle Grady Jarrett said.
"Well, I know it's going to take all 11 guys on defense," added linebacker Spencer Shuey.
That duo is part of the nation's 53rd-ranked rush defense. Opponents are averaging more than 150 yards rushing per game. On the flip side, Ohio State gains nearly 320 yards on the ground. Hyde alone almost reaches the Tigers' average. In a potential shootout, the Buckeye offense could bail out the Silver Bullets.
"I think you see two highly ranked offenses and some personnel that's going to be moving on to the next level and [points are] what fans expect," Ohio State head coach Urban Meyer said. "I'm not sure that's what they will see."
What they might see is a new Orange Bowl rushing record. At least that's the newest goal Hyde has in mind. He rattled off details about former Nebraska running back Ahman Green's 206-yard record-setting performance in 1998, before adding, "I'm looking forward to that."
The word guarantee wasn't included, but Hyde clearly enters Friday's game with no shortage of confidence. There remains a tinge of disappointment that the final game of his career won't be for the national championship. A trip to Miami, less than two hours from Hyde's hometown of Naples, isn't a bad consolation, though.
He actually credits time spent in Virginia at Fork Union Military Academy as a turning point in his development as a person and football player. The first diversion of Hyde's career occurred because he failed to qualify academically. When he arrived t FUMA, Hyde took a negative mindset and then steered on course, foreshadowing his reaction to adversity five years down the road.
"That was a journey," Hyde said. "When I first started, my mindset was all wrong. Then when I got in there, my mindset changed. I looked at the good that I had. It just makes you focus on the important things and not take anything for granted."
That perspective doesn't mean Hyde lacks displeasure. He remains regretful that a Heisman Trophy could have slipped from his grasp. In 10 games, Hyde rushed for 1,408 yards and 14 touchdowns, numbers projected to 13 games that may have resulted in the bronze statue.
The biggest positive in Hyde's corner is his ability to bring his "A" game every week, regardless of the opponent. The almighty 2,000-yard barrier could have come down with three more opportunities.
"There's no telling," Hyde said, laughing.
His best is needed to beat Clemson – and there's no telling how far Hyde will go. But it's possible it will be beyond 206 yards.