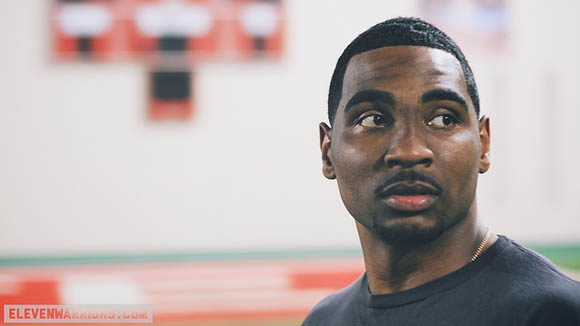 FORT LAUDERDALE, Fla. – As Carlos Hyde continued an historic stretch of running the football, teammate Braxton Miller was beset by struggles while attempting passes. But Ohio State's offense hummed non-stop for much of the season, even as Miller's passing stats went by the wayside.
In the Buckeyes' last four games, he completed 46 percent of his passes (38 for 82) for 544 yards, seven touchdowns and two interceptions. Miller's two worst passing outputs of the season came in the two biggest games – Michigan and Michigan State. He completed just six passes against the Wolverines and a modest eight versus the Spartans.
Poor weather could garner some of the blame, but the Big Ten Championship Game was played indoors. A bigger factor was solid defensive play and his inability to crack the code. But Miller didn't back down from the reality that his passing fell off at crucial times.
"It was down," he said, describing his final-month performance. "We just have to get better. That's what we're doing right now. That's why we work so hard in practice. We've got to watch the film. We'll be all right."
Despite the downward trend in November and December, Miller still improved dramatically compared to last season. His completion percentage stands at a career-high 63.2 percent, five points better than last season, and in three fewer games he's only 179 yards passing from last year's total, which topped 2,000.
"Braxton has grown as a passer," senior wideout Philly Brown said. "Coach Herman has more trust in us and Coach Meyer has more trust in us. We really shouldn't hold anything back now, so hopefully we come out and give everybody the show that they want."
Offensive coordinator Tom Herman set the 70-percent mark as a goal for Miller's completion percentage before the season. That number would sail by Troy Smith's school-record Heisman-winning 65.3 percent, set in 2006. And Miller was on pace to establish a new record until his struggles came along. With four games remaining, he had completed over 72 percent of his passes.
Meyer and Herman each made reference to the less than ideal elements in relation to poor passing days against Illinois and Indiana, when wind and snow made uninvited appearances.
"I think he needs to continue improving," Herman said. "I mean, he's certainly not perfect and wasn't perfect in the middle of the season, but I think maybe some of the flaws and mistakes were able to be masked by some of the simpler things that we did and that defenses allowed us to do.
"So as you move later in the season, obviously, defenses say, 'Here's what they're doing. We've got to stop this.' So when you stop that, what's your counter? I don't know that we ever made that push into the next phase of the adjustment in the passing game, but we will. Braxton's gotten better these last three weeks, absolutely."
"He has been a spark for us his whole career here." -Tom Herman
Miller's four best rushing outings did coincide with a dip in passing production. That may or may not be a coincidence. With Hyde all but guaranteed to tack on 100 yards rushing each game, teams dared Miller to throw the football. When he failed, defenses were able to creep even closer to the line of scrimmage.
Ironically, even with 623 rushing yards rushing and eight touchdowns in those same four games, it's a play that came up short that gets remembered. If Ohio State beats Michigan State, Miller's passing woes are forgiven and a minor story in the lead up to the national championship game. But the Buckeyes did lose, receivers did drop passes, Miller was inaccurate and he was stuffed on a 4th and 2 late in the fourth quarter against the Spartans.
"He has been a spark for us his whole career here," Herman said. "He did a fantastic job, and he completed some really tough balls and obviously ran really well, too. He has made a lot of progress. I was proud of him. I was really proud of how hard he played."
Clemson already carries the tag of being the top stopper behind the line of scrimmage. It leads the nation in tackles for loss with 113 and ranks in the top 25 in sacks (33) as well. Miller's skill set could be a detriment for the Tigers, though.
"He's got a great blend of size and uncanny speed," defensive coordinator Brent Venables said. "We've seen some athletic quarterbacks this year, but none with the speed that he has. With his size and strength, he can run through trash. Because of his strength, like a running back, he's got eyes in the back of his head. He sees guys from all angles. He's just got an uncanny ability in the pocket to feel pressure."
Said linebacker Spencer Shuey: "Some of the plays we see him make on film is just unbelievable to sit there and watch. You rewind it over and over and you still can't believe it every single time you watch it."
The Orange Bowl won't be for the national title, but its importance is not diminished. For Ohio State, it would act as a statement win, and for Miller, who didn't fare well in his last trip to Sun Life Stadium, it could be confirmation that he can perform under duress. Mr. October is a coveted title in baseball, not football.
As South Carolina's Connor Shaw proved, Clemson is ripe for the picking by dual-threat quarterbacks. He completed 54 percent of his passes for 154 yards and a touchdown, and ran for 94 yards and a score. He eluded several sacks and extended four drives by gaining first-down yardage on third downs.
But thee of the Gamecocks' four touchdowns that afternoon – a 31-17 South Carolina victory – came off Tiger turnovers. Clemson limited South Carolina's offense to 318 yards, its second-lowest total of the season.
"It's not just about a guy that spies all day as the answer," Venables said. "If that were the answer, all of those running quarterbacks wouldn't be worth a dang if they would just do that, right?
"That's why multidimensional quarterbacks are good. Not just a runner, that's one thing. If they're just a passer, that's one thing. But if they can do both, that makes it a little bit more difficult and it becomes a chess match."
So the question becomes who pawns whom?