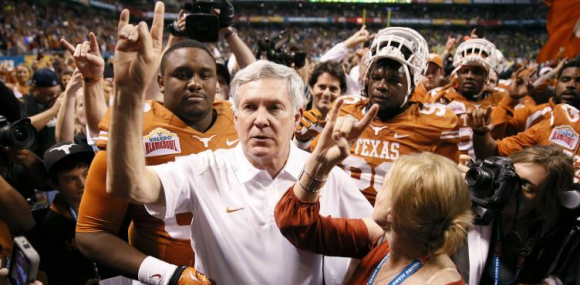 The phrase "life is funny sometimes" is a pretty useful one, not because life is actually funny (it rarely is), but moreso because it allows me to bray like a jackass at the misfortune of others. This concept is referred to in German as schadenfreude, and ever since the non-German speaking internet learned about it in 2004, it has become one of the major tools of the trade in sports fandom and writing.
In other words what's painful to you is incredibly hilarious to me, as long as I can stay oblivious to the fact that the wheel of fate crushes all of us underfoot eventually.
Anyway: coaching. If you are an NFL fan, there's a semi-decent chance that the team you root for lost its head coach on Monday. Also, because this is an Ohio State blog with a ton of Ohio readers, I can probably safely assume that many of you are Browns fans. Which means that not only did many of you lose a head coach recently, you lost a head coach who was fired because he couldn't take lemons and make a fine red wine out of them. And the best part is that Browns management has zero idea of what to do next while I, a Bengals fan, can laugh and laugh and laugh.
That's all pretty dumb, but also emblematic of the complete crap shoot that is sports and life in general. Ohio State has twice gotten stupidly lucky in their coaching searches in recent years, but the wheel never stops spinning.
It's weird to think that articles on the internet only have a reliable shelf life going back approximately 10 years or so, but oftentimes it's difficult to find online news about anything in particular from 2002ish and later. Which is why I jealously guard this Sports Illustrated column about Jim Tressel's hiring in 2001 like a precious jewel made out of rubies and diamonds:
COLUMBUS, Ohio (AP) -- Ohio State has a new coach -- Jim Tressel -- and it didn't have to travel far to find him. Tressel, who guided Youngstown State to four I-AA national championships in 15 seasons, will be introduced Thursday as the Buckeyes' new coach.

...

Ohio State's other finalist was Minnesota's Glen Mason, a former Ohio State player and a member of the same Buckeyes coaching staff as Tressel for two years.

...

Others who either interviewed or spoke with Ohio State officials about the job included Oakland Raiders coach Jon Gruden, Oregon coach Mike Bellotti, current Buckeyes assistant head coach Fred Pagac, former Ohio State and NFL linebacker Chris Spielman and Stanford head coach Tyrone Willingham.
I want you to take a long, hard look at those names and think about the implications for each. Glen Mason, as much as he wanted the job and is an Ohio State dude through and through, is not half the coach Tressel was and is. Bellotti at Ohio State is actually kind of insane to think about and would have been a complete 180 from Tresselball. Spielman is a great dude but a poor coach, and Ty Willingham is Ty Willingham. And it's somehow a little comforting to know that Jon Gruden was perpetually on college football shortlists even going back to 2001.
Of those names, Bellotti probably looks like the best candidate on this list, but even he went through a five year stretch where he averaged five losses per season and dropped four straight bowl games.
In the end, the guy who ended up being the actual best choice was a relatively unknown quantity from a D-II school in a dying Rust Belt town in Ohio. Yes, people were energized by his obvious love for the university, but Jim Tressel was a perceived longshot by a program on its heels.
And it worked. Ohio State has been extremely lucky in head coaching hires since, well, Woody, and sometimes I wonder if that has more to do with the tradition of success that the Buckeyes have enjoyed than any other intangible factor.
Think about it: even though Ohio State head coaches seem to have an innate ability to meet their ends in worse ways than Defense Against the Dark Arts instructors, they've all been incredibly successful in their own fashion. It's what's allowed OSU to fire those same coaches so readily; you've made us amazing, and that's just not good enough for us anymore.
That's a bit of hyperbole; Tressel lied to the NCAA, Cooper couldn't beat Michigan and was losing control of his team, Earle Bruce was really a KGB agent in disguise and the Ohio State football team was just his cover to be able to travel across the US and steal state secrets, and Woody punched a player in the neck.
But the truth is that these were all really, really great coaches who directed the Buckeyes to wins and national prominence on a consistent basis for what, like 60 years now?
Take a look at the rest of the heavy hitters on the college landscape historically, and you'll find that some of the schools that we associate with greatness haven't been so lucky.
Starting in 1997 and ending in 2006, Alabama was coached by Mike DuBose, Dennis Franchione, and Mike Shula. In those ten seasons, Alabama lost five games or more a total of seven times and ended up under the NCAA's thumb for recruiting violations. Before Mack Brown, Texas was coached by David McWilliams and John Mackovic, who combined to lose 54 times in 128 games. Hell, Florida was coached by RON ZOOK.
Some of it hard work in your hiring process, but in the end some of it is dumb, blind luck. Urban Meyer fell into our lap, but think about who the other candidates might've been. There are strong indications that the fallback plan was beautiful Bo Pelini, and... that's it. Fickell might've been thrown in out of respect, but that's how thin the margin of error is in these situations.
Ohio State has never had an overall unsuccessful long tenured head coach since before Woody Hayes. Let's laugh at the misfortune of the Longhorns, and the Browns, and whoever else is going through a coaching transition. But let's also never forget that sooner or later, we're going to be sweating the same bullets. And next time we might not get so lucky.