On New Year's Eve, you always have plenty of options for celebration. You could go stand in Times Square for twelve hours to watch the ball drop, or spend $375 to do the same at the Times Square Applebee's. You could shoot off fireworks, or just drink champagne and kiss your beau.
Those are fine, but here's another idea: watching the Chick-fil-A Bowl and hoping Texas A&M and Duke go into overtime. It ought to be a blast, and there are three other bowls (Advocare V100, Sun, Liberty) that lead into it.
Another option is to relish the first day of Big Ten conference play with a basketball quadruple-header. Ohio State and Purdue play the first game at 1 PM, followed by Indiana/Illinois, Michigan State/Penn State, and Iowa/Nebraska.
Whatever you do, drive safely.
 MIAMI HOTLINKS. The Buckeyes opened a practice to media on Monday, after which they took questions about the Orange Bowl. Because the news is so varied, we're going into bullet time.
Players raved about the setting and amenities at the practice site, Nova Southeastern University. It is pretty beautiful.
Bradley Roby participated in practice; Urban Meyer said he had a bone bruise.
Meyer and SID Jerry Emig shot down rumors of food poisoning for the team. They claim it was a 24-hour flu bug.
Curtis Grant is back in drills, though not with the first team.
Corey Smith's jersey number has changed from 84 to 7, which could be because of positive play.
Meyer gave Fickell a vote of confidence, saying that he was confident he could fix Ohio State's defensive problems.
J.T. Barrett and Jalin Marshall are simulating Tajh Boyd and Sammy Watkins on the scout team.
Meyer is not interested in the Cleveland Browns job. Duh.
Meyer will likely replace Everett Withers with another safeties coach/defensive coordinator.
On this last point, Coaching Search came up with an interesting idea: with Withers off to James Madison, would Meyer go after Bill Sheridan for a second stint as safeties coach?
Sheridan was one of Meyer's initial team of assistant coaches, but he left to take the Tampa Bay Buccaneers' defensive coordinator position. The Buccaneers fired Greg Schiano yesterday, meaning that Sheridan is probably out of a job now. The downside is that Meyer may not be keen on somebody who bailed out on him weeks after being hired to go to another job.
One final thing: if the rumors of food poisoning have any basis in reality, Michael Bennett is going to  be on the sick list tomorrow.
Ate way too much sushi. I'm 95% sure this'll be a rough ending

— Not Mike Bennett (@mike63bennett) December 31, 2013
 ARCHIE TO BE HONORED. The Rose Bowl Game will go on for the 100th time tomorrow. In commemoration of this, the Football Writers Association of America named one person from each decade of the game to represent some of the all-time greats that have played there. One person stands above all: Archie Griffin, who the FWAA named the All-Century Player.
Ohio State played in four Rose Bowls from 1973-1976, and Griffin started in all four games. The Buckeyes played for the national championship in 1973, 1975, and 1976; the latter two years were Griffin's Heisman seasons.
Archie Griffin was surprised by the honors, since Ohio State only won the 1974 Rose Bowl. He reflected on the connections he made with his trips and how much he enjoyed the experience:
Griffin said the four straight trips to the Rose Bowl in the 1970s gave the guys on his team an appreciation for Pasadena, its people and traditions. "We were out there enough that we developed friends and relationships with people who lived out there," Griffin recalls. "We really looked forward to going out there, and it became an annual thing for us. The Rose Bowl people really took care of you."
Griffin will be honored at halftime of the game along with John McKay Sr., the former Southern California coach who the FWAA named the All-Century Coach.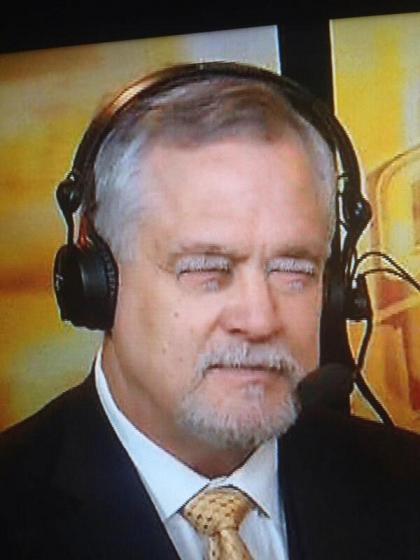 HE'S BACK.  Some people are destined to be publicity hounds, and Tim Tebow is one of them. ESPN announced yesterday that it had hired Tim Tebow as a college football analyst. Tebow will start on Jan. 6 with coverage of the BCS National Championship Game. Tebow has an out clause to play in the NFL, and Tebow was hired specifically as an analyst for the SEC Network, which could result in some massive trolling potential.
I have reservations about his acuity as an analyst, but as long as they stick him in a studio he doesn't have to ruin any games. However, consider this: Kirk Herbstreit was 27 when he joined GameDay in 1996, and Tim Tebow is 26 now. If he's still around in seventeen years, the only way to stay sane is to interpret every word he says as Malkovich.
 SAYONARA, MACK. There were quite a few bowl games yesterday, with the highlight being Mack Brown's swan song.
Mack Brown coached his final game at Texas against Oregon in the Alamo Bowl. It turned ugly, as Oregon dominated in a 30-7 win. Case McCoy was lousy for Texas, throwing more interception return yardage than actual passing yards. Now the Longhorns have to figure out the direction of the program under pressure
Navy's defense shut down Middle Tennessee State's offense to win the Armed Forces Bowl, 24-6. The game was exceptionally chippy; MTSU had one fewer personal foul than it had points and a player was ejected for drawing two unsportsmanlike conduct penalties, a rule few people were aware of. Also, SPORTS.
Ole Miss held off Georgia Tech in the Music City Bowl, 25-17. Ole Miss had a 23-7 lead before Georgia Tech started to come back, but a late safety killed Tech's chances. Most notable from the game was one spectacular face-plant on a fake punt:
Arizona State and Texas Tech played in the Holiday Bowl, and as usual the higher ranked team suffered a letdown. Texas Tech dominated, Arizona State ended a strong season with a bewildering performance, and Matt Millen provided unintentional double entendres.
 SOUTHERN BEATDOWN. When schools put their basketball schedules together, sometimes mismatches happen. SWAC schools get beaten up by the rest of Division I, so they schedule Division II/III/NAIA schools or even lower to get a guaranteed win. Some of those games are ugly, but one game blows any previous mismatch out of the water.
Last night, Southern University humiliated Champion Bible College by the score of 116-12. Southern shattered an NCAA record by starting the game on a 44-0 run against Champion Bible College, which appears to be a two-building school in which the school president is also the basketball coach.
I'd like to know three things. How on earth do games like this even happen, how much did Southern pay for the beating of a lifetime, and why does Champion Baptist have a Midnight Madness video online?
 LINKS AHOY. The Winter Classic held at Michigan Stadium will be especially cold... The most lopsided Division I basketball game ever took place last night... The coolest science of 2013 in GIFs... John Calipari is Vince McMahon... Darqueze Dennard's journey to the Rose Bowl... Deconstructing Tyler Gaffney... Michigan's Adidas contract requires them to be paid top dollar... Sam Thompson has the Big Ten's top non-conference dunk... 2013's dumbest sports controversies... The importance of the Skip Prosser Classic... Darts attracts some engaging characters... and Alfred Morris has the right priorities.