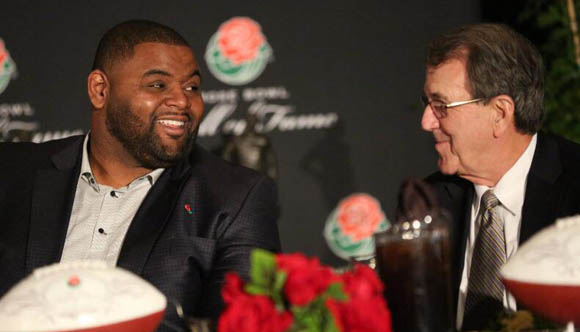 Ohio State great Orlando Pace and former Michigan head coach Lloyd Carr catch up on things as they're honored with induction into the Rose Bowl Hall of Fame today in Pasadena (they were joined by fellow inductee Lynn Swann of USC). That's a cool story (bro), but we're here to caption this bad boy.
The rules are simple: submit your caption to this photo as a comment and we'll check back Wednesday at noon. The comment with the most Helmet Stickers at that point will win a free t-shirt from Eleven Warriors Dry Goods. You like free shirts, right?
The fine print:
Must be 18 or older to enter.
Entry must take the form of a caption.
Deadline for entries is Wednesday, Jan. 1 at 12:00 p.m. ET.
Good luck.