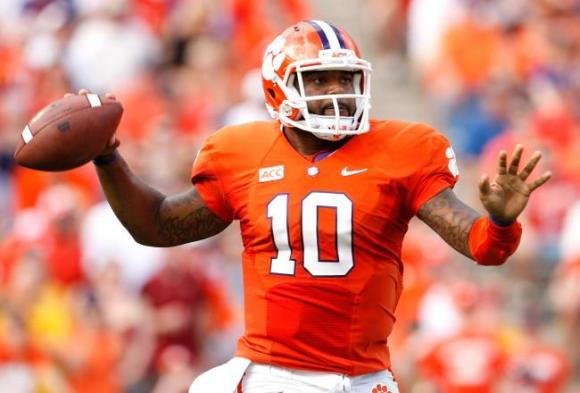 FORT LAUDERDALE, Fla. – In December 2008, Tajh Boyd, a four-star recruit, sat inside Jim Tressel's office at the Woody Hayes Athletic Center admiring Troy Smith's Heisman Trophy. Boyd, whose idol growing up was Smith, got the grand tour of the opulent football facility. Then Tressel told Boyd if he came to Ohio State he too would have the number 10 across his chest. 
"I was like, 'Oh, my God,'" recalled Boyd, when he met with the media on Monday. "He was a player I'll never forget."
Boyd does wear No. 10 in honor of his childhood hero. But the colors are purple and orange, not scarlet and gray. On Friday night, he'll play the final game of his praise-worthy college career against the team so many thought he would play for.
So how did Boyd end up in a tiny hamlet in middle-oh-nowhere South Carolina? It has the makings of the Big 3 in Miami. At the All-America Bowl in San Antonio, Boyd and running back Roderick McDowell struck up a conversation. When Boyd said he was going to Ohio State, McDowell took matters into his own hands, calling then-Clemson running backs coach Andre Powell. From there, the Tigers became a major player for Boyd.
"It was quite funny," McDowell said. "I got a phone call back and they were on the phone for 35 minutes."
Said Boyd: "If I had committed at the Army All-American game, I would be a Buckeye right now. I had no interest in Clemson, but getting a chance to meet [McDowell] and talking to him, he threw me on the phone with the coaches. He's been a great friend."
Terrelle Pryor's status with Ohio State also factored into Boyd's decision, as was the inevitable commitment of Braxton Miller. Clemson head coach Dabo Swinney told Boyd he'd be the start of something big for the Tigers.
"That's what he's done. He has changed Clemson," Swinney said.
With 60 minutes remaining in a career that will be talked about for years in the Palmetto State, Boyd must beat a group of players he thought would be teammates.  For 20 minutes Monday morning, Boyd showered his almost-alma mater with compliments galore, even going as far to say the Buckeyes have the "dopest" uniforms in college football.
He admitted that he was an impressionable young kid at the time of his recruitment and whoever had the final visit was likely to gain his services. That team happened to be Clemson. Boyd visited Clemson, Ohio State, Oregon and Tennessee. Michigan and Kansas State gained traction as well, to the point where Boyd said he saw himself in Ann Arbor and Manhattan.
"I don't think I would have enjoyed that too much," Boyd said, laughing – and sure to gain fans in Columbus.
"It was difficult to turn down Ohio State," he said. "You go up to the Woody Hayes Center, when you walk in there it looks ridiculous. There are rings everywhere, trophies everywhere. There are monumental programs in college football. There's Ohio State, Southern Cal, Michigan – we're trying to get there."
The decision-making process was so excruciating for Boyd that he didn't answer what he estimates to be 12 phone calls from Tressel after he committed to Clemson.
"If you're watching this, I love you, you're my guy," Boyd said, delivering a message to Tressel.
The courting of Boyd was a jumping off point for a budding recruiting rivalry between two schools that share little in common. The Orange Bowl will be just the second all-time meeting on the field between Ohio State and Clemson, but recruiting battles have raged dating to the Tressel and Terry Bowden regimes.
They have the Big Ten/ACC Challenge in basketball. For years, though, that battle has translated to the living rooms of football recruits.
The latest chapter in "As the Buckeyes' and Tigers' World Turns" was the pursuit of Raekwon McMillan. The five-star linebacker, a native of Georgia, chose Ohio State over Clemson and other suitors at his December announcement. Months earlier, it was the Tigers who bested the Buckeyes for dual-threat quarterback Deshaun Watson and wide receiver Demarre Kitt.
But the biggest coup in Ohio State and Clemson's one-upmanship came when 2009 when the Tigers secured the commitment of Boyd.
"Jim Tressel was at Ohio State and Mike Bellotti was at Oregon. They had pretty good track records and here I am trying to lay it out on paper for [Boyd]," Swinney said. "Here's the vision, here's the plan. You come to Clemson and we can change Clemson, and we'll have a lot of fun doing it. But I got to have a guy that's willing to hitch his saddle up next to me.
"Bellotti was hanging out in a tree in the backyard with binoculars and Tressel was parked in the front yard waiting for me to leave."
Boyd took a leap of faith, joining a class of 12 recruits dubbed the "Dandy Dozen," and opted to help change the course of Clemson football. Five years later, he's one of the most decorated players to ever play for the Tigers, rewriting the quarterback record book at Clemson and setting numerous ACC records as well.
Boyd has thrown for nearly 12,000 yards and 102 touchdowns, more than any ACC quarterback in history. His passer rating – 154.2 – is also the conference's best in its 60-year existence. Boyd's engineered three 10-win seasons and the Tigers' lone ACC championship in the past 20 years.
And he didn't just set off a chain of events at Clemson. Boyd's decision still impacts Ohio State half a decade later. Empty handed at the alter, the Buckeyes still wanted a quarterback. When Austin Boucher stuck with Miami (Ohio), they looked to Texas where an unheralded three-star recruit named Kenny Guiton attracted no attention from major programs. On Signing Day, he became a Buckeye.
Two years later, Miller followed. It's possible neither would have committed to Ohio State if Boyd were already in Columbus.
"It was really close. [Ohio State] finished No. 2," Boyd said. "It was a difficult choice because Troy Smith was my favorite player growing up in high school. Just trying to emulate him and be in the same mold. Getting a chance to go up there and visit in high school and just seeing all the pageantry and just the history behind that program is pretty awesome.
"I did hear about Braxton on my visit up there. Some of the alums and players were talking about Braxton. We've developed a great relationship over the years. I called him on [Dec. 8] to make sure he's all right from the previous game and told the boys they better be ready.
"It's going to be real fun."