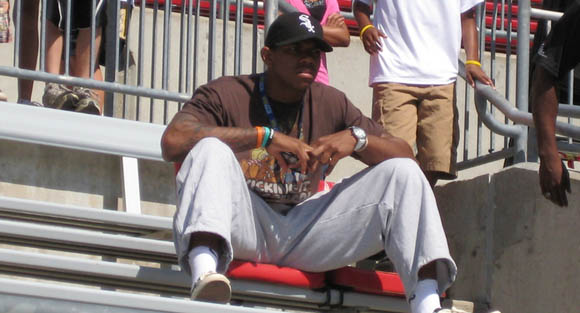 Terrelle Pryor's Raiders have lost five in a row and six of the last seven. Pryor had been named the starter at the beginning of the year, but was eventually supplanted by undrafted quarterback/PSU ball of moxy, Matt McGloin. It was expected McGloin would start this Sunday, but Dennis Allen, in his second year as Raiders coach, has named Terrelle Pryor as starter.
Pryor's agent has a theory on why this surprise move came to be:
Pryor's agent Jerome Stanley told CSN Bay Area on Monday evening that starting Pryor was the move of a desperate coach setting a young quarterback up to fail.

... Stanley believes there is a connection between Allen's lot and Pryor being given the start. He thinks there is something "nefarious" in Allen's motive to start Pryor, and that the Raiders are making his client a scapegoat.

"I think they're putting him in hopes that he fails," Stanley told CSN reporter Fallon Smith and myself. "That's what I think coach is doing. I think they're putting him in hopes that he has a bad game, so he can then justify the Matt McGloin situation. I think that's what's going on, I do and it's ridiculous."
Some things change, but the Raiders general ineptitude since losing to the Tampa Bay Bucs in Super Bowl XXXVII... well... that doesn't appear to be going anywhere anytime soon.