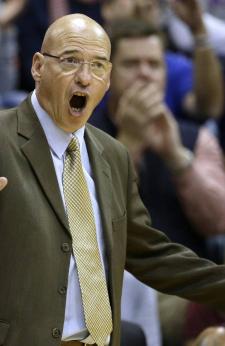 One more irrelevant opponent and it's on to the conference season for Ohio State. There's been a smattering of Marquettes, Marylands and Notre Dames, but a majority of the November and December schedule has been the usual serving of cupcakes – or cream puffs.
It's a poor diet choice, though the system has always worked well for Thad Matta and the Buckeyes. Wins pile up, confidence is built and before you know it, Ohio State owns 20 wins. Come March, the Buckeyes often play their best basketball. It could be the cupcake or it could be the meat-and-potatoes Big Ten – or it could be a combination.
"When they see somebody like the Ohio State Buckeyes, that's their shot," senior guard Lenzelle Smith Jr. said. "That makes us be on the alert and on our toes even more because those are typically the games you have to make yourself play and get up for."
This season's start is partly thanks to a weak schedule, but it's not like Ohio State hasn't proven its worth either. Whenever given a roadblock, it's gone right on through with great force. It seems as if the Buckeyes could have a high seed in the NCAA Tournament sewed up at this point.
Louisiana-Monroe is just another impediment on the journey.
"Every time we have an opportunity to put on a jersey, it doesn't matter who we're playing," senior point guard Aaron Craft said. "We don't want to take those opportunities for granted. Our focus right now is on us. There is a lot of time to get better and there's still a lot of basketball to be played regardless of who we have to prepare for. Our job and responsibility doesn't change. We have to find a way to get better."
| # | Name | YR | HT/WT | PTS | REB | AST | P | # | Name | YR | HT/WT | PTS | REB | AST |
| --- | --- | --- | --- | --- | --- | --- | --- | --- | --- | --- | --- | --- | --- | --- |
| 4 | A. Craft | SR | 6-2/195 | 10.0 | 3.2 | 4.7 | G | 11 | N. Coppola | FR | 5-11/195 | 3.8 | 2.8 | 4.8 |
| 3 | S. Scott | JR | 6-1/185 | 8.0 | 4.2 | 3.9 | G | 10 | A. Olatayo | SR | 6-4/200 | 17.0 | 6.2 | 0.5 |
| 32 | L. Smith Jr. | SR | 6-4/210 | 13.1 | 5.1 | 1.6 | G/F | 12 | T. Ongwae | JR | 6-7/205 | 12.2 | 3.7 | 1.2 |
| 10 | L. Ross | JR | 6-8/220 | 12.8 | 5.4 | 0.6 | F | 1 | J. James | SR | 6-6/225 | 10.2 | 7.7 | 4.3 |
| 23 | A. Williams | JR | 6-11/250 | 10.3 | 7.6 | 0.3 | C | 0 | M. Williams | JR | 6-8/245 | 9.8 | 4.7 | 0.7 |
Opponent bREAKDOWN
Louisiana-Monroe finished the 2012-13 season with a paltry 4-23 record. It returns most of its lineup, but that's not necessarily good news. Senior guard Amos Olatayo led the Warhawks in scoring last year with almost 16 points a game. He carries that same honor through seven games this season and he's upped that output to 17 points. He's had a double-double in 14 of his last 15 games dating to last season.
Senior forward Jayon James is the best all-around player on the team. He's averaging 10.2 points, 7.7 rebounds, 4.3 assists and 1.7 steals per game, making him one of the top players in the Sun Belt Conference. Freshman point guard Nick Coppola doesn't produce much in the way of points (3.8) and rebounds (2.8), but he is being a facilitator by churning out assists (4.8).
"Ohio State is ranked third in the country, and it's going to be a challenge," Louisiana-Monroe head coach Keith Richard said. "But I said when we went into this stretch…that we'd go into it with enthusiasm and we'd come out of it with enthusiasm. That's what we're going to do. We'll have a good scout and we're going to go out there and give it our best."
Monroe has only played seven games this season, having two prolonged breaks. It opened the season with a respectable 17-point loss at Kansas. The Warhawks also suffered losses to LSU (61-54) and Ole Miss (75-62) that show he program could be headed in the right direction. But it won't take close losses to bring change. At the end of the day, a new direction begins with wins.
"We're just starting to rebuild our program on the floor. There's going to be bumps and bruises along the way, but we're improved," Richard said. "We have a tough schedule, ridiculously tough. We have a whole conference season to go. As long as we improve, we can keep moving forward."
Buckeye Breakdown
Throughout the first two months of the basketball season, Ohio State's been lauded regularly for its defense. Offensive spurts have also occurred, and the past two weeks included the perfect synergy of defense and offense. The Buckeyes' all-around play contributed to all four wins in the Gotham Classic, including a comeback stunner in Madison Square Garden over Notre Dame.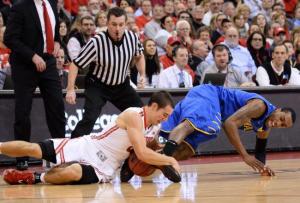 Three players averaged double-figures with LaQuinton Ross leading the way at 15.5 points per game. His shooting struggles to begin the season have become nothing but a distant memory. Smith averaged 15 points and junior center Amir Williams added 10 points, continuing his early-season surge in production.
But this team still carries a defensive identity. They rank near the top in several major categories – third in three-point percentage defense (25 percent) and fewest fouls (15.3), fifth in scoring defense (56 points) and sixth in margin (19 points). Craft and Shannon Scott continue to be pickpockets in the backcourt, which gives Ohio State a nightly edge in point off turnovers.
Etc.
This is the first meeting between the two schools. OSU is 7-1 all-time against Sun Belt foes.
Ohio State has now won 10 consecutive games in 13 different seasons.
Aaron Craft is 12th nationally in steals (31). Teammate Shannon Scott ranks 24th (27).
The Craft-Scott tandem can put any point guard on edge. They don't allow the opponent to get in a rhythm and become a 40-minute annoyance. It's not just Craft and Scott who make games difficult for offenses. Smith and Sam Thompson can also stretch opponents and create turnovers. Smith provides veteran savvy on the floor, while Thompson's athleticism helps him corral opposing playmakers.
Even Williams is limiting the opposition. He's become a rebounding machine and can also alter shots with his giant paw.
Performing such a thrilling and unheard of comeback on national TV also didn't hurt their cause. The Buckeyes proved their full-court press could harass an opponent to the extent of not being able to get the ball past half court. That's just one of many reasons why basketball stat guru Ken Poemeroy has Ohio State ranked No. 1 in pace-adjusted defensive efficiency. Through 12 games, the Buckeyes have not allowed 70 points in a single game.