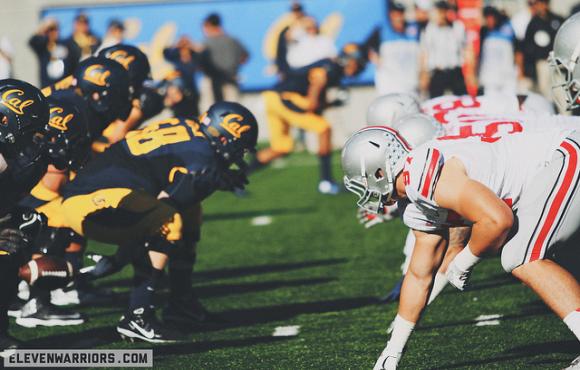 In a brief look ahead to 2014, the losses for Ohio State are many. Gone is Carlos Hyde, almost the entire offensive line, Bradley Roby, C.J. Barnett and possibly Ryan Shazier, Braxton Miller and Christian Bryant. After a 24-1 stretch, some might think the outlook for next season is bleak.
But then again, this is Ohio State and Urban Meyer. Recruiting is a 24/7/365 enterprise. Present day college football has proven athletic defensive lines can be a ticket to greatness, and the Buckeyes possess all the necessary weapons to achieve their lofty goals.
As the pass defense stumbled through 13 games, opponents were unable to find a steady avenue to run through. Ohio State ranks seventh nationally in rush defense, limiting teams to 102 yards per game, and leads the country with 40 sacks.
The entire group which spurred that production – or lack thereof – returns intact next season. Much was said of Noah Spence, Adolphus Washington and Michael Bennett during spring practice and fall camp. The great unknown was true freshman defensive end Joey Bosa. That's no longer a problem for Ohio State coaches.
Bosa was one of the most prolific members of the rebuilt line, recording 39 tackles, 12.5 tackles for loss, 6.5 sacks and a fumble recovery for a touchdown. All that earned him freshman All-American honors and continuous praise from head coach Urban Meyer.
"Joey Bosa is not a 'throw in there,' he's a starter," Meyer said in October. "Joey Bosa is the starter right now. He's a starting defensive lineman as a true freshman at Ohio State, which is quite a mouthful.
"He's an impact player, and I've never really had a freshman defensive lineman (do that)."
Even Bosa is surprised. He said recently that he entered the season with no expectations. Part of that was rooted in his opinion of himself, which was far from a ringing endorsement. Bosa said he wasn't very good and didn't know if he'd get on the field.
Some of that can be chalked up to being humble – Bosa was a five-star recruit – but there is some credence to the self-assessment. Racking up plays, tackles and sacks as a true freshman for a national championship contender is rare for a defensive lineman.
However, Bosa isn't a normal freshman, he comes from NFL bloodlines. His father, John, was a star defensive lineman at Boston College and first-round draft pick in 1987, and uncle, Eric Kumerow, played on the D-line at Ohio State and also was a first-round selection, in 1988. Bosa possesses the same physical skills and pass-rushing ability.
"It's a big football family. You can tell football has been in his world his entire life," Meyer said. "He's just so strong, he torques people. Some guys are real strong, but they don't use it. But he is a long-levered guy, and you can tell."
Throughout the spring, Spence and Washington wreaked havoc on Braxton Miller. In the end, though, it was Spence and Bosa who formed the terrific tandem. The duo combined for 27 tackles for loss and 14.5 sacks. Supplanting Washington as the starter became an easy decision simply because Bosa's difference-making capability.   
For the next three years – or two, depending on Bosa's NFL prospects – Ohio State's defense will be built around its line. The kind remarks are flattering to Bosa, but he said individual accomplishments have little meaning.
"He's very mature beyond his years, both physically and mentally," defensive coordinator Luke Fickell said. "A lot of things don't rattle him, whether it's a big stage or different situations. He's come a long way, but when he walked in these doors it's not like he wasn't built ready to go. I had some high expectations, but you just never know whether they're going to live up to that."
Bosa may have stuck out most in the Buckeyes' lone loss of the season. In the Big Ten Championship Game, he constantly harassed Michigan State quarterback Connor Cook. He finished with a sack, two tackles for loss and three quarterback hurries. He was one defensive player who shined on an otherwise forgettable night.
"I definitely wouldn't say it's come easy," Bosa said.
Neither will the rest of his career in Columbus. But Ohio State's future on defense appears well situated with its freshman phenom.