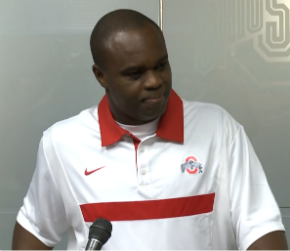 FootballScoop.com has reported that Ohio State co-defenisve coordinator and safeties coach Everett Withers will be named the head coach at James Madison.  
Ohio State said it could not confirm the report and phone messages left by Eleven Warriors with James Madison have not been returned.
The Buckeye defense has been under fire much of the season, and in particular the safeties. The group has never recovered since losing senior leader Christian Bryant in late September. Ohio State ranks 104th nationally in pass defense, giving up nearly 260 yards through the air per game. 
Withers is well respected within the coaching community and one of Ohio State's top recruiters. He received praise in February after a full-court press late in the recruiting process led to the commitment of five-star safety Vonn Bell. 
Withers' base salary at Ohio State is $585,000 per year. Former James Madison head coach Mickey Matthews made $222,000.
This would be Withers' first stint as a full-time head coach, though he did serve as the interim coach at North Carolina in 2011. He posted a 7-6 record with the Tar Heels and led them to the Independence Bowl. They chose to pass over Withers for the permanent position and he was quickly hired by Ohio State and Urban Meyer.
Withers has coached at the college level for 19 seasons with another seven being spent in the NFL. Eleven of his 19 years in college have been as a defensive coordinator and 16 coaching the defensive backfield.
During his four-year stint at North Carolina, Withers built the Tar Heel defense into one of the nation's best. In 2008, the team's 20 intercepted ranked eighth nationally and set a school record. The following season they ranked sixth in total defense, 10th against the run and 14th in pass defense. In 2011, they were 14th against the run.
North Carolina had five defenders taken in the 2011 NFL draft, including first-rounder Robert Quinn.
Withers interviewed at Southern Miss last year, but the job went to Todd Monken.
---
Earlier: Everett Withers among three finalists for JMU job.