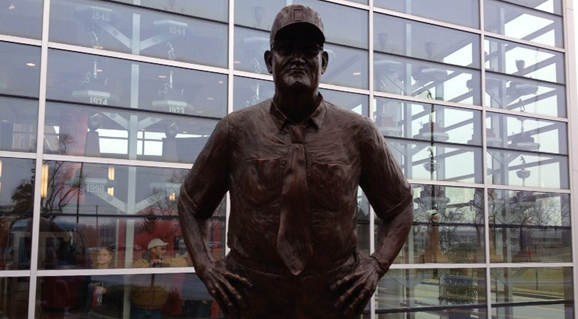 Woody Hayes eventually got a statue, but the fire-breathing Ohio State legend never got to be bigger than Ohio State.
Sure, Woody Hayes had won multiple national titles and restored Ohio State football to its rightful place among the nation's elite, but in the end, the old man had to be shown the door for sticking Charlie Bauman's thieving ass (and knocking some sense into the lad) on national television. 
In 2013, Woody's haymaker might be the subject of banter and wistful nostalgia — I happen to think it was awesome — but it was definitely conduct unbecoming. Moreover, it damaged the Ohio State brand, and nobody, not even a national title-winning coach, is above the brand.
In many ways, it set a precedent that echoes today. It's a policy that's had its awkward/darker moments to be sure, but it's a policy probably for the best.
Almost 30 years after Woody stalked the Ohio State sidelines, it was a lesson ham-fistedly taught to the polar opposite of Woody Hayes: a broke black kid from Youngstown who happened to be a dynamo when holding a football.
As ESPN's Youngstown Boys reminded us, there were people both inside and outside the program who perceived Maurice Clarett as being a little too big for his britches. Maurice, by his own admission, was largely responsible for his ill-fortune, but it didn't seem to me Ohio State (or even Jim Tressel) went out of their way to throw the dude a vine while he was sinking in quicksand.
And that's because nobody gets to be bigger than Ohio State.
A few years later, ironically enough, Jim Tressel would have to be taught a lesson he already knew. When Tatgate initially broke, Ohio State trotted out "the Tat Five" and made them apologize to the nation. (Maybe the last press conference of its kind?) When it was revealed Jim Tressel not only lied to NCAA investigators about when he knew about the allegations, but also played ineligible players... Jim Tressel handed in his resignation.
The Vest could have fought for his job or more-than-likely torched the program to the ground with one phone call, but he committed seppuku instead. Why? Because Jim Tressel is a good soldier, and he already knew.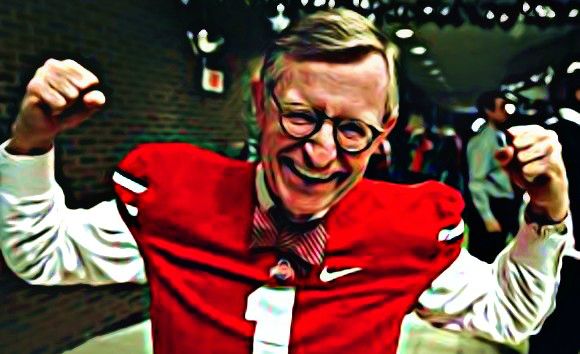 And this policy doesn't just extend to football. Look at E. Gordon Gee — the billion dollar rainmaker — for proof on that.
Sure, Gordon Gee had been known to lodge his foot in his mouth from time to time, but when off-color jokes were leaked to the press six months after the fact that created a media uproar of concern trolling, Gordon Gee was trotted out in front of the press, forced to apologize and forced into counseling and semi-retirement. 
In the end, where does this get Ohio State? Well, after a season capstoned by a blowout loss to Will Muschamp and Florida in the 2012 TaxSlayer.com Gator Bowl, Ohio State went out and got a national title-winning coach to ultimately replace their fallen national title-winning coach. The next man up, as they say.
(The boom of construction and burgeoning Wexner Medical Center on Ohio State's campus lets you know how they're doing on the business side of things.)
And if Urban Meyer were to win four titles in the next decade — PLEASE MAKE IT SO — Ohio State will never be held hostage by his decaying corpse cloying to hope the 2039 recruiting class is the one to finally get things back on the right track. 
At Ohio State, you're either producing results for the team (see: Bruce, Earle; Cooper, John) and acting in according fashion (see: Wayne, Hayes; Tressel, James), or you'll be replaced by somebody who will. It doesn't matter if you're the student smoking weed and playing video games instead of going to class. It doesn't matter if you're the championship-hoarding coach, renegade booster or billion dollar fundraiser. Ohio State can replace you, and they will if you make them.
The results, again, are something with which it's hard to argue. Ohio State has stayed winning. All the figures mentioned are still beloved by Ohio State and the Buckeye faithful, but none of them got to be bigger than the process.
No individual is, after all, and that's probably for the best.