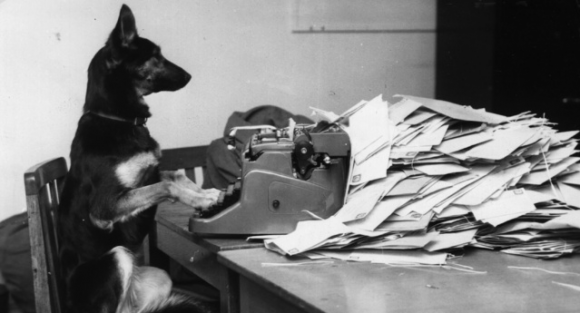 Hey everyone, welcome to a special hiatus version of the Eleven Dubcast. Michael and I are taking the next few weeks off for the holidays, but we also knew that we couldn't resist the giant, watery puppy dog eyes of our listeners. So to that end, we decided to throw together an all text version of our weekly Ask Us Anything segment (pretty easily my favorite part of the show).
If you, yes you there, soaking up the faint glow of whatever love-giving internet device that you're viewing this on, have a question for myself and Michael about life, love, cats, dogs, or the truth about both, go ahead and drop us a line at elevendubcast@gmail.com. We'll read it on air to the delight of literally oodles of internet sports fans and your mom who tuned in just for the occasion. You can also send us a question at our respective Twitter accounts, @Johnny11W and @11w_Michael.
The Dubcast has come a long way since having to rely on Yahoo! Answers to fill time, and we owe it all to you guys. On to the questions!
Question one, from Greg:
"Enjoyed listening to the Dubcast this week. I just wanted to ask about Kerry Coombs- I know you mentioned he is probably more tasked with coaching technique rather than devising plays. If that's the case, then isn't he to blame for DB's jumping routes and playing with their back to the ball too much (case in point- Armani Reeves running into an MSU WR and drawing a huge pass interference call)? I think you and Michael were right on about there not being any announcement of changes. There will likely just be more "encouragement" to move on to that HC position at a small university. In the case of Coombs, I just hope prospective recruits don't look at Armani and think he is being under-coached, prompting them to choose other schools."
Johnny: I don't think that anyone has to worry about Coombs being some kind of net negative in terms of recruiting (see: every sneaky video of him in front of recruits shot in the WHAC). He's a super charismatic guy who was clearly put on the staff because of his ability to connect with young people, and if he's perhaps not the best coach in the world he might make up for that in the form of players like Eli Apple, Vonn Bell, etc.
I'm not entirely ready to lay the blame of DB play at the feet of Coombs, although I'm close, but we'll have to see how they perform in the Orange Bowl against Tajh Boyd.
Michael: Jumping routes is more a feel thing or the aggressiveness of the player in question. I have to admit, I don't recall a PI penalty on Reeves, but the early ones on Grant and Shazier stand out. I haven't seen anything to lead me to believe Coombs is an issue. He might be, but I don't know and Urban Meyer does.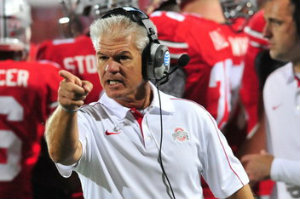 More from Greg:
"Secondly, what have you heard about Mike Mitchell's development this year? I assume he was red-shirted, so he has 4 years of eligibility left- is that correct?"
Johnny: Pretty much the biggest indictment of Mitchell is that he didn't see the field in a preeeeetttyyy weak LB corps. But if he didn't play, he still has those four years. Hopefully the extra year will see him live up to the hype.
Michael: I'm assuming he is redshirting too. I can't say why, other than the coaching staff thought they could get through the season without burning a season of his eligibility in some attempt to build depth later and waste lack of depth now. Linebacker is a tough transition from high school to college from both a physical and mental standpoint.
Next up is Aaron, who asks a question near and dear to my heart:
Hi Michael and Johnny,
"Good stuff as always. Johnny: on the podcast last week you mentioned that you would like to see more questions about life, love and the universe, so hopefully this question counts for one of those. I am a graduate student and biology TA at Ohio State and enjoy teaching a lot. In fact I am strongly considering making a career out of teaching. I like to hear other teachers perspectives, so what do you like about teaching? How did you get into it?"
Johnny: I got started with teaching in high school, where I did tutoring at elementary and middle schools 3-4 times a week for a few years. Once I got to Ohio State, I enjoyed it enough to keep doing it at some of the schools on Indianola Ave throughout undergrad, and that propelled me into grad school to get my Master's in Education there too.
I really enjoy giving kids information that not only were they not aware of, but that hadn't even entered their worldview as a possibility or a consideration. I taught a class about the Civil War last year that I liked a lot not in the least because there are so many narratives and stories about the people who lived through that time period that most students have never even attempted to make a connection to. And when they make an honest stab at putting themselves in the shoes of someone else in an effort to understand them, that's a pretty cool thing to see.
Michael: I was actually considering getting into teaching. While at Ohio State, I did some student teaching at Whitehall High School. It just wasn't for me but I have a lot of respect for those who do it well.
We also got some pretty good Twitter questions, starting with...
@11W_Michael @Johnny11W what's the story with Marcus Baugh? Did he transfer or redshirt?

— Big Buckeye Fan (@osubuckiii) December 17, 2013
Johnny: DON'T DRINK, KIDS. Especially when you've got two talented guys ahead of you and an offense that doesn't use TEs that much anyway.
Michael: Pretty sure he'll end up with a redshirt and we'll see more of him down the line. But don't take my word for it. Check out what our own Jeremy Birmingham has to say in this recent Marcus Baugh update.
Next up is a topical question from Dave:
@11W_Michael @Johnny11W AUA: other than the Orange Bowl, what bowl game(s) are you looking forward to the most? Rose and Outback for me.

— Dave Fitzgerald (@BuckeyeFitzy) December 18, 2013
Johnny: I'm a bad person, so the incredible train wreck that is the Oregon/Texas matchup in the Alamo Bowl is both intriguing and side splittingly hilarious to me. I also really want to see Duke somehow beat Johnny Manziel in the Chick-fil-A Bowl, because that'd kind of be like P.T. Barnum getting punched in the face by a rube he swindled a quarter from.
But the main attraction for me is still probably the Rose Bowl, because I think the combined GRIT (tm) and TOUGHNESS (tm) of the two teams will create some kind of singularity of intangibles that will destroy the universe.
Michael: I'm interested in the NCG of course, and I'll watch as many of the bowls as I can. I'm particularly eager to see how the B1G does this year and how the SEC does. I am hopeful we'll start to see a changing of the guard with these matchups across the board. Go B1G or go home.
---
And that does it for this week! Thanks again to everyone who participates in the Eleven Dubcast, you guys make it what it is, and we really appreciate your feedback and input. We'll be back at full speed after Christmas, but until then, keep sending your thoughts, questions, and gigantic piles of cash to elevendubcast@gmail.com!