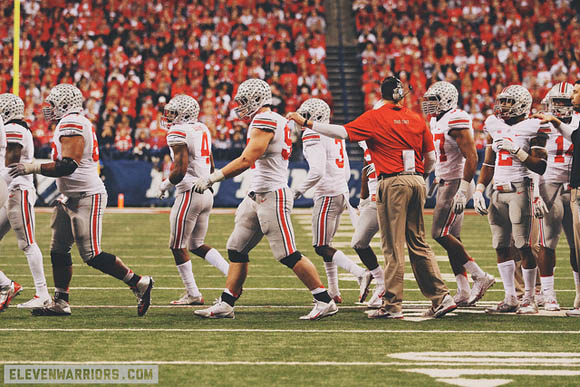 As the Ohio State defense struggled against Michigan State, an issue roes to the forefront that has bedeviled Ohio State for two years – the Buckeye defensive identity, or lack thereof.
By identity, I mean the foundational concepts around which a staff builds their program. It is the scheme a team installs the first day of practice, what a unit constantly reps throughout the season, and what coaches and players turn to when the chips are down.
For Urban Meyer's offense, his identity is shotgun spread tight zone read. For Pat Narduzzi's Michigan State defense, it is 4-3 over, cover 4.
But the Buckeye defense lack an easy identifiable core. Luke Fickell's unit has cycled between schemes week to week and year to year without a consistent plan. The result is a defense that gropes for answers and is unable to quickly adapt.
Why didn't this defense have an identity? How can they fix that?
The melting pot
It was not always this way. The tenets of Jim Heacock's defenses under Jim Tressel were easily identifiable. The Buckeyes utilized a 4-3 under/4-2-5 over cover 3 base defense that deployed zone blitzing on third down. Heacock's defenses were not overly aggressive, but were fundamentally sound, forcing opponents to drive the length of the football field.
While most of the fanfare surrounding Meyer's hiring regarded his offense, what he would do with the defense was more of a mystery. Meyer hired a defensive coaching staff with diverse philosophical backgrounds. Luck Fickell spent his career under Heacock. Everett Withers espoused cover 4 pattern matching. Meyer, for his part, spent his later years at Florida with Charlie Strong deploying primarily single-high man free coverage.
What Happened to the Plan?
Early indications were that the Buckeyes would implement the same base fronts they used under Heacock in combination with Withers' cover 4 scheme. And that is how the defense entered the 2012 season. But the plan was quickly shelved, as the Buckeye back seven fell victim to repeated breakdowns, resulting in explosive plays. The Buckeye secondary struggled providing force support against the run from cover 4, and the safeties and linebackers could not consistently play the man coverage required by the pattern matching scheme.
In response, Fickell and Withers went to a bastardized version, using split safety cover 4 or quarter quarter half against spread teams, but changing force responsibilities, with the nickel or star defender playing contain and the safeties filling the alley.
Against pro-style formations, by contrast, Ohio State played single high coverage. And to the 2012 defense's credit they stabilized in the second half of the season, with Zach Boren providing a salve at middle linebacker.
Where to now?
It was assumed that the schematic dissonance would be smoothed over for 2013 after a year of staff continuity. But the drift continued. Rather than honed, cover 4 was  eschewed. In its place Ohio State primarily utilized cover 3, but it was a cover 3 of the lowest common denominator.
The implementation of the coverage was vanilla, with the defenders sitting in their zone. Even if you are playing zone, you must cover a receiver who appears within the zone, something that Buckeye defenders failed to accomplish.
Worse, the Buckeye coaching staff cycle through different concepts week-to-week. One week they had Bradley Roby play man-over. The next they deployed aggressive blitzing concepts. Against Michigan State they played large amounts of cover 2, a coverage they previously used sparingly.
The problem with such variance is lack of continuity. Self evidently, film review demonstrates that particular schemes work well against an upcoming opponent. Blitz packages must be altered to account for an offense's protection schemes. But a coaching staff cannot pick concepts at random. The adjustments must instead be made within the defense's system. For comparison's sake, Meyer is not going to line up in the I formation and run isolation plays merely because a previous offense successfully utilized the scheme against an opponent.
The problem with changing schemes weekly is that practice time in college is limited. If time is spent implementing differing game plans that means less time is spent honing fundamentals and refining the nuances of any scheme. Players are left thinking, rendering them slow and open to mistakes.
Cause and Effect
Why have the Buckeyes have not developed a defensive identity? As is often the case, multiple issues are at play. For two years, the defense unquestionably had talent deficiencies at certain important positions, such as middle linebacker and nickel. Safeties CJ Barnett and Christian Bryant were good players but not particularly suited to play cover 4. The problem was only exacerbated with Bryant's injury.
Nor were Ohio State's second level defenders adequate in man coverage. So the Buckeyes had the corners for cover 4 and/or cover 1, but not at other positions, leaving the Buckeyes vulnerable when they deployed aggressive play calling.
This perhaps explains the coaching staff's tendency to revert to vanilla defense. With safer schemes, the Buckeyes could at least limit explosive plays. Even this was not a panacea, as the Buckeye linebackers often failed to get adequate depth in their zone drops.
Execution issues explains some of the cycling through schemes, as the coaching staff understandably sought something that worked.
But that cannot entirely explain the lack of identity. One suspects that the differing coaching philosophies make it more difficult to reach a common conclusion as to how to remedy problems. Meyer's periodically requests more aggressive play calling, but he is not actively involved with the defense to see it through to implementation. It is also not clear if Fickell has the feel to call such a game plan. It is one thing to call a corner blitz; it is another to call it at the correct time. Meyer's comments yesterday that improvement is needed regarding when the staff calls blitzes and how coverages are matched to blitzes speak directly to coaching. And one wonders if the coverage problems do not result from Withers being forced to teach schemes outside his comfort zone.
Time Heals all Wounds
The upshot is that Meyer often talks about continuity of purpose amongst a coaching staff, but the defense staff has lacked a singular schematic framework. If the Buckeye defensive staff returns intact, the hope is that extensive time together leads to a more unified plan.
The Buckeye coaching staff is also helping itself through its recruiting efforts to fill the aforementioned holes. Identity issues could fade once the coaching staff does not have to hide certain defenders. One thing to watch for is whether the Buckeyes return to cover 4 once they have the players in the back seven to do so. Time will tell if the lack of identity was merely a result of talent deficiencies, or whether it results from more systemic problems.