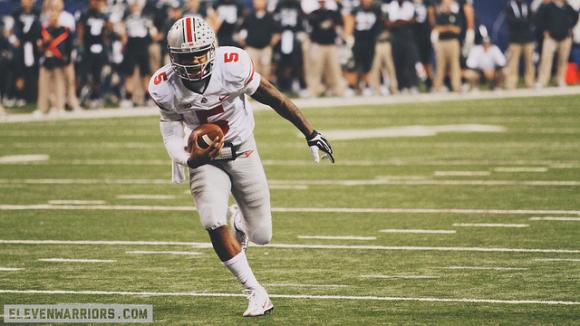 Will Jan. 3 represent the end of era for Ohio State? The possibility is fresh in the minds of coaches as 90 percent of the offensive production, the line that makes the unit go and two of the Buckeyes' best defensive players could depart for the NFL. Overcoming such significant losses would be difficult at most places. But Ohio State reloads at a rapid rate. However, there is one position that rises above all others: quarterback.
As recently as two or three seasons ago, the thought of Braxton Miller leaving early was foolish. Then Robert Griffin III, Colin Kaepernick and Michael Vick performed at a level that made front office personnel rethink the quarterback position. Johnny Manziel is projected to be a top-10 draft pick after dazzling scouts throughout his college career with a mixture of completing passes and alluding tacklers for rushing yards.
Miller's skill set while similar to Manziel's is not as complete or robust. That's why he's pegged as a second-day selection. Miller is still more of a college quarterback than anything. His completion percentage is a career-best 63 percent, but that is far shy of what NFL scouts want to see. In the final four games, Miller only completed 38 of 82 pass attempts.
"The inconsistency, lack of placement down field and, really, Miller's need to be a runner to have success as a passer is a big deal," Eric Galko, director of scouting for Optimum Scouting, told Eleven Warriors. "He's not a Johnny Manziel type of guy who can make guys miss in the backfield and then make plays downfield."
Despite passing for 1,860 yards, 22 touchdowns and just five interceptions in 10 games, Miller's inconsistency throwing the football is his biggest downside. His potential draft grade hovered in the first or second round before the season. Injuries and an unimpressive November slid him down the list.
"For Braxton, another year would really help him," ESPN draft guru Mel Kiper, Jr., said on a conference call. "He could improve as a passer, throw with a little bit more anticipation, be a little more precise with his ball placement, and be an early-round pick next year."
A big body – 6-foot-2, 215 pounds – and powerful running style work in his favor, though Miller's been injury prone dating to high school. He's rushed for more than 1,000 yards in consecutive seasons, and during his three-year career at Ohio State, Miller has 3,019 yards rushing and 30 touchdowns on the ground.
That size is also a detriment. Good for a runner, but bad for a passer. Galko sees Miller as a similar player to the North Carolina State version of Russell Wilson. He played like a "chicken with his head cut off" for the Wolf Pack before moving on to Wisconsin where he was surrounded by more talented players. Suddenly, Wilson's accuracy skyrocketed to 73 percent. He also blended in running plays, tallying 338 yards rushing – a career-high 4.3 yards per carry – and six touchdowns.
"NFL teams realize it's more how you use that quickness and when you choose to run as opposed to how well you run," Galko said. "That's what Wilson did at Wisconsin. It's a dream scenario for Miller if he can do the same and show he can manage an offense."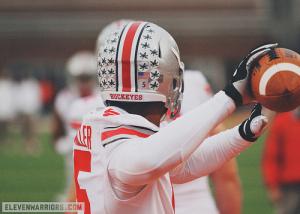 In the past two seasons, Miller's been named the Big Ten MVP, offensive player of the year and quarterback of the year – twice. After winning the Chicago Tribune Silver Football, Miller told the Tribune's Teddy Greenstein that a decision on his future will be made following the Orange Bowl.
"It's tough. I just don't know," Miller said. "I've really got to sit down and go through the pros and cons. I'll talk to my parents, take it slow. Hopefully ball out on January 3rd and see what the scouts are looking at."
The cumulative effect of taking so many hits is one reason Miller might decide to forego his senior season. He missed three games in 2013 with a sprained MCL, left several games in 2012 with various injuries and suffered a game-ending injury at Nebraska his freshman season. Without Hyde and the departure of four offensive linemen, there's a good chance the hits will keep coming in 2014. The possibility of Miller being needed to run also exists.
Urban Meyer and Tom Herman are well qualified to tutor Miller, but their top priority is to win football games. So Miller might not always be honing the skills needed to succeed in the NFL.
"His lack of ideal size is a big factor," Galko said. "I could see him getting a third- or fourth-round grade because of his talent and upside. But if he came out this year based on this senior class and the juniors who are likely to declare, he could fall very late in the draft – the fifth or sixth round, simply because there are guys who can do what he does a little bit better."
Manziel is the obvious selection, but so too is Virginia Tech's dual-threat quarterback Logan Thomas, who carries tremendous upside into the draft. For Miller's stock to climb considerably, he would need to test and throw well at the combine, which opens up a recipe for disaster.
Miller verges on being a project. Starting as a rookie is not part of the equation and being a dependable backup is just as unrealistic. But there's something to be said for natural talent and the "it" factor. When Miller steps on a football field, both attributes shine through.
"The biggest thing that would benefit Braxton coming back would be 12 more games proving that this isn't just, 'Hey, the Big Ten is bad and I played well for the last five or six games,'" former Ohio State quarterback Craig Krenzel said. "Scouts, GMs, coaches, they would all have a chance to see a season and a half of Braxton's work at the level he is at now."
From a pure career standpoint, returning for his senior season seems like a no-brainer. Being the centerpiece for the Buckeyes means another year of heady stats, a possible Heisman Trophy campaign and continuous media attention. The potential for growth as a pocket passer is immense.
What could be a big factor in Miller's decision is his 1-year-old son, Landon. He's become a doting father and would be given the opportunity to provide for his family should he leave for the NFL. However, Miller's father, Kevin, doesn't believe that will sway his decision.
"I don't think so. It's not a hardship situation or anything like that," he told the Tribune.
Meyer and Herman have already transformed Miller's game in two short seasons. Galko believes Kenny Guiton staying on as a graduate assistant would also benefit Miller. And if Manziel can be a first-round pick, there's little reason to believe Miller can't achieve the same status. Outside of Jameis Winston and Marcus Mariotta, no quarterback projects to be significantly better than Miller in the Spring of 2015.
"If he can make the same improvement as he did from last year to this, then the sky is the limit," Herman told the Tribune. "We're talking about the first or second round. He has all the physical tools."
The decision must be made by Jan. 15.