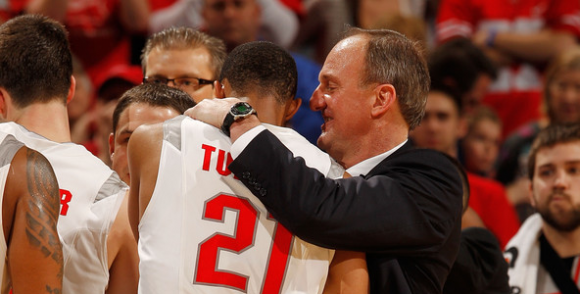 I once read (or made up in my head) a pretty great but probably entirely fictional anecdote about Harry Truman, during the early days of his presidency.
He's on a pleasure cruise on the Potomac, and an aide of his notices him leaning on the bow of the boat, looking out into the water. "Incredible," the aide thought to himself, "War, the Soviets, trying to figure out how to become the heir to FDR... what kind of thoughts must be racing through this man's head?"
A few minutes later, and Truman comes back to his aide, exclaiming "Hey! See that duck in the water over there? I've been staring at it for 15 minutes, and the damn thing hasn't moved! I think it's dead!"
Thad Matta is Harry Truman in this very very unlikely to have actually happened in real life scenario. Matta is a dude who has dealt with personnel setbacks, physical setbacks, and a brutal conference schedule that annually takes his team through the bowels of the toughest basketball conference in America. And none of that has phased him or even come close to slowing him down.
His response to this adversity has been to win the conference tournament three out of the last four seasons, consistently make noise in March Madness, and continue to win more than 20 games, as he's done every season of his coaching career. Not bad for a guy who outside observers might consider the third or even fourth best coach in the Big Ten.
On March 14th, 2010, Matta's Ohio State Buckeyes beat the absolute living hell out of Minnesota to win the Big Ten Championship. Evan Turner was Mr. Everything for the Buckeyes (as he usually was), scoring 31 points in a game that had a record 29 point margin of victory. Considering that the team had previously gone through a two months stretch where they had been a mediocre 7-5, it'd be appropriate to give credit to Matta for pulling his team out of that funk and into the NCAA tournament with gusto.
When that team eventually lost to Tennessee and noted douchebag Bruce Pearl in the Sweet 16 despite another 31 point performance from Turner, the narrative wasn't "Woah, Thad Matta's a genius, let's see what he can do with Jared Sullinger!" it was "OH GOD TURNER'S LEAVING FOR THE NBA WE'RE SCREWED."
Which is fine, I guess. We're hyperbolic fans who wouldn't notice the dead duck on the river, because we're too busy worrying about things that we have no control over. Matta remained typically cool as a cucumber (or a deceased duck), and the team went ahead and won the Big Ten tournament for a second consecutive year en route to a 32-2 season record.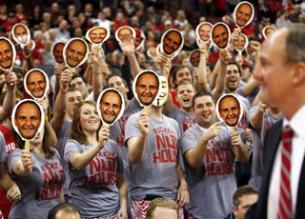 That accomplishment is kind of insane to me. You lose the consensus best player in America, a guy who led your team in every major offensive category by a lot, and the next year your team is actually better?
That's amazing, but as is Matta's lot, even this was either made about the players or his failure as a coach. That team lost in the Sweet Sixteen again, this time to Kentucky by two points as noted deviant John Calipari bribed the basketball gods to allow his team to shoot a stupid percentage from beyond the arc.
The loss, like a lot of losses in Thad Matta's career, were pinned on him. He didn't receive nearly the credit for the victories, despite completely revamping his team around a player who hadn't played a minute of college ball.
Sullinger returned for his Sophomore year, and things seemed set up for a dominant run, until the Buckeyes dropped three straight games to ranked Big Ten teams. The end of that season is important due a Final Four loss to Kansas that seemed to be not quite the limit of what Thad Matta's squad could've accomplished in the eyes of many. I was not one of those people, but given the heights that Matta had taken the team so quickly upon being hired, it could be understood.
Still, this has become the established pattern for Thad Matta; coach up a certain element of your team, be it Evan Turner, Jared Sullinger, Deshaun Thomas, or the basketball playing Hydra of defense that is the 2013-2014 squad. Win, lose your most important element, completely revamp your team, continue to win at a ridiculous pace, repeat.
He has done this without even a hint of trouble or stress or any sign that changing what his teams fundamentally are on almost a yearly basis has been a burden for him. He just keeps doing his job and looking at ducks, unfazed by the chaos around him. And he has done it on one leg.
Matta's leg and back problems are by now pretty well known to the Ohio State fanbase at large. It worries us, because a 46 year old coach who has never won fewer than 20 games in a season should by all rights be blessed with a body that will allow him to continue being generally awesome for another 25 or 30 seasons. By all rights, Thad Matta should be a third of the way towards being one of the greatest college basketball coaches of all time. The unfairness of the injury that would prevent that from happening would infuriate a lesser person.
Instead, Thad Matta keeps doing his job and enjoying what he does as everyone else gives him either too little credit or too much blame.
Right now, Ohio State is undefeated and considered one of the best teams in the country. They have somehow adjusted to the new foul calling regime in the NCAA, cobbled together a kind of working offense, and coupled that with devastating defense. It's a team that looks little like what was put on the court last year, but it works. Because under Thad Matta, it always works.
When asked about his leg in 2012, Matta had this to say:
"It is what it is. It's the hand I've been dealt," Matta said. "It's definitely affected my mobility, but I can't let it completely change my life. I've never really asked, 'Why me?' "
No he hasn't. Not for his leg, or his back, or the personnel on his team. He's a superstar coach who shrugs his shoulders at adversity and goes back to his perch at the bow of the boat, looking forward.