High school basketball season has tipped-off across the United States and elite recruits return to five-on-five hardwood action.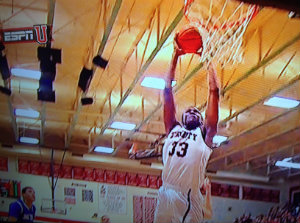 Myles Turner's Euless Trinity squad was lucky enough to be featured on ESPNU, last week. Eleven Warriors gives you a full breakdown of that game and the latest in his recruitment.
Three future Buckeyes are off to a strong start, while one remains sidelined with an injury.
Ohio State remains a top destination for a recruit near our nation's capital, while Matta's staff officially extends a scholarship offer to an Atlanta-area prospect.
Plus, we take you around the conference, as Michigan State adds a 2015 forward.
turner shines on national tv, oklahoma state visit postponed
Of the top 100 players in 247Sports' composite rankings, only four remain unsigned (includes point guard Dante Exum, an Australian expected to jump to the NBA).
The top, uncommitted 2014 recruit is still Buckeye target Myles Turner. Due to circumstances that are largely out of his control, his only official visit remains the one he took to Columbus in October. He planned on checking out Oklahoma State, last week, but the countrywide winter storm delayed that visit.
The massive storm nearly put his school's nationally televised game in jeopardy, but it went off as planed. Even though a large portion of the stands were empty, Kentucky coach John Calipari and Texas A&M's Bill Kennedy were able to make it in time to see Turner.
His Euless Trinity team took on Houston-area Homeschool Christian Youth Academy, featuring North Carolina signee Justin Jackson. Turner scored 29 points, grabbed 14 rebounds and blocked nine shots in a victory. He displayed the versatile talent that makes him a five-star recruit.
One sequence featured Turner just missing an offensive rebound, sprinting down the court while pointing out defensive assignments, forcing a missed layup, and trailing the ensuing Trinity offensive possession, only to knock down a long two-point jumper.
Throughout the game, shots within 10 feet of the basket were almost non-existent for HCYA. When they did get close, it was a collection of floaters or wild lay-ups, with the 6-foot-11-inch Turner affecting each shot.
He essentially played a one-man zone in the paint, although he found it difficult to put a body on someone. He isn't necessarily an elite rebounder, although he can use his length effectively. On one play, while on the offensive glass, he soared through two defenders, grabbed the ball and quickly gathered it for a lay-in.
Jackson did a god job preventing him from establishing solid position in the post, and HCYA constantly threw defenders at him. On the broadcast, play-by-play announcer Mike Couzens referenced a quote from Euless Trinity head coach Mark Villines, who said Myles Turner is also "their best passer." So, he's largely unfazed by double-teams. 
Turner did throw one outlet pass off the back of his teammate's leg, but his patience is outstanding. There's no shot clock in Texas prep hoops, so Trinity did an effective job working the ball to Turner through double-high ball screens, pick-and-rolls and pick-and-pops. His resourcefulness on the perimeter is what makes him one of the nation's top talents.
Future Buckeyes Off To Strong Start
Three members of the current 2014 Buckeye class have started their seasons, while D'Angelo Russell remains sidelined with a torn meniscus. If the initial timeframe holds true, he should return within a month.
Dave Bell's Garfield Heights squad is No. 6 in the Plain Dealer's top 25 poll, as he averaged 19 points in wins over New Day Academy and Cleveland Horizon Science Academy. The competition will jump up a notch when they face Medina, tonight. Ohio State assistant Dave Dickerson will be in attendance, according to Garfield Heights coach Sonny Johnson.
Pickerington Central's Jae'Sean Tate averaged 23.5 points in wins over Lancaster and Toledo Rogers at the Clark Kellogg Tip-Off Classic. Scarberry Media was there to grab video of the action. 
Keita Bates-Diop and his Normal U-High team have already squared-off against stout Chicago-area competition. He put together a couple of well-rounded games at the Chicago Elite Classic (via Iowa Elites):
2015 Updates
Ohio State is officially reaching out to another 2015 recruit. North Atlanta big man Noah Dickerson informed his Twitter followers of a new scholarship offer, Dec. 4. 
Dickerson visited Columbus in September, an indication that he's been interested in the school for a while. According to Future150.com, Dickerson  "is very strong and finishes around the goal, usually finishing everything with an authoritative dunk."
The composite rankings on 247Sports consider him a four-star recruit and the no. 34 overall player in his class. He has offers from Alabama, Georgetown, N.C. State and UConn, among others.
Meanwhile, the Buckeyes are also after five-star wing Charles Matthews. The Windy City native spoke to Chicago Hoops 247 and listed his top-10 schools as Duke, Illinois, Kansas, Kentucky, Marquette, Michigan State, SMU, Stanford and Wisconsin, in addition to OSU.
"I like how [Ohio State is] in the area," Matthews said. "They are well coached and are doing great things with their program."
Around The B1G
Tom Izzo's recent recruiting efforts have cast a wide net – Jabari Parker and Jahlil Okafor to name two – but haven't quite delivered on high expectations.
Michigan State does have offers out to five-star talent in the 2015 class, such as Mattthews, Carlton Bragg and Montaque Gill-Caesar. They also recently reeled in Michigan's top big man, Deyonta Davis.
With Davis' commitment, five Big Ten schools have pledges for 2015. Ohio State is the only school with more than one, thanks to Mickey Mitchell and A.J. Harris.