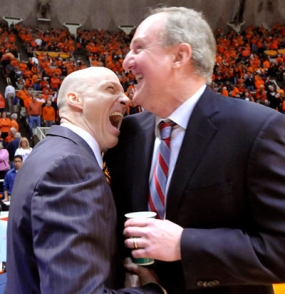 The early signing period ended Nov. 20, meaning schools have already signed a majority of their 2014 recruiting classes. 
There are still quite a few recruits that remain uncommitted – namely Buckeye target and five-star big man Myles Turner – but we now have an official list of many incoming freshman.  
Adding Turner would only serve to increase the lead Ohio State has on the rest of the conference. Newcomer Maryland has already established itself as an upper-echelon recruiting force, while Indiana isn't too far behind them.
On the opposite end of the recruiting spectrum, Michigan State is struggling and missed out on many of its top targets. 
With four months to go until the spring signing period, here's how Eleven Warriors ranks the current 2014 classes of the Big Ten: 
14. Nebraska
Signed: Jacob Hammond
This class does suffer from a shortage of available scholarships, but – as is usually the case – the perception of "Nebrasketball" hurts recruiting. Head coach Tim Miles has the charisma and now has the facilities to help boost the program. They're playing in front of sold out crowds in a new arena, so the enthusiasm surrounding the Huskers is there. They need to build a consistent product on the floor before having any sustained success in recruiting. 
Hammond has a strong lower body and displays soft touch in the paint. He originally committed to Oklahoma before flipping to Nebraska. 
13. Iowa
Signed: Brady Ellingson, Dominique Uhl
This year is supposed to mark the rise of the Hawkeyes basketball program. The senior-laden team is off to a good start, at 8-1 and into the top 25. The hope is, obviously, an NCAA Tournament berth – rather than getting stuck in the NIT again – exposes the program to a few more recruits. We might have to wait a year or two to see the effects of another potential 20-win year. 
Ellingson is a prototypical sharpshooter. He has the ability to spot up or pull up from long range. Uhl is the more intriguing, well-rounded prospect but needs to bulk up. At 6-feet 8-inches tall, he does have good size for a wing. He's also German.  
12. Wisconsin
Signed: Ethan Happ
The Badgers recruit to their system and develop talent like few others in the conference. This year's stunning isn't their undefeated record and top-10 ranking. No, it's their 75-plus points per game scoring average. Junior Frank Kaminsky dropped 43 in a game, which is more than the entire Wisconsin team scores in coach Bo Ryan's utopia. Maybe that will intrigue a few more high schoolers. Then again, Ryan doesn't really need it to. 
What Happ provides is another versatile, lengthy wing for the Badgers' system. His ball handling and smooth passing skills allowed him to run the point for his AAU team, even at 6-feet 8-inches tall. 
11. Penn State
Signed: Shep Garner, Isaiah Washington
I said it on Twitter so you know it's real: the Nittany Lions have the Big Ten's best guard duo on the offensive end. Point guard Tim Frazier has bounced back from injury, while D.J. Newbill is off to a tremendous start. They're both averaging over 19 points per game. 
Garner has the potential to put up strong numbers. Like Frazier and Newbill, Garner is a score-first guard with the ability to hit shots from multiple spots on the floor. Washington is another athletic guard, who is fearless around the rim. Neither are particularly highly touted but that's the expectation when dealing with Penn State recruits. 
10. Minnesota 
Signed: Josh Martin, Nate Mason Jr., Carlos Morris
New coach Richard Pitino was thrust into a tough situation. The state of Minnesota produced three of the best high school recruits in its history – Tyus Jones, Reid Travis and Rashad Vaughn. Fans were clamoring for the Gophers to nab one in their 2014 class. Jones is going to Duke, while Travis is headed to Stanford. Vaughn is still uncommitted, but might pick UNLV or Iowa State over his home state school.
What Minnesota did get is a pair of three-star recruits and a JUCO transfer. Mason is an aggressive point guard, although undersized. Mason is powerful around the rim and can step out to play the perimeter. Pitino discovered Morris when he was an assistant at Flordia, and Morris was a four-star high school recruit. 
9. Rutgers
Signed: Bishop Daniels, D.J. Foreman, Mike Williams
Head coach Eddie Jordan attempts to put out the dumpster fire set by the previous coaching staff, led by psychopath Mike Rice. Jordan's experience as coach of the Kings, Wizards and 76ers should help, in part, to offset the program's reputation. The school hasn't been to the NCAA Tournament since 1991, so he has a lot of work to do. 
Daniels is a transfer from Miami, and a three-star recruit coming out of high school. Foreman is the an explosive athlete, but raw in many phases. Williams is a skilled outside shooter and hails from Brooklyn, where the Scarlet Knights could stand to do a better job of recruiting.
8. michigan state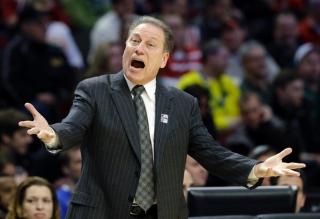 Signed: Javon Bess, Lourawls Narin Jr.  
Coach Tom Izzo failed to make a big splash with last year's recruiting class, missing out on dynamic talent Jabari Parker. This year, the Spartans went after some of the nation's elite prospects, such as Tyus Jones, Jahlil Okafor, Cliff Alexander, Kevon Looney, Trey Lyles and Karl Towns Jr. They added none of those and aren't really in on any remaining five-star talent.
Still, the four-star Narin Jr. adds much needed assistance at the point guard spot. He's extremely quick and an intelligent ball handler. Bess hails from Gahanna Lincoln High School, just outside of Columbus. He'll add a physical presence and Izzo believes he can develop into a versatile force. The MSU head coach has a good track record when it comes to this. 
7. NOrthwestern
Signed: Victor Law, Scott Lindsey, Bryant McIntosh, Gavin Skelly
Chris Collins took over a floundering basketball program (if you need the reminder: they've never made the NCAA Tournament) and immediately landed a Chicago-area prospect, with Law. The former Duke assistant has pedigree to recruit at a school with tough academic standards, but he obviously doesn't have the Blue Devils' basketball tradition to work with at Northwestern.
Law is a four-star recruit and a high-level athlete, who excels in the open court. McIntosh is listed as a four-star recruit on ESPN, and will eventually take over point guard duties for the Wildcats. His recruitment took off in the summer, with offers from Purdue and Memphis, among others. The other two signees aren't nearly as highly rated, but they have the ability to fit Collins' system and can stretch the floor. 
6. michigan
Signed: Kameron Chatman, Ricky Doyle, Austin Hatch, D.J. Wilson
Stepping away from the court, Hatch's story is worth your time. He was recently featured in People Magazine, and spoke about the personal trauma of surviving two plane crashes. Those two incidents claimed the lives of close family members, but Hatch survived. Even if he doesn't play basketball in college, he gets a tremendous opportunity to continue his education on scholarship at Michigan. For what he's been through, it's the least the school could offer. 
Basketball-wise, this is Michigan's first class since their NCAA title game appearance, but the effects of that may not be felt immediately. Coach John Beilein has a good eye for underrated talent, but he was able to grab a highly touted wing out of Oregon.
Chatman is a four-star recruit, and had offers from Arizona, UConn and Oregon. He is a lengthy, smooth wing with solid handles. Doyle is the son of a former Detroit Piston, and fits the mold of a stretch-four with solid rebounding instincts. Wilson has the physical tools but might take longer to develop.
5. Purdue 
Signed: Vincent Edwards, Isaac Haas, Dakota Mathias, Jacquil Taylor
A relatively disappointing season for the Boilermakers didn't have a major affect on their recruiting. Perhaps it was just the all-around inexperience that caused Purdue to miss the tournament for the first time since 2006. 
Regardless, coach Matt Painter brings in a well-rounded and talented class. Haas is the most notable, due to his 7-foot-2-inch frame. He can run the floor surprisingly well for his size and does a good job cleaning up the offensive glass. Edwards is a Middletown, Ohio native with a frame that already looks to be college-ready. Painter didn't stop dipping into the Buckeye State, either. Mathias is a reliable outside shooter from Elida. Taylor is a lengthy, mobile forward with good tools.  
4. illinois
Signed: Leron Black, Michael Finke
Quentin Snider dealt a huge blow to the Illinois class when he decommitted and signed with Louisville (after decommitting from Louisville to pledge to Illinois). Illini fans got their hopes up for in-state prospect Cliff Alexander, only to be let down when he picked Kansas. Despite being left with only two recruits, John Groce still pulled in a top talent. 
Leron Black is a consensus top-50 talent and one of the Big Ten's best incoming freshman. He is thin, but tough to stop in transition and in the high-post. Finke is another big who can rim-run, although he doesn't consistently finish above it like Black.  
3. indiana
Signed: James Blackmon Jr., Max Hoetzel, Robert Johnson
Blackmon Jr. temporarily sent a wave of panic throughout the Hoosier fanbase when he decommited in August. After missing out on fellow Indiana natives Trey Lyles, coach Tom Crean didn't want to be left without a marquee in-state talent.
Luckily for him, Blackmon Jr. rejoined the fold and signed on for 2014. He displays great range on his jumper and is possibly the top two-guard in the country. You can never have enough shooters and Hoetzel adds another deep-threat, with good size. Johnson is the third wing in this class, but is more adept as a pull-up jump shooter. 
2. maryland
Signed: Jared Nickens, Trayvon Reed, Melo Trimble, Dion Wiley
The Terrapins arrive on the Big Ten scene with a loaded class. These four have been committed for a while, giving Maryland fans a chance to imagine what their team will look like for the next few years. Adding in highly touted 2013 guard Roddy Peters, their backcourt could turn into a strength. 
Both Trimble and Wiley can knock down shots from all over the floor. Both are Maryland natives and, for the first time in a while, the Terps program is showing the ability to keep those type of talents in state. The 6-foot-6-inch Nickens provides great length on perimeter, while Reed's shot blocking and athleticism makes this a well-rounded class.  
1. ohio state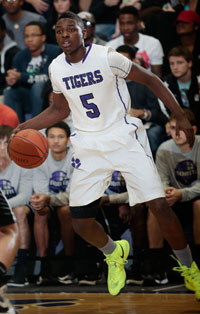 Signed: Keita Bates-Diop, Dave Bell, D'Angelo Russell, Jae'Sean Tate
Thad Matta praised the versatility of this group. Here's what Matta had to say about each of them: 
Keita Bates-Diop (6-7, 180, Normal, Ill.): "You're getting a long athlete who can really shoot the basketball. From the standpoint of playing multiple positions, he scores, he passes, he rebounds, he can defend, he can handle the basketball."
Dave Bell (6-10, 225, Garfield Heights, Ohio): "He hasn't been playing basketball a long time, unlike a lot of these kids. He's long, he's athletic. He's one of those kids that wants to be at Ohio State. We'll bring his skill along, but he runs the floor, he blocks shots, he rebounds out of his area."
D'Angelo Russell (6-5, 176, Louisville, Ky.): "Getting another great guard at Ohio State. In terms of what position is he – a point guard or a two-guard? I don't know, exactly. I think we can run him at both. He's got the ability to make big-time plays with the basketball in his hands, be it three-point shots, driving and getting fouled. He makes guys around him better. He's a guy that won a national championship as a high school player. Montverde (Fla.) is one of the top high school programs in the country, so he's been coached."
Jae'Sean Tate (6-5, 214, Pickerington, Ohio): "Everbody's asked me, 'what position is Jae'Sean?' and I don't know, but I do know he's going to be on the floor. He's a warrior. He's shot the ball better from deep, he's got a great first step, he can guard all five positions on the floor. His father, Jermaine, was a great player, as well. You're getting a great player, a guy who is a Buckeye."
If the Buckeyes can land Turner, this will immediately draw comparisons to the 2006 class in terms of pure talent.