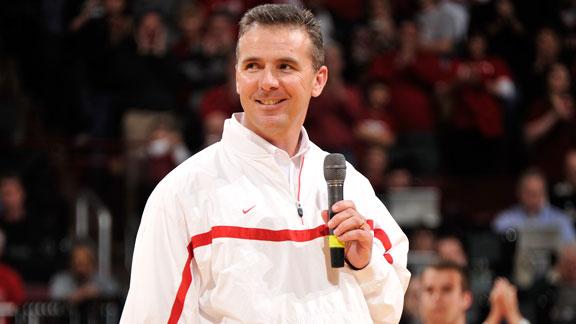 From Forbes.com:
Meyer, who has won all 24 of his games as head coach of the Buckeyes, could net himself at least $4.2 million in future income with another victory this weekend.

It shouldn't be much of a surprise that Meyer's contract could make him so rich. The Ohio State coach ranks sixth among college football's highest-paid coaches, and last year we ranked Meyer as the third-most powerful coach in college football. On top of his $4 million in annual guaranteed salary, Meyer can take home bonuses for hitting certain athletic and academic benchmarks. He's already claimed a $50,000 payout for winning the Leaders division, and in January he will receive a retention bonus worth $450,000.

As for this weekend's Big Ten Championship against No. 10 Michigan State, Meyer can take home a cool $100,000 bonus for winning the game. That victory also likely ensures a trip to the BCS National Championship that is worth $250,000, or $100,000 more than what Meyer gets for making a non-championship BCS bowl, the Buckeyes' likely landing spot if they lose this weekend.
Now that's paper, but given Urban's return on that investment, perhaps its worth every penny? If he brings the last crystal football back to Columbus, there won't be many Buckeye fans who will disagree.