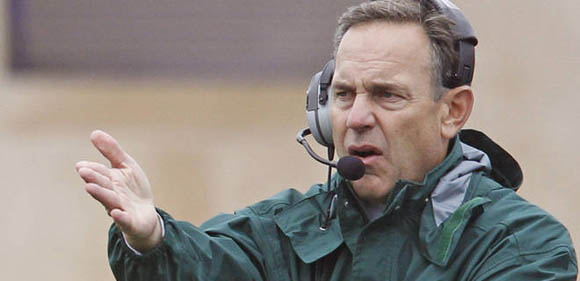 Saturday's Big Ten Championship game pitting No. 2 Ohio State against No. 9 Michigan State is the first time two top-10 ranked teams will meet in the game as well as the only time the game will feature a clash between two teams unbeaten in Big Ten play. Ohio State enters the game as nearly a touchdown favorite, but don't take that nonsense to Mark Dantonio.
"I don't know. I'm not thinking about losing," was Dantonio's reply when asked if he thought his team was a lock for the Rose Bowl regardless of the outcome.
Dantonio spoke at length about the growth of his team, saying his team wasn't a top-25 team coming into the season, but they've become a very good team, with wide receivers stepping up to make catches, a reliable backfield option in 1,000-yard man Jeremy Langford, a steady quarterback in Connor Cook and an offensive line that's improved as the season has progressed.
Asked about where his team finds itself in the rankings, Dantonio said, "We are where we are and that speaks to the maturity of our football team and how they handle things."
Michigan State has the Big Ten's best defense and what many would consider to be the nation's best unit. Dantonio said it's certainly the best defense he's had since arriving in East Lansing in 2007.
"There's a feeling among our football team that regardless of who we play, we're going to be able to compete."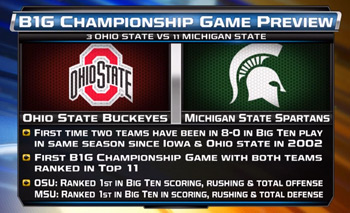 Although he's confident in his own team, Dantonio heaped plenty of praise Ohio State's way. Cornerback Bradley Roby has "outstanding ball skills," linebacker Ryan Shazier "runs extremely well and has explosive power," and Carlos Hyde "can break it and go the distance at any time."
He was even more effusive when discussing Braxton Miller and Kenny Guiton.
"The quarterback – really, I should say quarterbacks – is a game-breaker."
Dantonio said he voted Ohio State No. 1 on his Coaches Poll ballot – without being asked. "They have great players, have a great scheme and they're a very confident team, so it's going to be a great challenge."
Saturday's game may well be the biggest of Dantonio's career. He would only say it's "right up there," and his staff is at work putting a plan together to stop the nation's No. 2 rushing attack.