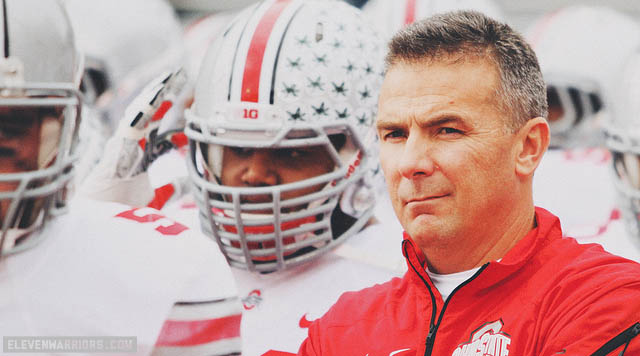 Like clockwork, Urban Meyer enters his postgame press conference, says the best thing about being [insert number]-0 is a chance to go [insert number]-0, credits his team for a hard-fought victory and declares a 24-hour period of celebration.
On Saturday, some 30 minutes after Ohio State won a school-record 23rd consecutive game, Meyer's focus quickly turned north. The 24-hour rule is ignored for the final regular-season game of the year. Sure, the Buckeyes will savor their 42-14 Senior Day victory. But preparation for college football's biggest rivalry began in the locker room immediately following a humbling of Indiana.
"We take it very seriously," Meyer said. "We're working the game as we speak. We're all going to go home and we're going to see our families, but we're coming back [Sunday] ready to go."
Earlier in the week, offensive coordinator Tom Herman spoke on the subject of wins and appreciation. He admitted that all victories are not created equal. A win over UTEP at Rice is celebrated on a far bigger scale than almost every Ohio State win. At programs that aren't spoiled with tradition and success, any "W" is something to be valued.
The expectations are different in the Columbuses and Tuscaloosas of America, which is why many glossed over Saturday afternoon's triumph over the Hoosiers. Now, it's Michigan Week, a seven-day stretch that Meyer recalls fondly when detailing his childhood. That appreciation evolved once he became a graduate assistant for the Buckeyes in the 1980s.
"I have great respect for this rivalry, humbled to be a part of it," Meyer said. "When I say great respect, it almost makes me in awe. Eight of my nine assistants are from the state of Ohio and one [Everett Withers] wishes he was from Ohio. I'll say this, the responsibility we have sometimes can be overwhelming for what we have this week."
This weekend will be Meyer's first trip to Michigan Stadium since the 1987 game, Earle Bruce's finale as Ohio State's head coach. Meyer referred to that day as "one of the great memories" of his career. But a win over Michigan in 2013 would be remembered for years, alongside other classic dates in the rivalry, if the Buckeyes finish the season with nary a blemish.
The Game's importance is never lost on players from either team – both football facilities feature countdown clocks. Inside the Woody Hayes Athletic Center, there are signs littering the walls with reminders of That Team Up North. Every letter "M" on campus is X'd out.
When players sign on the dotted line in February, they know their record against Michigan will define their career. The same goes for coaches – ask John Cooper and Jim Tressel. And if you aren't well-versed in the history of the rivalry, all it takes is one introduction.
"I heard it was the best rivalry in all of sports. Not just in college or the NFL, but all of sports," said freshman tailback Dontre Wilson, a native of DeSoto, Texas. "I watched the game on TV last year, but, to be honest, I don't really know that much about it. I'm sure going to find out soon though."
This year's game is a throwback to the 1990s, when the Wolverines put a trademark on spoiling undefeated seasons for Ohio State. Michigan enters with a 7-4 record and losers of three of four and four of six games. While Meyer jostles prep work for the Wolverines and the BCS, Brady Hoke is dealing with an endless list of questions with few answers in sight.
"I'm expecting That Team Up North to bring their 'A' game. We are certainly going to bring ours." – Carlos Hyde
This was billed as the year Ohio State and Michigan would meet twice – in the season finale and Big Ten Championship Game. Through the first half of the season, those predictions appeared plausible. But the wheels have fallen off for the Wolverines since a triple-overtime loss at Penn State in October.
"We've got to play for our seniors," head coach Brady Hoke said after Michigan's latest loss, a 24-21 setback at Iowa. "That's been the first thing we've always played for. And we've got a pretty big rivalry game next week."
If Las Vegas is any indication, the latest Ohio State-Michigan game will be a return to the Rich Rodriguez era, not Cooper. The Buckeyes are favored by 13 points. But that doesn't even register on the minds of Ohio State or its legions of fans, which lived through 1969, 1993, 1995 and 1996 – the Wolverines spoiled undefeated seasons all four years. 
"I'm expecting That Team Up North to bring their 'A' game," senior running back Carlos Hyde said. "We are certainly going to bring ours. It's going to be an exciting game, my last against them. I'm looking forward to it."
Said Meyer: "I've not really watched much of them on videotape. But I have great respect for this rivalry, and I am humbled to be a part of it."