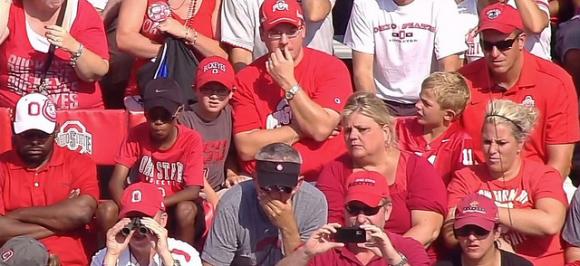 COACHES POLL
RK
Team
Record
1
Alabama (56)
11-0
2
Florida State (6)
11-0
3
Ohio State 
11-0
4
Clemson
10-1
5
Auburn
10-1
6
Missouri
10-1
7
Oklahoma State
10-1
8
Baylor
9-1
9
South Carolina
9-2
10
Stanford
9-2
11
Michigan State
10-1
12
Oregon
9-2
13
Fesno State
10-0
14
Wisconsin
9-2
15
LSU
8-3
16
Louisville
10-1
17
Oklahoma
9-2
18
Arizona State 
9-2
19
Central Florida
9-1
20
Northern Illinois
11-0
21
Texas A&M
8-3
22
UCLA
8-3
23
USC
9-3
24
Duke
9-2
25
Cincinnati
9-2
AP POLL
Rk
Team
Record
1
Alabama (56)
11-0
2
Florida State (4)
11-0
3
Ohio State 
11-0
4
Auburn
10-1
5
Missouri
10-1
6
Clemson
10-1
7
Oklahoma State
10-1
8
Stanford 
9-2
9
Baylor
9-1
10
South Carolina
9-2
11
Michigan State
10-1
12
Oregon
9-2
13
Arizona State
9-2
14
Wisconsin
9-2
15
LSU
8-3
16
Fresno State
10-0
17
UCF
9-1
18
Northern Illinois
11-0
19
Texas A&M
8-3
20
Oklahoma
9-2
21
Louisville
10-1
22
UCLA
8-3
23
USC
9-3
24
Duke
9-2
25
Notre Dame
8-3
Baylor's and Oregon's dustings at the hands of Oklahoma State and Arizona saw the Bears and the Ducks take a plunge in the polls this week, with Oregon falling to No. 12 in each poll and Baylor dropping to No. 9 in the AP Poll and No. 8 in the Coaches Poll.
Auburn continues its meteoric rise through the polls all the way to the No. 4 spot in the AP Poll and No. 5 in the Coaches Poll. The Tigers will host top-ranked Alabama on Saturday with a spot in the SEC Championship game on the line for the first time since anyone can remember.
The losses, particularly Baylor's loss, allowed Ohio State to strengthen its grip on the No. 3 spot in each poll. The Buckeyes have 1,375 points in the AP Poll, 79 points ahead of No. 4 Auburn. Meanwhile, Ohio State has 1,428 points in the Coaches Poll, good enough for a 139-point lead on No. 4 Clemson. In fact, a mere 60 points separate No. 2 Florida State and Ohio State in that poll.
Big Ten teams remain criminally under ranked, with Michigan State, winners of seven-straight, No. 11 in both polls, and Wisconsin No. 14 in each poll. Michigan State closes their regular season at home against Minnesota Saturday, while the Badgers host Penn State.