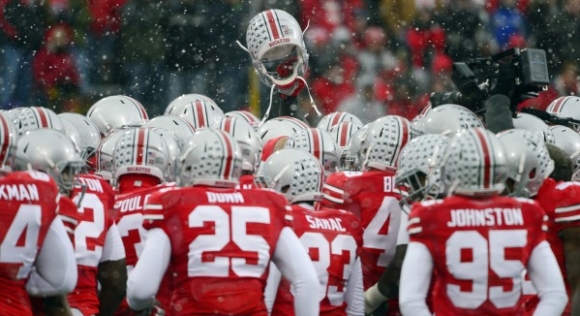 For the 10th straight week, Ohio State scored on their opening possession and then never looked back in a 42-14 thrashing of Indiana on Senior Day in the Shoe. 
Establishing a new school record with their 23rd consecutive victory in addition to clinching a spot in the B1G title game, the Buckeyes once again leaned on Braxton Miller and Carlos Hyde, who teamed up to record 435 total yards and six touchdowns as OSU scored the game's first 42 points. On the other side of the ball, Ryan Shazier lent an assist with a ridiculous 20 tackle performance that featured a school-record-tying five tackles for loss. 
With Baylor getting smoked last night in Stillwater, the Buckeyes are firmly planted as the #3 team in the BCS with much football still to be played. 
Next up for Ohio State is a date in Ann Arbor for The Game but before we turn our undivided attention to the Wolverines, Five Things takes a final look at a the win over the Hoosiers. 
D-P-O-Y, YOU AIN'T GOT NO ALIBI
I suppose I'm a biased observer but for my money, Ryan Damn Shazier locked up the B1G Defensive Player of the Year award with today's mind-boggling effort. 
The junior from Florida, who just might have played his last game in the Shoe, cranked out 20 tackles – including 16 solo stops – along with those five tackles for loss, to go with a sack, forced fumble and pass break-up. 
Shazier's 20 tackles were the most since A.J. Hawk put up a 20-spot against Wisconsin in 2004 and his 16 solos were the most since Tom Cousineau racked up the same total, 35 FREAKING YEARS AGO, in 1978 against SMU. 
Playing the best ball of his career, Shazier has been on fire the last two weeks in particular, totaling 36 tackles, 27 solo's, 8.5 tackles for loss, 2.5 sacks and two forced fumbles.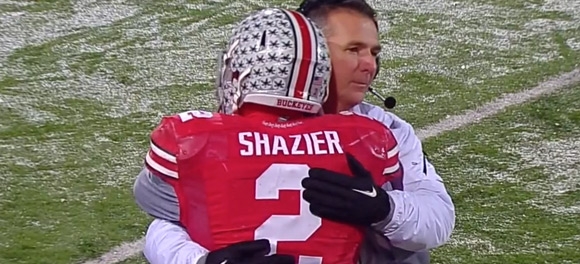 Two weeks ago against Illinois, he blitzed on what felt like every down and generally covered for 2.5 positions as the Buckeyes were forced to play without the team's 2nd and 3rd best linebackers due to injury. This week, he welcomed Josh Perry back but was still without starting middle linebacker Curtis Grant. 
Shazier looked like a kid either knowingly playing his last game in Columbus and/or put it all out there for the senior class. 
He paced the defensive attack as OSU built a 28-0 halftime lead, recording eight stops, one for loss, as the Bullets held Indiana to 2/9 on 3rd down and 1.4 yards per carry. 
His quickness both in filling the hole at the line of scrimmage and in roaming sideline to sideline have never looked better. I hate to think of the state of the linebacking corps next season if Shazier does turn pro but at this point, it's easier to make a case for him to leave than it is for him come back. 
READY FOR LIFTOFF
After rushing the football just 12 times combined against Penn State and Purdue, Braxton Miller has ran it 29 times total in back to back weeks against Illinois and Indiana. The result? His two best rushing performances of the season in which he's totaled 320 yards and three touchdowns on an astounding 11.3 yards per carry. 
The three touchdowns on the ground are one more than he had in all the previous seven games he played combined. 
His decision making on the read option has been much improved these last two games and yesterday he added a new wrinkle by looking probably more determined on the run than he ever has, playing like a man with a chip on his shoulder, or maybe like a man who thinks he might also be playing his last collegiate season.
Either way, Braxton keyed another quick start as he busted loose on Ohio State's opening drive for 41 yards on 3rd and 3 to set up a touchdown before ripping off a 37-yard run for a score on the next possession to make it 14-0, good guys.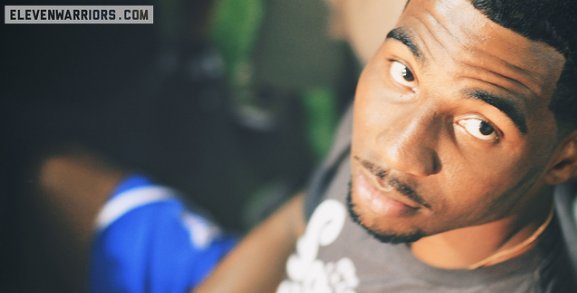 On the way to 144 yards rushing, Miller was diving all over the field, landing on his head and generally showing off a bit after big plays, flashing a little more attitude that we're used to. 
Through the air, he managed to completed 65% of his throws (11/17) in sub-optimal conditions including a few drops and man was that 39-yard touchdown strike to Devin Smith in the back of the end zone perfectly placed or what? 
So far this season, Braxton has 19 touchdown tosses against just four picks and he's added another five scores on the ground, giving him 24 total in nine games. 
If Miller is thinking about potentially leaving after this season, he certainly looked like an inspired guy yesterday. Now, saying this as politely as I can because I've got nothing but X's and O's for the kid, I just can't see how it makes sense for Miller to leave early. No hate but he's got major durability issues and I think a full, healthy senior season would go a long way toward boosting his draft stock. Of course, even then he's still going to have front offices a little nervous based on a track record that dates back to high school of being susceptible to injury. 
In any case, Miller is playing some very good football at just the right time as the Buckeyes make a final push for a spot in the BCS national championship game. 
A FINE LINE
Playing in the shadow of one of Ohio State's finest offensive lines in recent memory, the defensive line continued it's strong play yesterday against Indiana. 
Michael Bennett was particularly active with three tackles for loss and two sacks as he generally set up shot in the Hoosier backfield. On more than one occasion, incredible quickness for a man his size allowed him to split two guys and knife into the backfield, including onne for a sack on 2nd and 6 for -8 yards, eventually forcing the Hoosiers, already trailing 21-0, to punt it away. He was also seen tracking laterally down the line of scrimmage to make a few plays from behind, something you know those NFL scouts love. In the last two weeks, Bennett has been a terror totaling 10 tackles, 4.5 TFL and 2.5 sacks.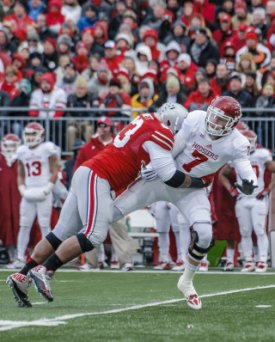 Freshman Joey Bosa was also active again yesterday adding five tackles, 1.5 TFL and half a sack. He teamed with Tommy Schutt on a 3rd and Goal play on Indiana's first possession of the 2nd half to sack Nate Sudfeld, leading to one of two field goal misses for the Hoosiers and preserving Ohio State's 28-0 cushion. In his last two games, Bosa has 11 stops, 4.0 TFL and 3.0 sacks. 
Noah Spence was somewhat quiet yesterday with three stops and a TFL while a resurgent Adolphus Washington, thanks to improved health, added four stops, giving him 10 tackles and a half-sack over the last two weeks. 
In total, the four best D-liners on the team have totaled 38 stops, 11.5 TFL and seven sacks over their last two outings. Residually, their production has also assisted Shazier's outstanding play and given the secondary a lift as they haven't been asked to cover opposing receivers for quite as many seconds per dropback. 
Though I suppose there are many (rattling) keys fans could point to in determining what aspect of the game is most important to beating Michigan in Ann Arbor next week, I think a huge factor will be how this defensive line performs. If they can swallow up Michigan's struggling offensive line and bottle up the run game while getting consistent pressure on Gardner, it could be a turnover fest allowing Ohio State to cruise to victory. 
SLAP IN THE FACE
It really is a shame that Carlos Hyde isn't in the Heisman conversation. In playing just a hair over seven games thanks to an off-field issue that resulted in no charges and had nothing to do with NCAA violations, the terrifying tailback out of Naples has run for 1,064 yards and scored 13 touchdowns on a ridiculous 7.7 yards per carry. 
Over his last six games, Hyde has scorched defenses for 938 rushing yards, or 156.3 per game, with those 13 scores, good for 8.1 yards per carry. 
Back to his season YPC average of 7.7, that would be the best single-season mark for an OSU running back since Walt Klevay averaged 7.9 back in 1950 on just 66 attempts (Hyde's currently at 138).
Looking at the more modern-ish era of OSU football, Hyde's 7.7 mark would a full yard more than any other OSU running back since before Archie arrived in Columbus. In fact, since 1951, only four Buckeyes even averaged six yards per carry in a single season: Bob Ferguson ran for 6.1 per in '59, Archive went for 6.4 and 6.6 in '73 and '74, Calvin Murray averaged 6.5 in '80 and Robert Smith cranked out 6.4 yards per tote in 190. 
Yesterday's 117 yards with two touchdowns on a measly 6.5 yards per carry allowed him to become Meyer's first ever 1,000 yard running back and lately, the talk has shifted to where Hyde ranks among the great backs in OSU lore. That's a different post for a different day but at this point, since Archie, he's at least a lock as the 3rd best guy behind Eddie and Byars. That's pretty lofty company for a player with three huge games left to shape his legacy. 
I hate playing the "what might have been" game but if he had just stayed out of that trashy nightclub, he could've made a very realistic charge at being a Heisman finalist on the way to about 1,860 rushing yards (his season average of 133 x 14 games) which would've placed him 2nd all-time behind Eddie's own Heisman campaign when he racked up 1,927 yards in 1995. 
STRIKE FAST, STRIKE HARD, NO MERCY, SIR!
Ohio State has owned the 1st quarter this season, outscoring opponents 206-38 over the first 15 minutes of game time. They were back it again yesterday, scoring 14 points in the opening quarter, recording a touchdown in just 2:19 on their first possession of the afternoon followed up by a 2:02 drive on their ensuing possession. 
The quick strikes are nothing to the Buckeyes, both in 1st quarter success and in length of scoring drives. Yesterday, the Buckeyes registered six scoring drives – all touchdowns – using a combined 765 seconds for an average scoring drive length of 2:07. 
OHIO STATE 42, INDIANA 14
Their longest drive totaled 3:39 but sometimes you'll have that when you're forced to go 98 yards. 
The previous week against Illinois, the offense was even better, using 779 seconds across eight scoring drives, good for an average scoring drive length of 1:37. 
So, over the last two weeks, the Buckeyes have produced 13 touchdowns and one field goal with an averaging drive length of 1:50. 
With three games left to play, this offense already owns the single season school records for points (536) and touchdowns (73). 
If Ohio State can follow a similar blueprint this Saturday in Ann Arbor, forcing the Wolverines to play from behind, we could be looking at one of the most lopsided OSU victories since the '68 team pounded Michigan 50-14 in Columbus.