Yesterday you got some great advice from Ramzy when he told you to enjoy this 2013 Ohio State football season. It was wise counsel, but not just for the excellent reasons he gave you.
Although we shouldn't dwell on sad things, we're going to do just that for the length of this column. Because there's another reason you should savor these last two regular season games, a likely Big Ten championship game (one win pending) and Ohio State's bowl game. In addition to the numerous seniors leaving at the end of the year, the Buckeyes may also lose three key underclassmen.
Of the players that could find themselves in cities other than Columbus when footballs are kicked off next season, three of the hardest for Ohio State to replace don't have to go — but they might choose to do so. Cornerback Bradley Roby, linebacker Ryan Shazier and quarterback Braxton Miller might all hear the siren's call of the NFL. In fact, Roby already admitted as much to Urban Meyer.
When the season ends, Miller and Shazier will probably weigh their options, do some research and figure out what the right thing is for them to do. We'd keep them for a long time if we could, but an athlete's window for earning wages on a professional sports level is a small one, and staying in school to play a violent sport jeopardizes that window, no matter how much we live in denial.
Herein, we'll take a look at what Ohio State might have to replace (and in Roby's case, must replace) next season.
Starting with Roby, who has already made his intentions clear, the Buckeyes will have to find a new boundary corner. Although he may not be having the season many people expected, Roby's loss is going to sting.
In addition to his cover skills, which are considerable, Roby is a good force player against the run and a solid open field tackler. He's fourth on Ohio State in tackles this season, despite missing a game, with 45 total stops. That's 155 tackles in just under three seasons of play. Many will call him out for giving up a lot to Wisconsin in the passing game, but he was also very good at stopping the jet sweep and edge runs in that contest.
Against the pass, he's tied with Doran Grant for the team lead in interceptions, with three, taking one of them 63 yards to the house at Illinois. Often his mere presence is enough to consider his defender covered. He has team highs in pass breakups (9) and passes defensed (12). That's a total of eight career picks and 32 breakups.
He can ball on special teams, too. His blocked punt and recovery for a touchdown against Northwestern was a huge play early in a tight game. It was his second career blocked punt. The man has a defensive and a special teams touchdown two years in a row. Good luck finding someone to pick up where he left off.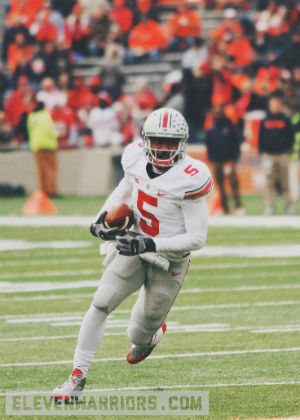 Armani Reeves will be the favorite to step in. His career to date speaks more of promise than delivery, like all young players, but he'd have to make a jump similar to Doran Grant's next year for you to avoid spending an inordinate amount of your wages on Maalox.
As big a loss as Roby's would be on the defensive side of the ball, Shazier's would likely be even more deeply felt. The junior linebacker is all over the field and is not only the anchor of a way-too-thin position group, but he's also the team's leading defensive playmaker and — since Christian Bryant was injured — the heart and soul of the D.
Shazier leads the conference in tackles for loss (14.5), is fourth in the B1G in tackles (88), tied for seventh in sacks (4.5), and tied for first in forced fumbles (3). Not only does the junior from Florida have 260 career stops and continually make big plays, but he doesn't have anyone pushing from behind for his playing time. Where will those minutes go without him? Curtis Grant? Josh Perry? Freshman Mike Mitchell? Other?
In years past, there has been a natural successor to Ohio State's top linebacker. That's how you follow an A.J. Hawk with a James Laurinitis. But there isn't an obvious one moving from 2013 to 2014 and it will be a lot to ask for someone to replace Shazier's production if he chooses to jump into Sunday football.
Then there's Braxton.
Statistically, Miller is one of the greatest quarterbacks in Ohio State history. He's the 11th leading rusher Ohio State has ever had — first among quarterbacks — with 2,580 yards, and he should pass Raymont Harris for tenth this season. He's ninth in passing with 4,664 yards and will likely pass Jim Karsatos this year for eighth.
In just under three seasons he's racked up 7,244 yards — the second most by any Ohio State player ever, trailing only four-year starter Art Schlichter's 8,850. Miller is responsible for 20 touchdowns this season and 68 in his career. He's tied with Heisman Trophy winner Troy Smith for second all time. He'd almost certainly pass Schlichter's 85 touchdowns with another season.
Where does a team go after a Braxton Miller? When you go from Terrelle Pryor to Miller, you're falling upwards, but at some point the wild ride at the Vegas tables takes a turn and now you're at the ATM again, trying to convince yourself that it'll all be ok if you pick up a few extra shifts when you get back home and you didn't really need a car when there's a perfectly good city bus you can ride.
Next year you'd either be watching Cardale Jones, an SUV in cleats, work on improving his passing skills, or a freshman playing in his first collegiate games. They might turn out to be OK — possibly even excellent — but they wouldn't be Braxton Miller. Let's just hope he listens to Craig Krenzel.
None of this is intended to scare you or make you feel bad. It's simply a reminder that what you're watching — the players and the team — is special, and you should be savoring it. There are, at most, four games left in the 2013 season. While you're drinking in the final games of the senior class with your eyes, spare a few moments to watch Roby, Shazier and Miller too.
Just in case.