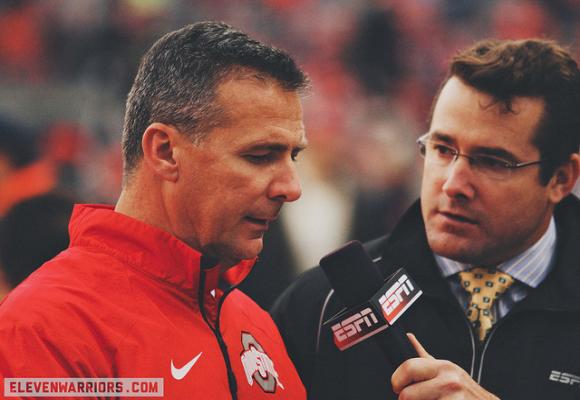 CHAMPAIGN, Ill. — Conventional wisdom said everything would shake out. On Dec. 8, undefeated Ohio State would find out its opponent in the BCS National Championship Game. But more than a month after the initial BCS standings were released, that scenario is becoming more far-fetched.
Three weeks remain in the season and the Buckeyes still find themselves rooting for Alabama and Florida State to lose. Time is running out on the dream season.
"A lot to work on," said head coach Urban Meyer following a 60-35 win at Illinois Saturday.
After 22 consecutive wins, Ohio State being in its current position is unthinkable to many. The scarlet and gray can first air complaints in the direction of the Big Ten.
For the latter part of the 20th century, "The Big Two, Little Eight" ruled the Rust Belt. In recent times, the Big Ten has turned into the Buckeyes' own personal playground. They've won seven conference championships and one division title dating to 2005. In that same era, though, the league has lost frequently on the national stage, including Ohio State, which leads to diminished returns in respect from voters and computers.
Meyer told his team to embrace the stakes. They've done so by piling up wins and points – the Buckeyes have scored at least 56 points in the past three games. Through all the production are visions of a descent, as Ohio State is not only failing to keep pace with Alabama and Florida State but also losing ground to Baylor.  
"The last few weeks everybody was asking us about the situations with the top three teams," junior linebacker Ryan Shazier said. "Before that, we were just playing game by game. This week we need to get back to what we normally do."
In the end, a weak strength of schedule could be the Buckeyes' undoing. Their four road wins – Cal, Northwestern, Purdue and Illinois – are against teams with a combined conference record of 0-26. The non-conference schedule of Buffalo, San Diego State, Cal and Florida A&M did nothing to create buzz in September. In fact, Ohio State fell two spots in the poll before conference play began.
Now, not even 56- and 25-point margins on the road impress movers and shakers in college football. That's the result of a 22-game win streak that includes one win over a top-15 opponent. Michigan State and Wisconsin's rise could alleviate some of the criticism. For Meyer and Co., they're shifting the focus elsewhere after weeks of peeking outside the bubble.
"We need to make sure our focus is on just getting better each week instead of all the national stuff," Meyer said. "I think I'm learning a lesson. Just shut your mouth and quit worrying about this, quit worrying about that."
Meyer harps about distractions at every turn so tuning out any noise fits his narrative. At Florida, politicking became a need in 2006 and he played the role of a congressman well. Meyer donned the politician cap at various times already this season. After Evan Spencer's comments went viral last week, Meyer hinted at curbing media access, which means only he can state the Buckeyes' case.
Philly Brown didn't touch the national title talk Saturday afternoon. His attention was on the previous four hours, defining the game as a wake-up call. 
Offensively, Ohio State's usual antics shined. Carlos Hyde rushed for a career-high 246 yards and Braxton Miller totaled 324 yards. But resting starters didn't happen because the defense allowed 420 yards and 35 points – its most all season. The unit did record six sacks and a pick-six on a day when two starters were missing and another was injured in the third quarter. Not that excuse making is in their DNA.
"That is unacceptable from us," senior safety C.J. Barnett said. "Illinois is a good team with some great athletes, but at the same time, we expect more from ourselves."
As does the sport of college football. The beauty pageant means undefeated seasons and humbling opponents isn't always good enough. Two years ago, a 4-3 Ohio State team left Illinois delighted. The 2013 team departed with a sense of dread. A similar air of defeat befell Penn State in 1994 after a too-close-for-comfort triumph over the Illini. It may or may not have cost them the national title depending on whom you ask.
Going forward, the prize for Ohio State remains the same. Wrapped in an oversized box with a pretty bow is a trophy with a sizable Waterford crystal football. They say diamonds are the way to a girl's heart. The route to a college football player's core traverses through glittering crystals.
The Buckeyes are taking a step back, keeping the trophy in their sights, but staying grounded in what's often a topsy-turvy close to the season.
"There will be a lot more focus on Indiana this week instead of worrying about the big picture," Barnett said. "We need to worry about the right here and now."