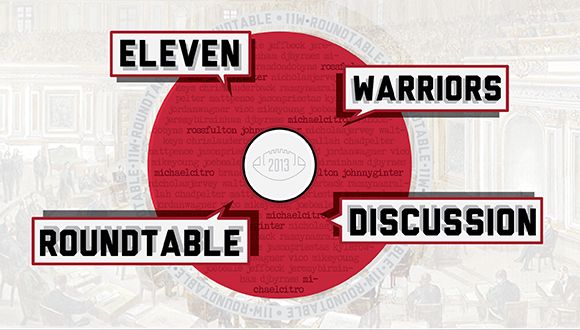 It's the home stretch. The last three games of the regular season. Will the Buckeyes get their 22nd straight win? Will Braxton Miller and Carlos Hyde continue to dominate any and all who oppose them? Will the Buckeyes claim their rightful place at No. 2 in the polls before it's all said and done? All that and more inside the 12th edition of the Eleven Warriors Round Table. This week we've got Michael, Ross and Johnny. Let's hit it.
First Evan Spencer spoke his mind, then Urban Meyer said he's had OSU ranked No. 2 in his poll the whole time. How do you feel about these two making headlines? (Personally I love it)
Michael: I think it's great. Getting people talking isn't a bad thing. I don't think Evan Spencer was intentionally being provocative, but it's important to start the PR war now in case both Alabama and Florida State don't lose, but maybe have a few close calls. If you'll recall, Meyer campaigned pretty openly after Ohio State beat Michigan in 2006 when there was talk of a potential rematch for the national title — something no voter wanted until flip-flopping with the horribawful Bama-LSU NCG.
Ross: I don't have a problem with it. If the team doesn't believe they are one of the top two teams in the country, who will?  I think if anything it draws peoples' attention to Ohio State. And if you're in the national championship game and need Spencer's comments to motivate you then you have bigger problems.
Johnny: I'm fine with it, mostly because it pales in comparison to the general hyperbolic crap that gets spewed from various national media types on a fairly regular basis. Spencer took some heat for what he said, but it's irritating to me that we place expectations on players to be interesting and noteworthy when they give interviews, yet rage when they actually say something interesting and noteworthy.
The Bye Week gave Buckeye fans a chance to see the top teams in the country on display. After watching them, do you feel Ohio State's rank is too high, too low or just right? Why?
Michael:I guess I'd say they're ranked about right, but I could easily give Ohio State another spot and I'm not sure if FSU is better or worse than Bama at this point. I feel that Ohio State can play with anyone in the country.
I'm still not sure about Baylor because I don't believe in Oklahoma, and I don't think much of the teams left on Baylor's schedule. Oklahoma State has no defense, Texas Tech was always overrated and Texas, although playing better, is riddled with injuries. Stanford was fortunate that Marcus Mariota's knee prevented him from being a running threat. Alabama was arguably the lesser of the two teams against LSU for the first half, with Les Miles' team repeatedly shooting itself in the foot. That prevented the Tigers from being able to build a lead and put the pressure on the Tide.
Ross: It's a beauty contest. I can provide you arguments for why Ohio State should be in the top two, or why OSU is correctly ranked. My bottom line is that in my opinion Ohio State can play with any of the other teams. The Buckeyes have an explosive offense and probably the top run game of any of the highly ranked teams. But the reality is that they will never jump Alabama or Florida State so they need one of the two to lose to get in.
Johnny: I choose the third bears' porridge and go with just right. The playoff system is going to be a year too late, because the teams at the top of the rankings all have strengths and weaknesses that make for interesting matchups, be it 1v4 or 3v2 5v1 or whatever. Putting Ohio State in the top 5 somewhere seems fine to me.
Aaron Craft said Florida State is the best team in the country. Thoughts?
Michael: Nope.
Ross: Not really. Does he have a vote in the coaches poll? Whatever he actually said it seems pretty irrelevant.
Johnny: They might be. Jameis Winston is a ridiculous talent and when he's on point Florida State is one of the more dangerous teams in the country on offense. It's also important to point out that while they've played two top ten teams, their closest game was a 14 point win against Boston College in September. Also they completely destroyed those two top ten opponents by a combined 64 points.
If Ohio State beats Illinois but Baylor and Stanford both take care of business, will the Buckeyes be jumped? Why or why not?
Michael: They shouldn't be, but that doesn't mean they won't be. I won't pretend to know what goes through the minds of voters. One AP guy ranked Ohio State eighth, which is ludicrous under any objective measure. The coaches ranked UCF well behind the Louisville team it beat on the road; and Oklahoma over Texas despite the Longhorns beating the Sooners pretty decisively. Flip a freakin' coin. And anyone who pretends Stanford didn't lose to a terrible Utah team is a joke.
Ross: No. The closest Baylor was going to get in jumping OSU is when OSU had a bye and Baylor got national tv exposure. Stanford has a loss to a barely bowl eligible team so how can you even compare anything on OSU's resume to that? The coaches are not going to jump an OSU team that hasn't lost in years.
People are hyperventilating about this issue but there is a LOT of football to be played. The prediction machine gave Florida State and Alabama a 43% chance of winning out. To me that means that OSU has nearly a 60% chance of making the national championship game. Those are pretty good odds.
Johnny: I doubt it. Certainly not by Stanford (although I think they're being unfairly penalized for a game that happened a while ago) and probably not by Baylor. The Ohio State brand still counts for something, even if that something has been reduced to not allowing teams with one loss to jump them in the polls.
If the Buckeyes make it to the National Championship, who would you rather see them play; Alabama or Florida State? Why?
Michael: I'd rather end the SEC run, so Bama it is.
Ross: Probably Alabama but not for any particular match-up reasons. It's better to try and dethrone the king.
Johnny: Alabama, mostly to get a shot at seeing a postgame handshake between Nick Saban and Urban Meyer. Wars have been started over less hate.
Illinois is giving up nearly 240 rushing yards a game. How many will the Buckeyes rack up this Saturday? Who will be the Scarlet and Gray rushing leader?
Michael: I think Ohio State goes for 300+ yards with El Guapo going for about 150 of it. Elliott could potentially end up with more at garbage time if he breaks a few long ones.
Ross: I would expect OSU to be north of 300 yards rushing. I would assume Hyde unless there is so much mop-up time that someone like Elliot could pass him.
Johnny: Is bajillion a real number? Also probably Ezekiel Elliot, since I'm thinking you're looking at another 7-8 carry game from El Guapo and Braxton. Really the thing I'm most looking forward to is seeing if Herman just goes full Bollmanball and refuses to pass more than 10 times.
What is your OSU v. Illinois final score prediction?
Michael: Playing in the Illinois wind tunnel can be dicey, but the Buckeyes seem focused. Still, I'm not sure what we'll see coming off a bye week so I'll say 43-17.
Ross: 56-14.
Johnny: 52-6, and honestly I'm probably selling the backups short.
Despite losing their last five games, Northwestern opened up as favorites against TTUN. Who wins this matchup?
Michael: Whoever wants it least will lose this game. I'm not sure who that is, because Northwestern is inventing ways to lose and Michigan has been a dumpster fire. I think Michigan will move the ball easier with more Devin Gardner runs, so I'll say they win in Evanston.
Ross: Well Michigan has lost their last two while racking up nearly 100 negative rushing yards. I would have to put my thumb on the scale of NU, simply because Michigan's offense has been so inept in recent weeks. Northwestern should have won at Nebraska but for a hail mary.
I'm far more interested in the MSU-Nebraska game as far as Big Ten goes.
Johnny: I have watched every single Michigan game this year and I have no. Freaking. Clue. Both teams are a total mess in almost every way right now. I think the Wolverines probably pull it off and look uncharacteristically good in the process, confusing everyone and making Michigan fans even angrier when they look horrible against Iowa the following week.
What would Woody Hayes say about an undefeated Ohio State potentially being left out of a national championship?
 
Michael: I don't think I can repeat that here.
Ross: Didn't Woody coach in an era when athletic directors got to vote as to who went to the Rose Bowl and teams could not go two years in a row.
I think this whole can you believe an undefeated OSU team could get shut out meme is silly. In 2002 an undefeated OSU team would have been shut out if two other major conference teams would have gone undefeated. It is just rarely the case that it happens.
To bring it back to Woody, for much of his tenure the Big Ten was known as the Big 2, Little 10. And then one of those two would regularly go out and lose the Rose Bowl. So I'm not sure where these rose colored glasses about the Big Ten came from.
Johnny: I think he'd be too busy listening to the new Lady Gaga album to notice much.