The uproar after the NCAA instituted the "targeting" rule prior to the college football season was vast, with complaints from Pullman to Boston and Miami to Minneapolis. Ohio State fans became well acquainted with the thoughtless decree following Bradley Roby's ejection.
Well, college basketball's new block/charge and hand-checking rules have bypassed its football brethren as the most havoc-inducing rule changes of the year. In just one week of games, coaches, players, fans and the media are up in arms with the 2.5-hour games and fiftysomething fouls.
By rule, a defender who arrives at a spot at the same time as the offensive player will now be called for a blocking foul. Hand-checking is also a no-no.
"The way they're calling the game, if you get to the basket with the ball there's a 90 percent chance there's going to be a foul called," Syracuse head coach Jim Boeheim said. "I think they're overreacting a little bit. Now, almost virtually any contact is a foul. I think it'll take awhile for everybody to get used to the rules and the calls, the referees as well as the players."
The rationale for the change was to provide a boost for offense. They call it freedom of movement and scoring. College basketball would become a less physical game, lanes would be clear and offenses would then flourish. The NBA made similar rule changes and is now better for it. But the college experience has been a complete nightmare so far.
Despite evidence to the contrary, Duke head coach Mike Krzyzewski disagreed with the masses about the early season officiating. In the Blue Devils' loss to Kansas, 53 fouls were called as the teams combined to shoot 63 free throws.
"I think the officials are doing what they're supposed to do," Krzyzewski said. "Everyone just has to keep adjusting. Too much is being said about it. Start playing the way we're supposed to play. We had three great guys, guys who are big-time officials. I thought they reffed a terrific game and we have to adjust. That's the way it is."
It was bad enough that LeBron James took notice. On Tuesday night, he tweeted during the Kansas-Duke game, "They call so many fouls in college ball. Let 'em hoop. Should go to 6 fouls as well."
That same night Ohio State beat in-state foe Ohio by 10 points in a spirited contest. It was the first time the two schools, separated by just 81 miles, played since 1994. That should have been the overriding theme. Instead, 55 fouls were called and the flow of the game was non-existent.
"That's what we came into this year understanding, how games were going to be called," Ohio State point guard Aaron Craft said. "A lot of fouls, a lot of stoppage in play. It really just makes you focus."
The Bobcats had five players foul out and Craft scored 18 points thanks to 14 free throws. The Buckeyes attempted 51 free throws and 44 field goals, scoring nearly half its 79 points from the free throw line (38). In 37 games last season, Ohio State averaged 19.7 free throw attempts. In just two games this season, the Buckeyes are shooting 36.5 free throws per game.
According to Craft and Lenzelle Smith Jr., the never-ending series of fouls began in a pre-season scrimmage against West Virginia. Thad Matta said he'd take the wait-and-see approach, feeling out the process for the first three weeks of the season. It may have taken all of two games to see how the 30-plus-game season will unfold.
"I couldn't agree more with freedom of movement and trying to open up the game, but I've said this my entire career, until you figure out how to have more shots, you're not going to get more scoring by putting people on the free throw line," SMU head coach Larry Brown said, a legend in NBA and college circles. "That's going to be the end result."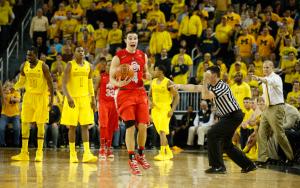 Brown believes it will force coaches to use zone defenses more frequently, which has already taken place, but he also thinks fundamentals will become crisper in the current AAU generation, where highlight-reel dunks and shoddy defense have become the norm.
Last season marked the lowest offensive numbers since the 1981-82 season. The national scoring average was just 67.5 points per game. At the same time, fouls increased. When the rule changes were recommended, the National Association of Basketball Coaches endorsed the move, though many have since shied away from that movement.
"You pay to go see Celine Dion. She's not going to be fouled out by intermission," Colorado State head coach Larry Eustachy. "You're going to get to see her perform the whole show. Well, if you pay to see Colton Iverson you may only get to see four minutes of him."
Craft became a major talking point at Big Ten media day in regard to the changes. Craft, the 2012 Big Ten defensive player of the year, has become one of the top defenders in the country, stifling Trey Burke, Keith Appling and other top point guards. When Craft's name is brought up as a player who could be minimized because of the new rules, Matta bristles.
"I don't think it's going to affect him. I think if they stay with what they're saying, it's going to affect the bad defenders because they can't move their feet as well," Matta said. "I say that in the most complimentary way to Aaron because I think the thing he does better than anybody in the country is move his feet. He's got the ability laterally to really move. He's got great lower body strength. So I don't really see that being an issue for him. He's not a guy that grabs and holds because he's always there with his feet. He should be in pretty good shape."
In two games this season, Craft has five total fouls and four steals. But he hasn't always been guarding the opponents' point guard. Against Ohio, Craft matched up against the 1, 2 and 3. Life in the rugged, physical Big Ten could pose problems for the uber-aggressive Craft.
"I'm excited for the challenge, to be honest," he said. "It's bringing out the competitive side in me, everyone thinking that I can't do it. You've got to show your hands a lot more. I'm going to try to be as obnoxious about it as possible and show my hands out to my side and behind me as much as I can. There's a huge emphasis on position now. You have to be in the right position. If you're not, they're giving the offense the advantage now."
The immediate feedback is mixed. Scoring is up but so are fouls. According to STATS Inc., teams are averaging 76 points per game, up nearly 10 from last season, and 42 fouls, seven more than the 2012-13 season. The biggest black eye of the young season was a Seton Hall-Niagara game that saw 73 fouls, 102 free throws and a game time of 2 hours, 28 minutes. Those gory numbers are what have coaches worried.
"The goal for me is, can we be communicating with coaches, players and officials as to consistent application and repetitive basketball plays night in and night, so kids know what's a foul and what's not a foul," said Rick Boyages, Big Ten associate commissioner for officiating. 
Ohio State's done its best to prepare by altering practice. Matta said the team has cut down on hand-checking and called the contact very closely.
"It's been a big emphasis in practice," he said. "We've got to continue to adjust."
Adjust, adjust, adjust. It's now the most used buzzword in college basketball. For the Buckeyes, a defensive-minded team with one of the nation's best defenders, becoming acclimated with the changes could be a difference-maker in a year filled with great expectations.
But it doesn't mean Ohio State or anyone else is thrilled with an already long, grueling season becoming lengthened.
"Obviously there's a lot of fouls and no rhythm," Kansas head coach Bill Self said. "To be honest, I don't like it. But hopefully players will learn to adjust and coaches will do a better job. It just takes away all aggressiveness defensively."