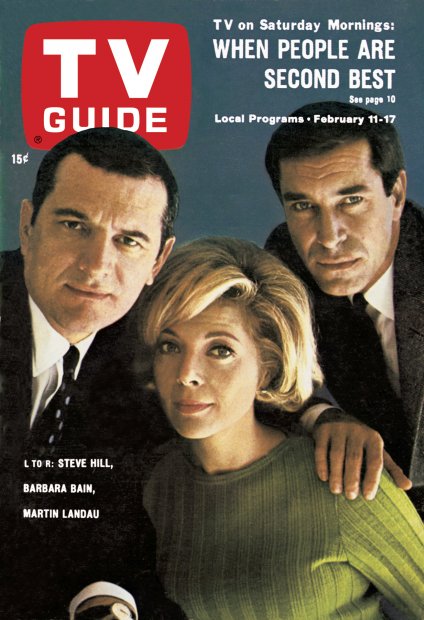 Week 12 is a little bit depressing. Why? For example, several teams in the ACC and the SEC are playing their last conference games of the regular season. Clemson and Georgia Tech finish ACC play on Thursday night. Florida State is playing its ACC finale against Syracuse on Saturday. Florida and South Carolina are also finishing SEC league play on Saturday night as well. The season is almost over.
Meanwhile, Ohio State must press forward with three conference games left to play, beginning this week against Illinois. In light of Evan Spencer's comments earlier this week, which amounted to another "We Want Bama" talking point, Ohio State fans hope everywhere that Saturday's result against Tim Beckman's Illinois program doesn't amount to the "forgot about Stanford" response after Oregon's game last week in Palo Alto. "Forgot about Illinois" just doesn't roll of the tongue right anyway.
You know who has not forgot about Illinois? Barbara Bain. Bain, who played Cinnamon Carter on the Mission: Impossible television series, is a sociology graduate from the University of Illinois at Urbana-Champaign. She, along with co-stars Martin Landau and Steve Hill, are featured on this week's TV Guide cover.
Here's your schedule for this weekend.
Tuesday
MAC football is depressing this year. What happened to our #MACtion? We certainly got none of it in the contest between Bowling Green and Ohio University. Bowling Green beat the previously 6-3 Bobcats like they owed them money: 49-0. This followed Ohio's loss last week to Buffalo (30-3). Bowling Green's record improved to 7-3 as a result, and a hearty 7-1 in the Mid-American Conference. Its only losses this season are to Indiana, Mississippi State, and Toledo.
Bowling Green's turnaround this season is one of the more interesting stories of the MAC this year. If I reminded you that Bowling Green's head coach is Dave Clawson, your mind may immediately wander to that awful 2008 Tennessee Volunteers team. He was the offensive coordinator of that squad, which eventually led to the dismissal of Phil Fulmer. Clawson shortly landed at Bowling Green, with limited success to this point. However, he is following last year's 8-5 season with one that promises to be even better.
Elsewhere, on Tuesday, Toledo defeated Buffalo, 51-41, in a very #MACtion-styled contest. Whereas Buffalo was one of Ohio State's, ahem, "marquee victories", this result does us no favors. Thanks, Toledo.
Wednesday
Just as I was beginning to question whether the MAC had lost its way, the game between Northern Illinois and Ball State delivered in a definitive manner. Trailing by four at halftime, Northern Illinois overpowered Ball State 28-3 in the second half en route to a 48-27 win. With it, Northern Illinois is the first team to ten wins this season.
This game had a little bit of everything. It had 17 combined points in the final 90 seconds of the first half. It had a late backdoor double cover by Northern Illinois, which scored two touchdowns in the final 90 seconds of the game to win by three touchdowns. Though it belied the nature of the game overall, it certainly wasn't boring.
It also had a husky who can give high-fives. No word yet if the husky also knows how to give five (or paw) on the rebound.
Elsewhere on Wednesday, Kent State beat a hapless Miami of Ohio team, 24-6. Miami of Ohio is still winless this season. Kent State, which now has three wins, has two more wins than Darrell Hazell's Purdue team. Hazell was the coach of Kent State last year.
Thursday
Georgia Tech @ Clemson (ESPN, 7:30 p.m.). Thursday night football gives us this clash between the Georgia Tech Yellow Jackets and the no. 8 Clemson Tigers.
Florida State's win last week against Wake Forest eliminated Clemson from the ACC Championship Game. Really, that 51-14 loss to Florida State in Death Valley effectively eliminated Clemson from anything meaningful. Still, Clemson has a real goal: win out, and get a BCS at-large. Most bowl projections right now, like that provided by CBS Sports, have Oregon and Clemson in the Orange Bowl as two at-large selections. It would depend on Clemson winning its three remaining games, even if it will not play in the ACC Championship Game.
Meanwhile, Georgia Tech is very much alive in the ACC Coastal (I had to look it up) picture. In fact, it is right now on top of the division at 5-2. Virginia Tech and Miami are in the mix as well. The last team still in contention, and who may control its own destiny in the ACC? Duke.
Yes, Duke.
Marshall @ Tulsa (FOX Sports 1, 7:30 p.m.). This game is available to you if you have peculiar allergy to ACC football.
Friday
Washington @ UCLA (ESPN2, 9 p.m.). Here are two teams that were much more interesting in the beginning of October than the beginning of November. UCLA and Washington went through September undefeated before mostly bombing the month of October. Washington lost three straight to begin the month and UCLA, which started 5-0, ran into a Stanford-Oregon buzzsaw in the middle of the month. The Bruins lost both contests by a combined score of 66-24.
Washington is done in the Pac-12 North picture, but UCLA is very much alive. It certainly needs to win this game first. Next, for UCLA: Arizona State and USC. Beat both, and UCLA will get another crack at Stanford, or Oregon.
Saturday
Ohio State @ Illinois (ESPN, 12 p.m.). Your personal game of the week follows ESPN's College GameDay. There's nothing like 11 a.m. football in scenic Champaign-Urbana. Trust me on that.
Iowa State @ Oklahoma (FOX Sports 1, 12 p.m.). A week after getting firebombed in Waco, we can go back to hating everything that is annoying about Oklahoma. Those weiners couldn't score more than one touchdown against Baylor. Thanks a lot.
Indiana @ Wisconsin (ESPN2, 12 p.m.). The Leaders Division race is assumed to be Ohio State's to lose. The only other team seemingly in the mix is Wisconsin, who would need to win out and for Ohio State to lose two of its next three games.
Not so fast. The 4-5 (2-3 in Big Ten) Indiana Hoosiers are still alive for a trip to Indianapolis. It would, however, need a miracle. It needs Ohio State to lose all remaining games (including senior day next week against Indiana in Ohio Stadium), and needs Wisconsin to lose two of the next three (beginning with this game).
For that matter, an Indiana-Iowa Big Ten Championship Game is still possible right now.
Purdue @ Penn State (BTN, 12 p.m.). Penn State is ineligible to do anything, and Ohio State made Purdue bowl-ineligible when both played two weeks ago. So, yeah. This is here if you want it.
Good for Purdue to at least get into the red zone last week against Iowa. It was the first time Purdue had done that since September 28th's game against Northern Illinois. Purdue lost that contest, 55-24. It lost to Iowa last week, 38-14.
Syracuse @ Florida State (ABC/ESPN2, 3:30 p.m.). This is Florida State's ACC finale, and it happens to be in Tallahassee against a team that is 5-4 on the season. Next week, Florida State gets an FCS team in preparation of a trip to Gainesville to conclude the regular season.
Odds are, Jameis Winston's name may appear in conversation during the telecast for something other than being "Famous Jameis".
Georgia @ Auburn (CBS, 3:30 p.m.). Ohio State fans will want to give this Auburn team a very strong look. After LSU disappointed us in Tuscaloosa last Saturday night, our last real hopes for Alabama to pick up a regular season loss will be in the Iron Bowl played in Auburn this year.
I've rung the bell for Auburn quite a bit in these features. Auburn's legit. The Tigers run the ball better than most other teams in the country, averaging 320 rushing yards per contest.
Can they give us some kind of confidence heading toward that regular season finale with a convincing win against Georgia? It would be nice. If Auburn wins its next two games, and defeats Alabama in the Iron Bowl, it effectively bars Alabama from participating in the BCS National Championship Game. Perhaps the next conversation Ohio State fans will have to endure is if a one-loss Auburn team "leapfrogs" Ohio State. I would welcome that conversation right now and, no, it wouldn't.
Oklahoma State @ Texas (FOX, 3:30 p.m.). If you're worried that sportswriters may fall in love with Baylor as the new hotness in college football right now, to the detriment of Ohio State's BCS National Championship Game fortunes, you'll want to watch this game. Baylor plays Oklahoma State next, and finishes with Texas in Waco. Whoever loses this game is behind the 8-ball in the Big XII championship picture. Oklahoma State is basically eliminated with a loss.
Michigan State @ Nebraska (ABC/ESPN2, 3:30 p.m.). This is almost your Legends Division championship game. Iowa and Minnesota are still in the race, but this is really the game for the division.
We knew the Legends Division would be settled in November. It's the only month in which Michigan, Michigan State, Nebraska, and Northwestern all play each other. We did not anticipate, though, that Michigan and Northwestern would tank conference play as badly as both have.
Iowa and Minnesota have performed better than expected in conference play, but this is basically a two-horse race to Indianapolis from the Legends Division.
The Ohio State fan's clear rooting interest this game should be Michigan State, if the same Ohio State fan already has his or her eyes set on Indianapolis. Nebraska would be the easier opponent, but Ohio State needs another marquee win. That's one-loss no. 16 Michigan State this year, and not Nebraska.
Miami (FL) @ Duke (ESPNU, 3:30 p.m.). Here's something. If Georgia Tech loses at Clemson on Thursday night, like I expect it will, and if Duke gives Miami its third straight loss, Duke sits on top of the ACC Coastal Division with two conference games remaining. This scenario would drop Georgia Tech and Miami to three conference losses. Duke and Virginia Tech would share the lead, but Duke has the tiebreaker after beating Virginia Tech in Blacksburg a few weeks ago.
Michigan @ Northwestern (BTN, 3:30 p.m.). How bad is it for Michigan this season? Well, despite Northwestern not having won a game in the Big Ten to date in five tries, it is actually favored in this contest. It is the first point spread in the entire history of this series that favors Northwestern. These things happen when your team combines for -69 rushing yards in the last two games.
Texas Tech v. Baylor [in Arlington, Texas] (FOX, 7 p.m.). Ohio State fans hoping Baylor gets off its heels better not hold their breath for this contest. Though Texas Tech began the season 7-0, it has dropped its last three games. Its defense has conceded 46 points per game in those three losses. Hmm.
Florida @ South Carolina (ESPN2, 7 p.m.). One of the more interesting developments recently has been the divergent fortunes of Auburn and Florida this season from last season. They may actually "trade" bowl games this year. Florida, an 11-win team from last season that made it to the Sugar Bowl, may see Auburn take its place as either the SEC champion, or an at-large selection itself.
Florida, meanwhile, may not go to a bowl game.
Florida is 4-5 on the season and has lost its last four games. All else equal, this might mean Florida fans would have to start looking for hotels in Lafayette, Louisiana for the Independence Bowl. This is the SEC's equivalent of the Big Ten's Little Caesar's Pizza Bowl in Detroit.
However, Florida is 4-5 with three games left to play. The first is at South Carolina, the BCS no. 10 team. Its regular season finale, in Gainesville, is against the BCS no. 2 Florida State Seminoles.
So, yeah. This could happen.
Houston @ Louisville (ESPNU, 7 p.m.). If you are still paying attention to the American Athletics Conference this late in the season, you will know this is an elimination game. The loser of this game is effectively out of the running. Both Houston and Louisville have just one conference loss each, both to Central Florida. Central Florida remains undefeated in league play. It's curtains for whoever loses this contest.
Not that you were paying attention.
Alabama @ Mississippi State (ESPN, 7:45 p.m.). Want to hate everything for a little bit? Here's an actual quote from Nick Saban.
Mississippi State 'probably the best 4-5 team in the country,' Alabama coach Nick Saban says http://t.co/Q8S9Zczx28

— Andrew Gribble (@Andrew_Gribble) November 13, 2013
Ugh.
Stanford @ USC (ABC, 8 p.m.). This is your ABC Game of the Week, and will host ESPN's College GameDay.
Why this game is getting ESPN's College GameDay in lieu of Nebraska for its tilt against Michigan State is a little hard to justify. Stanford is back in the good graces of ESPN, one of several outlets (FOX included) all too eager to hype the Pac-12 as the new SEC. The win against Oregon puts Stanford in position to host the Pac-12 title game for the second consecutive year, despite having a horrible road conference loss on its record.
USC has won four of its last five since firing Lane Kiffin. It is still "alive" in the Pac-12 South, but is hardly in control of its own destiny.
Meanwhile, Michigan State is a team that should be getting way more attention that it is now. Oh well. Life's many mysteries, right?
Wyoming @ Boise State (ESPN2, 10:15 p.m.). Remember Boise State?