Urban Meyer and company held their usual Wednesday post-practice media session last night and did their best to pretend this weekend's opponent, Illinois, isn't as awful as their record indicates.
Tim Beckman's crew has won just three of nine games thus far in 2013 including an 0-5 mark in league play and they're just one beatdown at the hands of Ohio State from losing 20 straight conference games. The Illini haven't escaped a B1G game victorious since turning back Indiana, 41-20, way back on October 8, 2011.
Despite the reality of their suck, Meyer tried to prop the Illini suggesting they are just a few plays from having a good season. That point is certainly debatable as Beckman's outfit is losing by an average of 21.4 points per game in conference action with their three wins coming before October against the likes of Southern Illinois (5-5), Cincinnati (7-2 ?!) and Miami, OH (0-9). But hey, maybe he was just showing Evan Spencer how it's really supposed to go down when you're on the mic. 
In other presser news, Meyer noted Jordan Hall has been practicing and looks healthy, along with the rest of the banged up Buckeyes including right tackle Taylor Decker. 
I'm most interested in watching what has looked to be an improved Buckeye secondary go against the B1G's 2nd leading passer (251.6 ypg) in Nathan Scheelhaase. He's not exactly Johnny Ballpoint but he did burn UC with 312 yards and four touchdowns, Wisconsin for another 249 and in the last two weeks, albeit against sieves in Penn State an Indiana, he's racked up 771 yards and three touchdowns along with three picks. 
The current weather forecast suggests a 50% chance of rain with 17 mph winds which could also wreak havoc on the passing attacks, as is customary in the perpetually dreary city of Champaign. 
TROUBLE IN TALLAHASSEE? In what feels like pretty curious timing, TMZ reported last night Florida State freshman quarterback Jameis Winston is the subject of a complaint filed back in December 2012 with the Tallahassee Police Department by a woman accusing the Heisman Trophy hopeful of sexual assault. 
Winston's attorney, Tim Jansen, said he believed the case was closed back in February of this year with no charges being filed and that Winston had never even spoken with police:
"It was closed in February and it was then handed over to the state attorney today. We've been cooperating with them and we've supplied them with witness affidavits. We hope this case will be resolved quickly in Mr. Winston's favor."
The alleged incident is said to have taken place in a Tallahassee apartment between Winston and an unnamed woman over 18 years of age and that alcohol was involved. Police received a call at 4:01 a.m. and responded to the scene to take photos of the woman's injuries and gather physical evidence from her body.  
The Miami-Herald asked State Attorney Willie Meggs about the odd timeline in which the Tallahassee Police Department didn't ask for his office to get involved until 11 months after the alleged incident but Meggs would only refer the reporter to the TPD. 
As he should at this time, Jimbo Fisher is standing by his man offering, "I think the world of the young man. Always have", while the FSU athletic department issued a statement after practice confirming there is no change in Winston's playing status.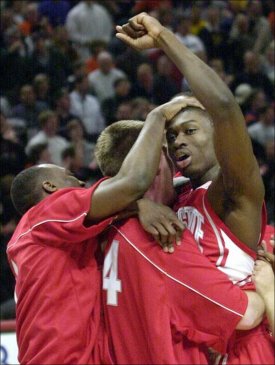 MATTA INKS THREE; ONE REMAINS. The basketball Buckeyes received signed letters of intent yesterday from 2014 blue chips Keita Bates-Diop and Jae'Sean Tate, in addition to the tall-but-raw Garfield Heights product, Dave Bell. 
Bates-Diop is a 6'7" rangy wing of the highest order out of Bloomington...Illinois. Ranked as a Rivals 5-star, the kid has an excellent handle and can score in a variety of ways, and looks perfectly suited for Matta's four out, one in motion offense. 
Tate, a local product out of Pickerington, adds another small forward to Matta's arsenal and comes in as a Rivals 4-star. The 6'5" slasher is the son of former Buckeye Jermaine Tate and while he's not yet the threat from distance Bates-Diop might be, he brings a different level of toughness and a strong commitment to doing the dirty work and crashing the glass. 
A 6'10" project, Bell did not have an offer from any school on the level of Ohio State largely because he's only been playing the sport competitively for about three years. ESPN recruiting analyst Reggie Rankin calls him a long, athletic "potential" guy that is "just scratching the surface of how good he can be."
With those three officially in the fold, the could-be-nothing-could-be-something news of the night came as the fourth, and biggest piece, of the 2014 verbal commitment list, D'Angelo Russell, had yet to sign and fax his letter of intent as of late last night. 
A 5-star out of Florida, Russell still has nearly a week to officially sign his NLOI in the early signing period. A common reasoning to emerge last night was that Russell attends a prep school and since a NLOI requires the signature of a parent/guardian in addition to the student-athlete, it could take a day or two to have it signed by a parent, faxed to Monteverde for Russell to sign, then submitted to Ohio State. 
Again, there's no smoking gun here so hopefully Russell will be signed, sealed and delivered soon enough but until then, feel free to call upon the deliverer of the Black Magic known as Charles Bass Off The Glass. 
QUICK CLICKS. The mouth of a worm... ESPN Searching For A Few Loud-Mouthed F$%#@ For New Afternoon Program (NSFW)... Map of The Simpsons' Springfield... Venice... Me, too!... 19 Great Live Neil Young Performances... This Fake '30 for 30' on 'Space Jam' Is Brilliant... Ya Hurd?... The legend of Ohio Drivers has even deeper roots than I imagined... Coaching sessions were eyed for Gee.