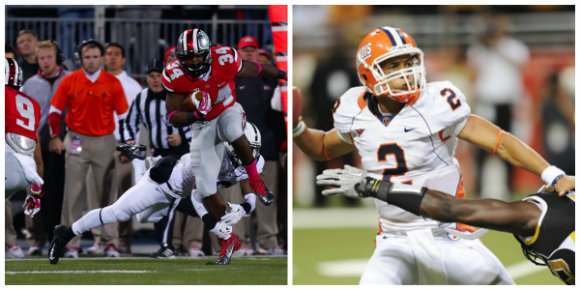 Oh hello there, Illinois. Almost didn't see you come in. You see, we've been arguing about whether we deserved to play in the national championship and almost forgot we are playing in a few days!
But honestly, Tim Beckman and Illinois are having a forgettable year. Apart from beating up on Cincinnati, it's been five straight in-conference losses and not too much in the way of highlights. Maybe that's a little unfair, as Illinois is second in the conference in passing yards per game, albeit in mostly losing fashion.
Below I preview the Illinois matchup and how the Buckeyes should fare.
When the Illini Have the Ball
Here are the Illinois offense's vitals:  
|   | PPP | YPP | YPA | RedZone TD | Explosive Plays |
| --- | --- | --- | --- | --- | --- |
| OSU Defense | .26 | 18.3 | 4.8 | 56.5% | 20 |
| Illinois Offense | .42 | 14.3 | 6.00 | 56.8% | 51 |
Ohio State remains one of the best teams in the country at keeping plays in front of them. With only twenty opponent plays of more than 20 yards, the Buckeyes are tied for first in the country with Oregon and right in front of FSU and Michigan State.
I took a look at Scheelhaase's situational production, and I found that he doesn't seem to be on his A-game in pressure situations. In particular, his completion percentage drops significantly from 70.1% in the second quarter to 57% in the fourth quarter.
He's also less accurate in the red zone, with his accuracy dropping to 54.2%. This might be part of the reason why the Illini are 46% less likely to score a touchdown in the redzone than the Buckeyes.
The Illini's turnover margin is -5. Between that and an explosive play margin of -5, it's pretty easy to see why the Illini don't win very many games.
The Illini's runningback, Josh Ferguson, had a 20% RBSR and 2.6 YPA on nine carries against Michigan State. So, those numbers don't really do justice to Ferguson, since MSU is just one of the best rush defenses in the country...but you get the idea.
Illinois does have a surprisingly high number of explosive plays on offense, so this should be a good warmup for Indiana, who takes the whole "terrible defense and good offense" thing to Mike Leach-levels. In contrast, Purdue was the opposite—terrible offense and fairly decent defense (I'm feeling generous). 
Scheelhaase has done surprisingly well this season, throwing for 2600 yards and 17 touchdowns already. However, against Michigan State and Wisconsin (the only defenses they've played that managed to put their cleats on the correct feet), he managed a more pedestrian 7.67 YPA. MSU held him to 103 yards passing.
He's his best on first down, when Illinois actually has the greatest number of passing attempts. Further, he has far more than twice as many passing yards on first down than second and third down combined. In comparison, Braxton has roughly equal yards between first vs. second and third down.
The numbers don't suggest Illinois will have the running game necessary to grind out long drives against the Ohio State defense, but will instead be forced to rely on big plays in the passing game.
When OSU has the ball
They will score points, and likely a lot of them:
|   | PPP | YPP | YPA | Redzone TD | Explosive plays |
| --- | --- | --- | --- | --- | --- |
| OSU Offense | .64 | 11.0 | 7.0 | 82.6% | 53 |
| Illini Defense | .48 | 13.9 | 6.78 | 84.4% | 56 |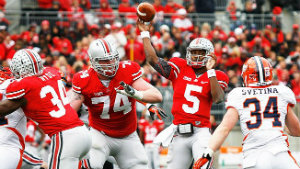 Here's some context for the Illini's 56 explosive plays this season (in nine games, or more than six per game): Georgia State, New Mexico, Toldeo, Kansas, and Tulane all have given up fewer plays of 20 yards or more than Illinois. That's bad enough for 112th in the country.
Probably the only statistic you really need to know is that Michigan State put up 42 points on this defense. Michigan State. Jim Bollman. *shudders*
The Illini really struggle with creating negative yardage plays. They only have ten sacks on the year and most of their production comes from the linebackers (7.5 total sacks). They're not high on tackles for loss either, with only 46 (105th in the country). To be fair, Ohio State's defense isn't exemplary in TFLs either, with 53. Fortunately, TFLs aren't closely correlated with many other defensive efficiency metrics.
Speaking of TFLs, they are on the other hand a pretty good indicator of how good an offensive line is at run blocking (Stanford, Alabama, Arkansas, and Georgia are in the top ten). Ohio State is fifth in fewest TFLs allowed, averaging just 3.9 per game.