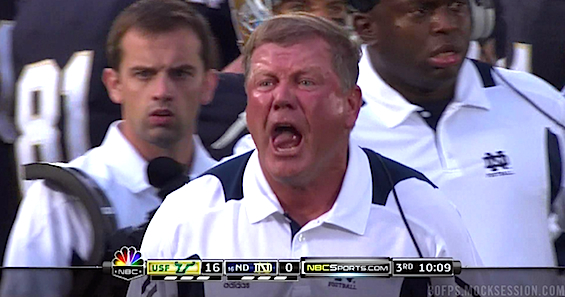 Notre Dame is in the midst of another forgettable season. First, the Irish kicked their quarterback off the team for cheating. They've already lost three games by the second week of November. Then there's this news:
You won't hear Brian Kelly make excuses for a roster badly beaten up. But if you're wondering how wounded the Irish are heading into their final two games, just consider the fact that Kelly isn't practicing this week with his team.

No pads. No practice. Just meetings, work in the weight room and conditioning. How many times in Kelly's 23-year head coaching career has that happened?

"This will be my first," Kelly said Tuesday afternoon.
For the record, Kelly blamed Navy's cut blocks for a multitude of injuries suffered by Irish defenders during a come-from-behind victory over the Midshipmen. 
Kelly is far from a sympathetic figure, but boy does this news make you thankful Ohio State has been able to avoid the injury bug for the most part of this season. (Get well soon, Christian Bryant.)