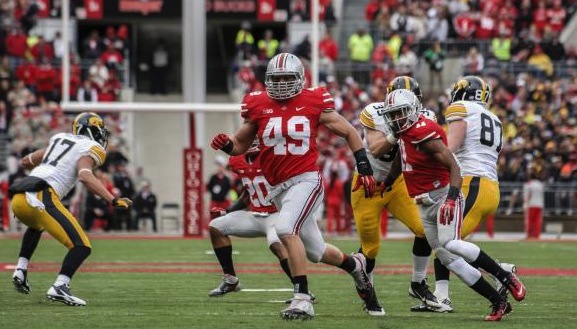 For many of the 105,000 fans in Ohio Stadium on any given Saturday, the drum cadence of the ramp entrance and first chords of "Buckeye Battle Cry" stir emotions into overdrive. The Horseshoe literally reverberates with a mighty cheer.
But there's at least one Buckeye in the stadium, on the field in fact, that draws inspiration from another song on game days. It too is directed by Jon Waters and played by The Ohio State University Marching Band. The person is Navy veteran-turned-football player Craig Cataline, a hulking 6-foot-1, 225-pound walk-on linebacker and special teams ace. The song is the Star-Spangled Banner.
"I stop and think about my two brothers. It's constantly on my mind every time," Cataline told Eleven Warriors, reciting his national anthem ritual. "I see guys not really paying attention to the flag getting raised. That's an important thing. You have to take pride in the flag. It's part of what we defend. I'm a history guy, too. A lot went into that flag. It's a big deal to me, to some guys it's not."
Cataline, a national resource management major, isn't just some history buff who's strapping on football pads. He served four years in the United States Navy after being named all-state linebacker his senior year of high school at Grandview Heights. Brothers Ryan and Eric served in the Army and as Craig's high school graduation approached, he knew college wasn't the choice for him at the time.
Serving the country was always on Cataline's list of life possibilities. Older brothers making the leap made it a no-brainer. Before he was even enlisted, Cataline received his first orders from Ryan and Eric: join the Navy.
"My brother had just gotten back from back-to-back deployments to Iraq and he thought it'd be a better idea to join the Navy," Cataline said. "He was in the infantry and he saw some pretty serious combat. So that's why I did that."
The four years as a member of the security force of the Navy included a yearlong stint in Iraq and Kuwait – and living on an oilrig up to five months at a time in the Persian Gulf. Cataline described the experience as never seeing land and being on a metal platform that looks like it will fall into the ocean.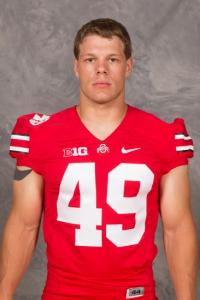 Oh, and the heat. In the summer, the temperature can be 120 degrees.
"Everyone's counting down the days," he said.
It makes two-a-days during August not so oppressive. And "Bloody Tuesdays" don't have the same effect on a 25-year-old Navy veteran as they might on an 18-year-old true freshman who's never been away from home.
"He's what you would imagine from a guy that served in the Navy for a while – tough as nails," said head coach Urban Meyer. "He's completely committed and incredible discipline. He goes 100 miles an hour. I wish he was more athletic because we'd find a way to get him on the field more. He's got some talent."
Said Cataline: "I just think it comes with a little maturity and understanding that you're going to be all right making it through a two-hour practice. You try not to look at things as a whole and instead look at things as small victories."
His first step post-Navy was a brief stay at Embry-Riddle Aeronautical University in Prescott, Ariz., where Cataline studied global securities and intelligence studies for an eventual career in the FBI or CIA. But the life of a government agency employee didn't appeal to him anymore. So after a semester Cataline returned to Columbus. Suddenly, Ohio State football came into view.
The ultimate detour began at a central Ohio Urban Active gym. Cataline was working out one day when former Buckeye defensive end Lawrence Wilson, a personal trainer, struck up a conversation with the patron who looked far different than the other clientele. Wilson encouraged Cataline to contact Greg Gillum, then the director of player personnel.
"Everything went from there," Cataline said.
In his first career game, the 2012 season opener versus Miami (Ohio), Cataline played a role in a special teams touchdown after he ripped the ball loose from the punter with Bradley Roby recovering it in the end zone.
"I remember that I wasn't even set on the line fast enough," Cataline said. "I think they speed punted us. I just saw the ball go over the punter's head."
But just as soon as he was making an impact, Cataline was sidelined for the rest of the season. He suffered compartment syndrome and calcification in his quads, which slowed the circulation of blood in his leg. It put Cataline on the mend for nearly four months until he could take part in football-related activities again. 
"That was a little depressing," he said. "I really couldn't do anything. I struggled with why I was there and didn't know if I was going to play this year because I felt like I didn't have a place on the team. Luckily, I got better and got moved to the linebackers room with Coach Fickell and things turned around from there."
Special teams has become Cataline's personal playground. His two tackles don't tell the entire story. He's one of the unit's leaders and promotes an invaluable work ethic and attention to detail. Cataline has earned respect and admiration from his teammates and the man at the top.
"I didn't walk on just to be able to wear a jersey on the sideline."
"He has a very unique story. He's one of my – arguably my favorite – but one of my favorite players," head coach Urban Meyer said. "He's very powerful on kickoff cover. He's a very valuable guy on our team right now, just his demeanor, his leadership, his toughness."
Cataline, a junior, netted his first "champion" honor of the 2013 for his special teams prowess in the Buckeyes' 63-14 win over Penn State.
"Everyone likes a little bit of praise. It's not why I do it, though," Cataline explained. "I just have the mentality that I'm going to go as hard as I can. Some of these guys like Ryan Shazier and Braxton Miller are freak athletes. I don't have that kind of footwork and I'm not as fast as those guys.
"I don't know if I'm mentally tougher or it's because I'm older, but I have a different mentality that's able to carry me through some things a little easier. I'm not going to break mentally. I think that's my strongest point."
Year 1 was spent in the fullback meeting room and his second season as a Buckeye means hours in the linebackers room. But Cataline knows where his value on the team lies.
"My role on the team is to impact special teams," he said. "I walked-on, I understand I'm not there to be developed as a linebacker like Mike Mitchell or Trey Johnson. They were recruited to be linebackers, and I get that. I don't dwell on it. I just try to impact special teams as much as I can.
"It's definitely something that's way bigger than me. I'm just happy to be a part of it. I just want to be able to contribute. I didn't walk on just to be able to wear a jersey on the sideline."
As the calendar flips to Veterans Day, Cataline's mind wonders back to the Middle East, where friends are protecting freedoms that he treasures. On Saturdays in the fall, past experiences flood back to him on that first verse – O say can you see, by the dawn's early light.
"I have a lot of friends and met a lot of guys and girls and chances are I'll never see them again," Cataline said. "As much as you want to be in contact and see them again, you might not get the chance. I think about the people that are still serving and the ones that are overseas right now, still in Afghanistan taking fire.
"I like to think I appreciate where I am. I don't like when people don't appreciate this country. There are a lot way worse out there."
[Photos: Ohio State Dept. of Athletics]