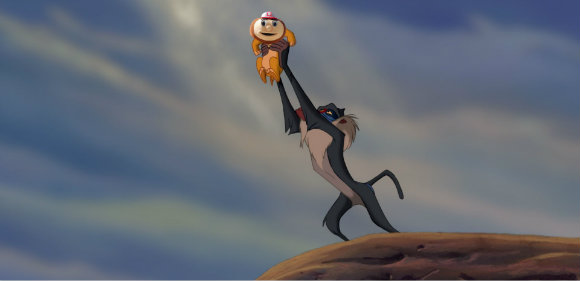 Since the Buckeyes relaxed at home yesterday, we were forced to slog through five Big Ten games while waiting to see if LSU could bring down Alabama. While that didn't happen and we're left hoping for an Auburn miracle, the Big Ten feasted on itself for our "entertainment."
To up your schedenfreude game, I decided to take a look at the stats of our Big Ten brethren this morning. Illinois-Indiana and Nebraska-Michigan were probably the two matchups you cared the most about, so let's dive in.
Illinois-Indiana
I'm not sure if I'd exactly call this game of interest to Buckeye fans, but it did feature our next two opponents.
|   | PPP | YPP | Ex Plays | Turnover Margin |
| --- | --- | --- | --- | --- |
| Indiana | .73 | 9.2 | 8 | -1 |
| Illinois | .38 | 6.7 | 8 | +1 |
Between Indiana and Illinois I'm definitely more worried (and I use "worried" pretty liberally here) about Indiana because of Kevin Wilson's passing offense, which is currently tenth in offensive F/+. But when Nathan Scheelhaase is able to complete two throws of over 50 yards in addition to six more explosive plays on the day, you can't be too concerned about the game's outcome.  Here are my thoughts:
Almost every point scored by either team came as a direct result of explosive plays. While both teams had eight explosive plays, Indiana's were more likely to go the distance, while Illinois' were shorter (15-35 yard) plays that still required the Scheelhaase and company to finish the drive. Of the six Illini drives that ended with a punt or turnover on downs, four of them didn't have an explosive play, while the other two had a big play that didn't reach the endzone.
Indiana only punted twice against Illinois, though they also had two turnovers for a 67% drive efficency rate.
Hoosier runningback Tevin Coleman managed 215 yards on just 15 carries due to several huge runs. 60% of his runs were efficient, which is extremely solid for a big-play guy.
Scheelhaase passed for 458 yards on 58 attempts, which is what you do when you're losing in a big-play shootout against a porous defense. Ultimately the 105th ranked F/+ defense couldn't keep up with Hoosier offense.
Indiana's Tevin Coleman wasn't the only one to pick up a hundred-yard game, as Stephen Houston averaged close to nine yards a carry and 150 total rush yards.
Both squads had a wide receiver dominate, with Illinois' Steve Hull (224) and Indiana's Cody Latimer (189 yards). Hull actually tripled his output for the season yesterday, so that should say something about the Indiana defense.
Michigan-Nebraska
This was not a pretty game. It was not an exciting game. In fact, I'd say that viewer discretion is probably advised for reading the statistics on this game below:
|   | PPP | YPP | Ex Plays | Turnover Margin |
| --- | --- | --- | --- | --- |
| Michigan | .20 | 7.3 | 1 | +1 |
| Nebraska | .26 | 6.3 | 3 | -1 |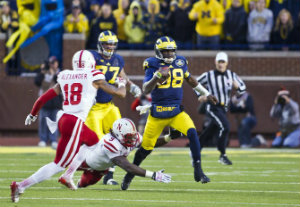 So Ohio State alone had 192 more yards, or 43%, more yards against Purdue last week than Nebraska and Michigan did combined. If Indiana-Illinois box scores represent the "new Big Ten" (if there is such a thing), then this game was a nice reminder to the rest of the country that some B1G teams still can't get it together on offense.
For instance, Nebraska won 17-13, but at one point during the game – with 11:47 left in the second quarter to 1:52 left in the third quarter – Nebraska punted on every single possession. That's five times in a row and 22 total plays. Then Nebraska fumbled on their next drive and punted on their second-to-last drive of the game.
Michigan, on the other hand, had five total punts, one turnover on downs, and one missed field goal on their twelve drives.
When you remove the Wolverines' seven sacks for 49 yards, they still managed only 22 yards rushing on 29 carries.
I wanted to try and understand Michigan's poor rushing performance by attempting to split the blame between the line and the runningbacks. You may remember runningback block success rate from a few weeks ago. Michigan managed to have 11% of their carries go for five or more yards. Unfortunately for the Wolverines, that was only three carries. On the other hand, both Fitz and Derrick Green only had one efficient carry each (Devin Funchess and Devin Gardner added two more) for a total of four efficient carries by backs on the day. I guess what I'm saying is that neither the line nor the backs seem to be on point right now.
Ugh, I don't even know how to assimilate those numbers in to my brain. I guess if you're a Michigan fan looking for some bright spots, Devin Gardner didn't have a turnover (though there were some chances for a few fumbles) and the defense did play well against the Huskers. But where was the offense that put up 63 against Indiana?