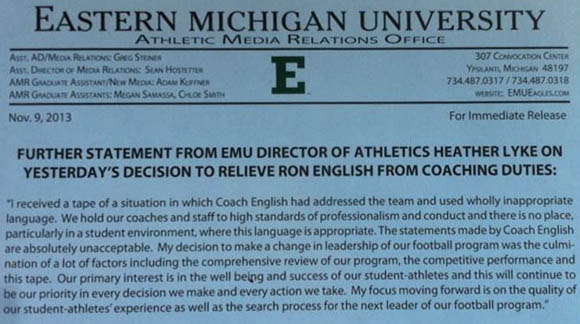 UPDATE 2:16 p.m.
Via The Detroit News, here's audio of English going off on his players. Is it enough to merit termination? We'll let you decide.
---
When Ron English was fired Friday in his fifth season as coach at Eastern Michigan, most figured it was because he was 1-8 this year with a career record of 11-46. 
Now, it appears as if something else was at play. EMU athletic director Heather Lyke released a statement early Saturday afternoon saying she received a tape of a situation "in which Coach English had addressed the team and used wholly inappropriate language."
So, someone on the team or English's staff taped the coach without his knowledge, but what did English say, exactly? Our money is on English questioning the sexuality of his team, but we've been known to be wrong before.
Whatever it was, EMU was looking for a reason to fire English with cause and it appears as if they had it.