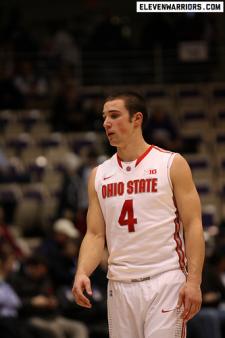 In a college football week where Oregon already lost and Alabama plays LSU at 8 p.m. Saturday night, college basketball is garnering the spotlight in Columbus. Ohio State, off yet another 20-win season and deep run in the NCAA Tournament, is expected to once again be near the top of the Big Ten.
"We have a chance to have a really, really good basketball team," head coach Thad Matta said. "I love the energy and cohesiveness, but it's early. I'd say this – I'm very excited about the season."
The year welcomes several milestones. It's Matta's 10th season at Ohio State, the final year for Aaron Craft and Lenzelle Smith Jr. and perhaps the duo could depart Columbus as the Buckeyes' all-time winningest basketball players.
"Right now, we're at a good position," Craft said. "We put in a lot of work."
None more than him. Craft is a gym rat by trade, but the summer overhaul of his jump shot was an entirely different undertaking. It required thousands of shots per week before he felt comfortable enough to call it a finished product. With the time commitment made, Craft believes the hard work will shine through with results on the court.
But it's not just Craft's offense getting noticed. He's long been known as a defensive ace, and this season is sure to attract even more attention with new defensive rules.
"If [the officials] stay with what they're saying, it's going to affect the bad defenders," Matta said. He does not include Craft in that category, if you were wondering.
Saturday marks a decade of dominance under Matta, the beginning of the end of the Craft era and, quite possibly, college basketball's equal to football's "targeting" rule.
"We got our core principles down sooner maybe than we have in the past," Matta said. "I think it's allowed us to be, hopefully, a little better defensively. I want us to be as aggressive as we possibly can."
| # | Name | YR | HT/WT | PTS | REB | ASST | P | # | Name | YR | HT/WT | PTS | REB | ASST |
| --- | --- | --- | --- | --- | --- | --- | --- | --- | --- | --- | --- | --- | --- | --- |
| 4 | A. Craft | SR | 6-2/195 | 0.0 | 0.0 | 0.0 | G | 11 | B. Bozeman | JR | 6-2/170 | 0.0 | 0.0 | 0.0 |
| 3 | S. Scott | JR | 6-1/185 | 0.0 | 0.0 | 0.0 | G | 5 | J. Black | SR | 6-2/220 | 0.0 | 0.0 | 0.0 |
| 32 | L. Smith Jr. | SR | 6-4/210 | 0.0 | 0.0 | 0.0 | G | 22 | A. Hubbard | SR | 6-5/230 | 0.0 | 0.0 | 0.0 |
| 10 | L. Ross | JR | 6-8/220 | 0.0 | 0.0 | 0.0 | F | 34 | C. Blossom | SO | 6-6/225 | 0.0 | 0.0 | 0.0 |
| 23 | A. Williams | JR | 6-11/250 | 0.0 | 0.0 | 0.0 | C | 50 | I. Chiles | SR | 7-2/260 | 0.0 | 0.0 | 0.0 |
Opponent Breakdown
Morgan State head coach Todd Bozeman is well-known for the show cause penalty and egregious level of cheating he committed at Cal in the early 1990s. But in seven years at Morgan State, he's made the most of his second chance. Bozeman has led the Bears to two NCAA Tournament appearances and one NIT. Morgan State has played in the MEAC conference championship game five times.
Prior to Bozeman's arrival in Baltimore, the Bears' last winning season came in 1988-89. Postseason play, winning seasons and even 20 victories are becoming the norm. Bozeman has guided Morgan State to three 20-win seasons. It finished with a 17-15 last season, advancing to the MEAC title game.
The top returnee is Justin Black, the Bears' leader in scoring (14.2 points per game), assists (2.9) and three-pointers (39 total). Seven-foot-two center Ian Chiles' 9.2 points per game and 5.2 rebounds and Anthony Hubbard's 11.4 points also return. Black was named to the preseason All-MEAC First-Team, while Chiles and Hubbard were tabbed for second and third team honors, respectively.
Morgan State was picked to finish second in the MEAC this season, behind defending regular-season champion Norfolk State. The Ohio State game is the first of 10 consecutive contests to open the season away from home, three of which will be played in the Virgin Islands.
Buckeye Breakdown
Several players can be deemed X-factors for the 2013-14 Buckeyes. But it's hard to top Amir Williams when it comes to truly being in the position where someone's success is tied to the team's overall achievements. Ohio State is sure to play a small lineup for stretches this season, but it doesn't lessen the important of the big man in the middle.
Williams, a former McDonald's All-American and five-star recruit, has been a can-miss college player. Smith explained last week how difficult it is to make the transition from high school to college. For Williams, that jump still hasn't occurred.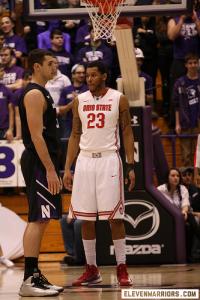 In his sophomore season, he started 26 games but averaged just 3.5 points and 3.9 rebounds, not exactly robust numbers. That's why he's keeping his goal for Year 3 quite simple.
"Be better than last year," Williams said.
At times, he's become his own worst enemy, allowing the psychological nature of the game to defeat him. The nature of Williams' first five minutes often dictates how well he will play that particular game. It's a quality he's striving to break this year. Consistency is key, not allowing his emotions to get too high or too low.
His performance in the Buckeyes' exhibition game included the promise that Williams displayed in high school. Eight points, 10 rebounds, five blocked shots and three steals drew praise from coaches and teammates, and raised eyebrows in the stands.
"Just give us consistent, solid basketball," Matta said.
Williams understands how vital his production is to the team. A year removed from the Elite Eight and the loss of 20 points per game – Deshaun Thomas – Williams' impact becomes magnified, especially with Evan Ravenel's departure. Williams and Trey McDonald are the lone big men on the roster. Playing smart but aggressive in the rugged Big Ten will be paramount.
"Coach explained to me, my play is important this season so he can't have me playing 10 to 12 minutes for the game because of foul trouble," Williams said.
Etc
Ohio State is 1-0 all-time vs. Morgan State and 16-0 against teams from the MEAC. 
Aaron Craft is one of 15 players on the Oscar Robertson Trophy watch list, which goes to the national player of the year as selected by the USBWA.
Thad Matta is 10 wins away from being the second-winningest coach in program history. Eldon Miller is the current No. 2.