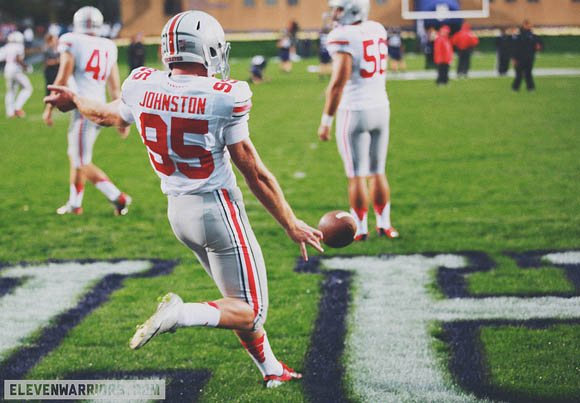 When U.S. Army All-American punter Johnny Townsend left Ohio State at the signing day altar for the Florida Gators, it caused a bit of a panic among fans. No worries – special teams coordinator Kerry Coombs found his punter in Australia and he's found life on the other side of the world quite comfortable. 
Punters often go unnoticed until they do something bad. Well, Johnston's performance has been impossible to ignore this season, and it has nothing to do with blocked punts or shanks. It wasn't until late in the fourth quarter of the fifth game that he even surrendered a return yard. On that night against Wisconsin, Johnston pinned the Badgers inside the 20 on all six punts and inside the 10 on five. It earned the 21-year-old freshman his first Big Ten special teams player of the week award. 
On the season, Johnston is averaging 41 yard per boot with a long of 61. The three yards he allowed to Jared Abbrederis remain the lone return yards against the Buckeyes all season. 
But the statistics don't end there. Johnston's rate at pinning opponents inside the 20- and 10-yard line is the stuff of All-Americans. 
Two cool stats that are just too cool: P Cameron Johnston is 2nd & 3rd nationally in pct. of punts I20 (16-26; .615) and I10 (7 of 26; .269)

— Jerry Emig (@BuckeyeNotes) November 6, 2013
"If we want to ooh and aah, we can do that any time," Coombs said. "At the same time, teams that do that have returns that are extreme. We want to cover kicks. We want to split the field and make sure other teams don't return the ball."
UPDATE (Nov. 8, 9:40 a.m.): Cameron Johnston has punted just 26 times this season. Still, he's been named one of 10 semifinalists for the Ray Guy Award.