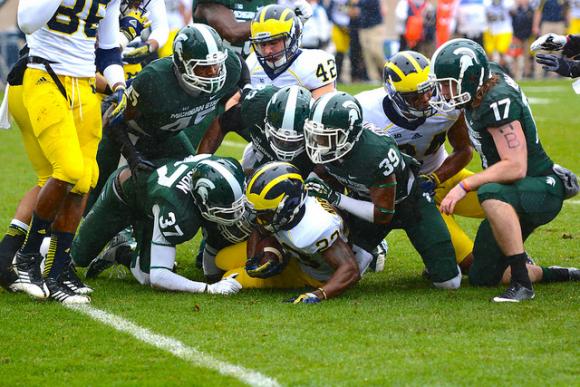 Michigan needs to kill this whole "little brother" thing immediately. I cannot think of a single time where it has been invoked preemptively and not completely backfired in their faces in a loud and embarrassing way.
Sparty took it to the Wolverines hard on Saturday, winning 29-6, and the box score more or less tells the story. Michigan State's defense, which I previously had not been completely sold on due to poor competition, looked like the best defense in the country. Statistically they are by a wide margin (especially their rushing defense, which has very interesting implications in a potential B1G championship matchup), and on the field they might be too. If they had even an average offense, you'd be looking at easily one of the top 5-10 teams in the country.
As far as Michigan goes, I'm still somewhat befuddled by this team as a whole. Imagine if the hemming and hawing that hampered the Ohio State defense up until the last few games effected the entire team, and always. That's Michigan. Brady Hoke may not be on the mythical hot seat yet, but if the Buckeyes destroy them in Ann Arbor, and frankly they should, Hoke will be facing some serious pressure to rethink the direction that he's trying to take the team.
Quarter 1
Michigan led off with a promising drive that ended when Michigan State woke up and held them to a field goal. Sparty responded with a field goal of their own, and then it was just a montage of Devin Gardner getting sacked a thousand times to the tune of One Last Breath by Creed. It's that "six feet from the edge" song, don't bother looking it up. 3-3 tie.
This is roughly the point where I thought that Michigan would get creative, amp some things up, and put Sparty on its back a little. Obviously I have not been watching Michigan football this year.
Johnny: I don't know that there was a right way for Michigan to attack the Sparty defense, but whatever Al Borges did wasn't it. What should he have done?
Ace: I don't really think Borges called a bad game; the issue is that a lot of what set up MSU's dominant defensive effort has been the way he's brought along his "offense" (scare quotes because I still have no clue what his idea of an offense actually looks like) over the last three years. Michigan's wasn't suddenly going to play high-tempo and break out a spread attack with the requisite constraints, and that's the best way to keep the Spartans from getting into their hyper-aggressive groove. Were there some infuriating moments?
Sure. He finally called a bubble screen, it worked for something like eight yards—because it attacked MSU where they were getting too aggressive—and he never called it again, nor even faked it to try and open up something in the running game. He put Devin Funchess's hand in the dirt with Devin Gardner under center on 2nd-and-15 and called the most unconvincing play-action in the history of football; of course Max Bullough screamed up the middle for a sack practically before Gardner could execute the run-fake, because why in the world would he respect the threat of an under-center handoff to Fitz Toussaint in that situation?
Michigan's offense was dead on arrival in part because they run an ever-changing grab bag of plays with little in the way of coherence, but only in part. I'm not sure, in this game, what Borges could've done to consistently slow down the Spartan rush given the sorry state of the offensive line. (Where the blame falls for the line is another matter entirely.)
Quarter 2
Michigan State added a field goal after converting a few fairly impressive third and longs, which Michigan eventually responded to after a very silly drive that kind of worked in that they got points off a field goal. Frowning, Jim Bollman added some Sriracha to his glass of whole milk and was able to dial up a drive at the end of the quarter that resulted in a Michigan State touchdown. 13-6 Sparty.
The real change in this game is that Michigan State defensive coordinator Pat Narduzzi started dialing up the pressure on Gardner, and as soon as that happened Michigan's offensive line went into meltdown mode. This game was effectively over as soon as MSU took the lead.
Johnny: What happened on that last drive that worked so well for the Spartans offensively?
Ace: Connor Cook started hitting the passes that Michigan pretty much dared him to hit, and then MSU put the ball into the end zone in a fashion that many teams have this year—they managed to get to the line with speed and catch Michigan unready for the play, even in a two-minute drill. Cornerback Jourdan Lewis looked like he expected help over the top; safety Thomas Gordon's help didn't arrive until Bennie Fowler had the ball in the corner of the end zone.
At this point, Michigan's complete inability to deal with tempo—something that I believe stems from their offense's refusal/incapability to play at high speed—is something every opponent from here on out should attack; it's the main way in which offenses have been able to get big plays. Getting tempo'd by a Dantonio/Bollman outfit was definitely a low point, even on a day of low points.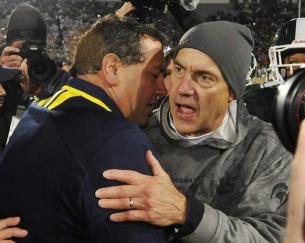 Quarter 3
Another Michigan State field goal started the half off on the Big Ten-iest foot possible. The rest of the quarter was a Cormac McCarthy novel, complete with an excess of mud and ennui. Gardner got sacked another 50 times I think, but it did not lead to a Drew Tate spiking of the football in anger. Sad. 16-6 Michigan State.
Johnny: Should Ohio State meet Michigan State in the Big Ten championship game, what matchup would you be looking at the most closely?
Ace: The B1GCG vs. Other Available Television Programming.
Okay, if you want actual analysis, I'd say it's OSU's speedy outside receivers vs. MSU's corners. One of the main ways to put up points on the Spartans is to attack deep down the sideline; unlike Michigan, the Buckeyes have the line to protect the quarterback and actually allow these routes to develop. The MSU corners—especially Dennard—are very adept, but one mistake and Devin Smith could be waltzing into the end zone; these are the risks when a defense is predicated on playing a very aggressive cover 4.
Quarter 4
Michigan State thrust their tiny dagger into the back of Michigan on their first fourth quarter drive with a touchdown. Michigan's defense seemed ground down after three quarters of Bollmanball. The PAT was blocked, but who cares because the final ten minutes were an exercise in futility on the part of Michigan. Devin Gardner's brain finally broke (along with his soul) as Dantonio's squad added another TD and wrapped up a 29-6 victory.
Johnny: What is needed to fix the problems on the Michigan offensive line? Also, is Taylor Lewan history's greatest monster, or merely a low rent Pol Pot?
Ace: Time. Michigan is currently trotting out a true freshman, redshirt sophomore walk-on, and 285-pound redshirt freshman (and converted tackle) on the interior of the line. Backup options include redshirt freshman Kyle Kalis, who rotates in frequently as a sixth OL and should earn his job back next year—when the aforementioned RS frosh tackle, Erik Magnuson, projects to start at (hey!) tackle—and ... well, they tried a 6'1" walk-on at guard and he tore his ACL, and Chris Bryant got dropped to third-string after his stint as a starter, so that's about it. They need a year, and possibly a chance of OL coach (or offensive coordinator, but that isn't happening barring an even bigger collapse) for reinforcements to become viably big—the vaunted 2013 O-line class will have some serious starting candidates, one of whom (Kyle Bosch) is already there—and the rest of the guys to hopefully figure out how to properly execute blocks. Continuity would be nice; that won't happen with both tackles graduating.
Taylor Lewan played like an idiot and admitted as much on Monday. That was disappointing—and disappointingly unsurprising—to see. I understand that he plays with an edge and this is a good thing 95% of the time; there's a line you don't cross, however, and it's well before you start yanking guys heads around after plays are dead.
Overview
Johnny: For some inane reason I thought that Michigan was gonna win this game in a walk. I don't know why I thought that, or what drugs I was on when I figured "Oh sure, Funchess and Gallon will just let Devin dink and dunk his way down the field for three eventual touchdowns and that will be enough to beat Sparty pee pee doo doo I'm a bad sportswriter."
As far as whatever this means for Ohio State, if the Buckeyes stay aggressive on defense they will destroy Michigan. Right now Ohio State looks like a team full of men with a plan (a canal, Panama) whereas Michigan just looks like a dumpster fire schematically. That's real, real bad for them going forward and honestly I'm surprised Hoke has let it get to this point.
Sparty-wise, I dunno! Their offense is hilariously Bollman-esque, but their defense is legitimately one of the three best in college football. An Ohio State/Michigan State matchup in the B1G Championship Game would be fascinating.
Oh, and Taylor Lewan is a horrible person. News at 12.
Ace: [crawls in a hole to die]
Thanks again to Ace from MGoBlog for helping us out.